Chris Bosh Joined the Miami Heat Following Advice From Kevin Garnett and Bill Walton: 'You Can't Get Your Youth Back'
Chris Bosh's 13-year Hall of Fame career is ultimately defined by his time with the Miami Heat. Bosh, along with LeBron James and Dwyane Wade, formed the infamous "Big 3", a trio that compiled two championships, four NBA Finals appearances, and too many headlines to count.
However, there is a chance Bosh never would have left the Toronto Raptors for the Heat, if not for advice from two NBA greats who also pursued greener pastures.
The Toronto Raptors failed to win with Chris Bosh in his prime
The Raptors made Georgia Tech's Bosh the fourth overall pick in the star-studded 2003 NBA Draft. The 6-foot-11 big man was well worth the pick, averaging 20.2 points in seven seasons in Toronto. He also made five All-Star teams and earned All-NBA Second Team honors in 2006-07.
While Bosh's numbers were strong, the Raptors never capitalized. Toronto made the playoffs just twice during Bosh's tenure, with both appearances resulting in first-round exits. Even worse, a 47-35 record in 2006-07 was their only mark above .500 in that span.
As you can expect, Bosh's supporting cast was never the strongest. In Toronto's lone winning season, the starting five were Bosh, T.J. Ford, Anthony Parker, Rasho Nesterovic, and Jorge Garbajosa. In addition, Jose Calderon and Morris Peterson were two key roles players off of the bench, while 2006 first overall pick Andrea Bargnani averaged about 25 minutes a game.
In Bosh's final season with the Raptors, veterans Jarrett Jack and Hedo Turkoglu were in the mix, as was rookie DeMar DeRozan. Shockingly, the team finished 40-42, their fifth losing season in seven years.
Bosh might have stayed with the Raptors, if not for advice from Kevin Garnett and Bill Walton
Just a few weeks before the start of free agency, Kevin Garnett made waves when he told reporters after eliminating James' Cleveland Cavaliers in the playoffs, "Loyalty is something that hurts you at times, because you can't get your youth back." KG is someone who spent 12 largely winless seasons with the Minnesota Timberwolves before winning a ring with the Boston Celtics.
It made him the perfect person for Bosh to speak to.
"That was the same exact situation I was in," Bosh said to ESPN. "He gave me his two cents. Kevin was just describing his situation. Just having the opportunity to prolong his career, playing with guys to take pressure off of him, playing for a championship. That was the most important thing."
Advice from another source also helped, as Bosh had a different conversation with Bill Walton. Near the end of his career, Walton joined the Celtics, winning a title in 1986.
"With Walton, it was very fast," Bosh said. "You want to play on that big stage, and that's where the best players are born. That's exactly what he told me. And I was like, 'All right!'"
In a recent interview on SiriusXM Radio, Bosh further elaborated on Walton's simple but effective advice:
"That always stuck with me. I wanted to compete for a Championship. I wanted to be like Jordan, like Kobe, like Tim Duncan. Now you see KG. Those guys elevated their game, got with Boston, and now they're playing at that level. I wanted to play at that level. That was the most important thing to me." 

Chris Bosh
Two greats were enough to help convince Bosh to leave Toronto for South Beach in the journey to reach the next level.
The move to Miami pushed Bosh into the Hall of Fame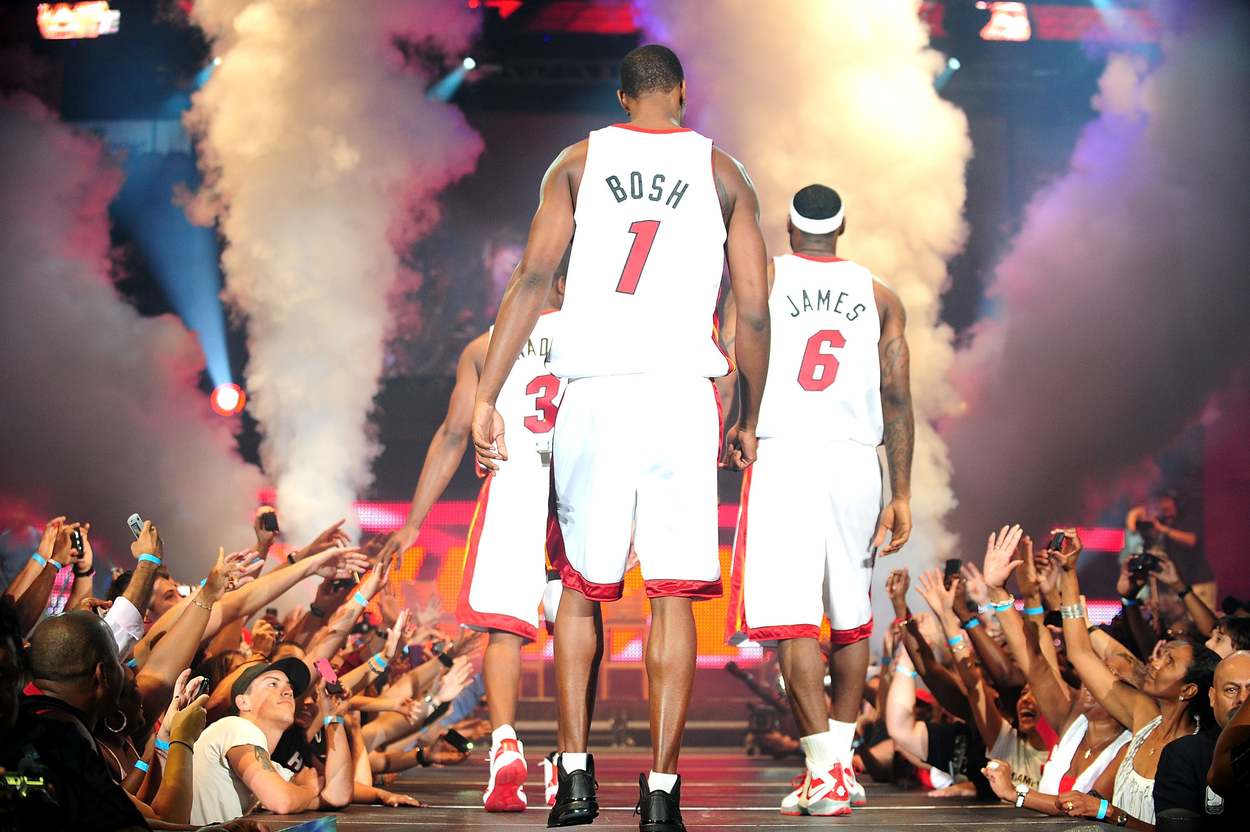 Had Bosh stayed with the Raptors, he very likely would have put up strong numbers for the next several years. But would averaging 22 points and 10 rebounds a night for a losing team have been enough for him to get any sort of Hall of Fame recognition?
By taking a backseat to James and Wade, Bosh made his own H.O.F. case even stronger. He became an important factor in two Heat titles and four Finals appearances, while still finishing his career with 19.2 points per game. His presence in Miami, even after James left in 2014, was great enough for the organization to hang his number one in the rafters.
"I don't win my championships in Miami without him," James said. "What he meant to that team, all those years that he was down there in Miami — when I was there, my four years, and even a couple of years when I was gone — he's just a true definition of what a professional is all about."
Critics might believe Bosh, and other stars who join forces, are taking the easy path. But it was the decision to join the Heat that put Bosh on a path to Springfield, Massachusetts.
All statistics courtesy of Basketball Reference.