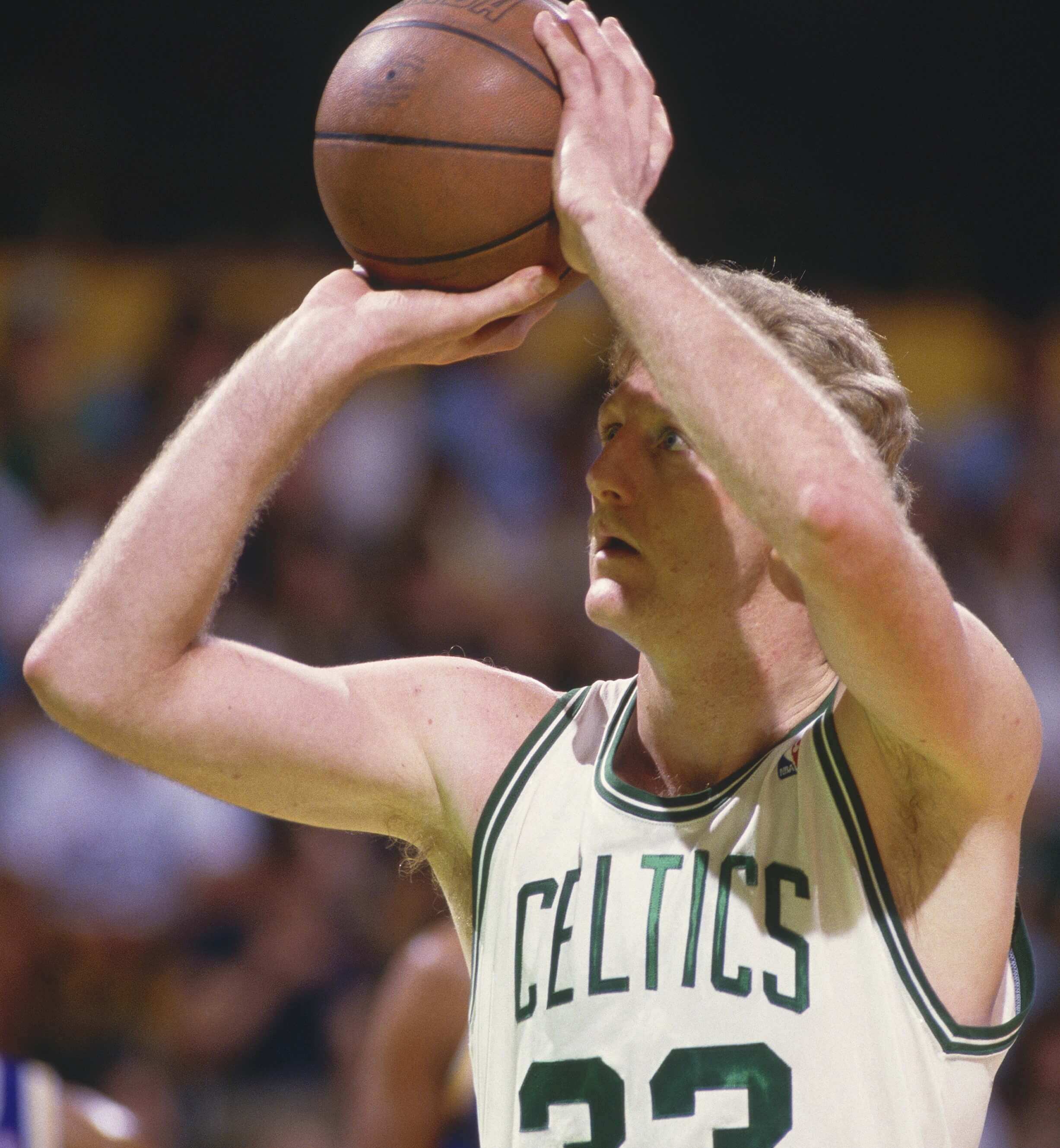 After Beating a Cocky Danny Ainge, a Nervous Larry Bird Admitted He Had to Sweat Out the 1987 Three-Point Contest
Larry Bird admitted he was nervous during the NBA's three-point shooting contest in 1987.
Some say Larry Bird was cocky when he entered the locker room before the 1986 NBA three-point contest and asked who was coming in second place. It was more confidence from the Celtics legend, who went on to win the first three shooting contests before retiring from the event.
Bird admitted he had to sweat out the 1987 contest. After seeing a cocky Danny Ainge fall in the opening round, Bird said he had to sweat things out, especially against an up-and-coming star in Detlef Schrempf.
Larry Bird battled an ailing elbow in 1987
The NBA began its three-point contest in 1986 with Larry Bird asking who was coming in second place. He repeated the line in 1988 but never used it in '87 because he had an ailing elbow.
"By the third year, everyone knew exactly who was the man to beat," Bird said in his book Drive: The Story of My Life. "Chicago Stadium is another building where I've always liked to shoot, and I went in with a lot of confidence. I repeated the line about the other guys 'playing for second place.' I couldn't use it in Seattle (in 1987) because I was too busy worrying about my elbow."
Bird said his elbow flared up, and he wasn't sure if he'd be able to practice enough for the event.
"The problem that year was my elbow," he said. "It was flaring up, and I needed to have it worked on. I wasn't sure I was going to be able to get in enough practice, and I told (wife) Dinah and my family that if I could win this one, I'd never lose the contest. I just figured that if my arm could get through this, it would survive anything."
The '87 contest took place in Seattle, and that initially concerned Bird.
"When I heard the next All-Star Game was in Seattle, I was worried because I don't like the Kingdome," Bird said. "Fortunately, the contest was going to be in the Coliseum."
Bird outlasted a cocky Ainge and then had to sweat things out
Bird's Boston Celtics teammate Danny Ainge had told the Celtics legend that if he had been in the 1986 contest, he would have won.
"Danny had been jabbering that if he had been in the contest the year before, he would have won it," Bird said. "'I'm the real three-point shooter,' he said. "He got his chance (in 1987) because when someone dropped out of the contest, they called him up as the replacement.
"He lost in the first round. I was sitting on the bench, giving him all kinds of baloney. 'You're gone, Danny,' I said. 'Now I only have to worry about these other guys.'"
Bird knew the only thing keeping him from another title was himself.
"The truth was, I had myself to worry about. I struggled in the first round, and my second round wasn't all that great either."
Bird reached the final round, where he faced Schrempf. Bird won a coin toss and elected to shoot first. He made all five shots on the first rack, giving him a quick six points. His shooting was erratic the rest of the way, and he finished with 16 points.
Schrempf went the opposite route, missing nine of his first 11 shots before heating up. Bird admitted he was nervous.
"I was counting off his shots in my head, and Detlef did not start well," Bird said. "Just when I was thinking I had it wrapped up, he ran the rack in the fourth station, and he came to the last shot with a chance to beat me. If Detlef made that red, white, and blue ball from the corner, he would have won. I was on my knees watching him take that shot, and I knew when he let it go that it wasn't going in. I had survived."