After Gardner Minshew and Jalen Hurts Narrowly Missed Working Together at Alabama, the Pair Will Now Battle It Out in Philadelphia
Gardner Minshew is the newest member of the Philadelphia Eagles.
Following an up-and-down offseason with the Jacksonville Jaguars (which ultimately resulted in him being labeled Trevor Lawrence's backup), Minshew was deemed expendable and traded to the Eagles. Philadelphia didn't necessarily need another QB with Jalen Hurts and Joe Flacco already in the building, but general manager Howie Roseman is always looking to add to his "QB factory."
The funny part about the trade is that Minshew enters Philly as Hurts' backup, a dynamic that was almost a reality in college.
Gardner Minshew nearly attended Alabama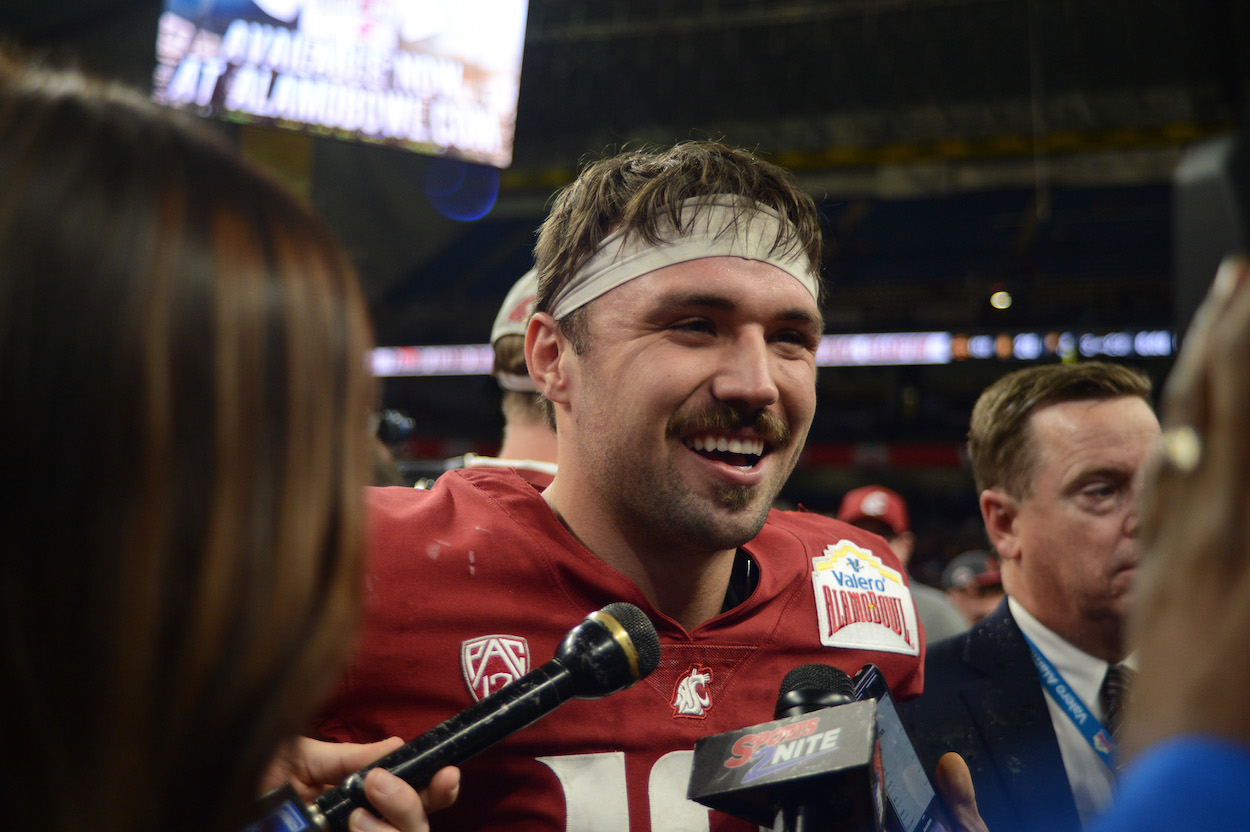 According to The Checkdown's Nick Toney, Minshew was moments away from signing on to be a backup at Alabama.
The Mississippi native initially committed to UAB coming out of high school, but the program fell apart in 2014. This left Minshew, a 6-foot-1 QB, without a scholarship offer.
Minshew quickly got in touch with new schools, including Troy, Northwest Mississippi Community College, East Carolina, and yes, Alabama.
The Eagles QB ultimately joined East Carolina and then finished his college football career with Washington State. Still, there was a moment where he heavily considered joining the Crimson Tide:
Minshew would've sat behind Jalen Hurts and Tua Tagovailoa. He figured it was time to start thinking about a coaching career. And then, according to ESPN, Leach called from Pullman.

Asked Leach: "Do you want to be a backup at Alabama, or lead the nation in passing?"

We know which path Minshew chose. He joined Leach's team, led an offensive explosion, and earned a sixth-round selection in the 2019 NFL Draft.

Nick Toney, The Checkdown
Gardner Minshew would've been Jalen Hurts' backup
The ironic part about Minshew nearly joining Alabama is that Hurts, of course, was a member of the Crimson Tide QB room. Minshew would've been the third-string QB behind Hurts and Tua Tagovailoa — a similar role to what he's expected to perform with the Eagles.
Minshew made the correct choice attending smaller schools in East Carolina and Washington State, as they provided him with the opportunity to be a starter. He presumably wouldn't have been afforded such a role at Alabama, especially with Hurts and Tagovailoa already in the building.
Still, it's a small world. A few years later, Minshew is back where he almost started — backing up Hurts on a big-market team.
It's unclear if the Eagles will entertain a QB competition
Hurts appears to be the clear starter moving forward based on how the Eagles handed their preseason reps. However, that doesn't mean things can't change as the season progresses.
Minshew made a public point earlier this offseason that he doesn't want to be a backup. Assuming he's carrying that same mindset over to Philly from Jacksonville, one can assume he'll be looking to work his way up the Eagles depth chart rather aggressively.
First, Minshew has to overtake Flacco. If he's able to do that, then football fans will get a taste of what Minshew versus Hurts could've looked like at Alabama.
Like Sportscasting on Facebook. Follow us on Twitter @sportscasting19.