After Gwynn's Death, Will MLB Players Agree to Tobacco Ban?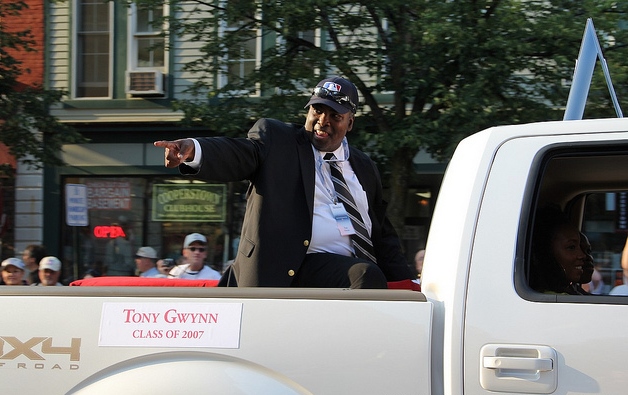 Most baseball fans remember the smiling face of Tony Gwynn (1960-2014) when they recall Mr. Padre, one of the most prolific hitters in MLB history. Gwynn was as masterful with the bat as he was helpless when it came to dipping smokeless tobacco. According to Gwynn, his dipping habit caused the cancer that eventually took his life. Will this wake-up call be enough for the MLB Players Association (MLBPA) to finally ban tobacco?
Smokeless tobacco has been banned in baseball's minor leagues since 1993, but big league culture has only slightly been affected. A report in USA Today cited statistics by the Pro Baseball Athletic Trainers Society that put tobacco use (dipping) at 33 percent among MLB players. Though the number has dropped from 50 percent since the minor league ban, baseball still has a serious problem on its hands. Unfortunately, the MLBPA's power has kept tobacco bans out of the sport's collective bargaining agreement. The current deal runs through 2016.
Where does the MLBPA stand on the use of smokeless tobacco? Greg Bouris, a representative for the MLBPA, wrote the union's formulaic response to a request for comment by USA Today. "The MLBPA discourages the use of smokeless tobacco products by its members or by anyone else," Bouris said. "These products carry serious health risks, yet remain legally and widely available."
In that respect, baseball is mirroring a society that discourages yet permits habits that can hurt or end lives. Nonetheless, the game has come a long way since the days when players could be seen smoking cigarettes in the dugout. If bans on smoking exist, why the exception on dipping?
As in any institution with a history as long as Major League Baseball's, the rules are exceptionally difficult to change. The ban on tobacco use in the minors went through because there is no union. Major League Baseball's owners and commissioner widely support bans, but there will be continued resistance from players and ex-players who negotiate the contract when the existing deal expires.
Comments by Washington Nationals manager Matt Williams highlight how difficult the process could be. Williams told The Washington Post he wasn't sure Gwynn's development of cancer and subsequent death were the result of dipping tobacco for over 20 years. "Nobody really knows yes or no or maybe," Williams told the Post after Gwynn's death. "But of course it … hits home with a lot of folks, and it's been part of our sport for a long time."
For Williams, he has to balance his views as a manager and ex-player while keeping in mind that his own players (including Stephen Strasburg) are smokeless tobacco users.
The MLBPA is known as the most powerful union in the country, but it will not do itself any favors by continuing to refuse a ban on smokeless tobacco. Gwynn's death and the release of his video warning about dipping may create enough pressure to make it happen.