After Jordan, Could Kobe Bryant Pass Karl Malone in Scoring?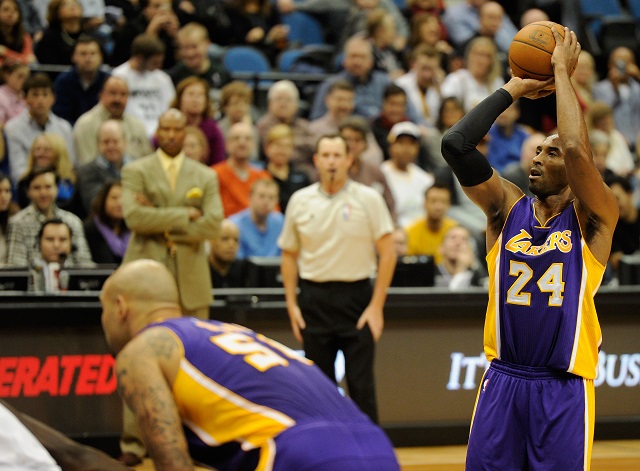 Kobe Bryant officially bested Michael Jordan this seasons, when he scored 26 points against the Minnesota Timberwolves as part of a rare Lakers win. Those points officially vaulted Kobe into the rarefied air of the third most prolific scorer in NBA history. This is the point where we feel compelled to point out that Bryant isn't really still Jordan's equal, but that's because Michael Jordan is His Airness and Kobe is, well, not (even if he is an incredible basketball player in his own right). That said, we felt compelled to see if it'd be possible for Kobe to move up one more slot before he retires, overtaking The Mailman, Karl Malone.
Before we get into that, though, we should probably take a moment to acknowledge Bryant's excellent response to the occasion — not his lukewarm response to the team's plane makeover, but his words to reporters after the game.
"I'm just honored to be here, man, to still be playing," Kobe said. "I appreciate being able to play this long. Careers normally don't last this long. I really appreciate the opportunity to still be out there playing and performing and doing what I do." He also mentioned that "It's really not a big deal to say I passed [Jordan] for something like that." Bryant said, "It's a great accomplishment, but the true beauty is in the journey." But could his journey see him sit solely behind Kareem in terms of NBA scoring supremacy? We examined the numbers and did some crunching to find out. All data courtesy of Basketball Reference.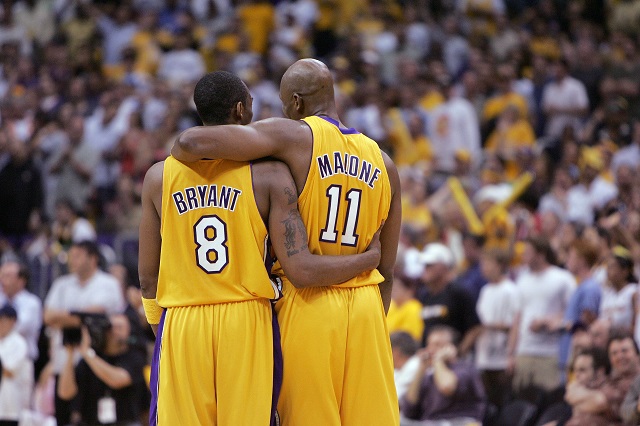 As of now, Kobe sits 4,619 points behind Malone on the all-time list. That's not insurmountable, but it's definitely going to require Bryant to play at an extraordinarily high level between now and his retirement, which is, by all indication, going to occur at the conclusion of the 2015-2016 season. Right now, with Bryant averaging 25.4 points every game, it would take him 181 games to tie Malone. This is problematic, if you consider that the Lakers only have 140 regular season games of Kobe left, and are unlikely to make it into the postseason this year or next.
For Kobe to even tie Malone, then, he'd have to raise his game even further — if he can manage 33 points per game from now until his retirement, he'll break even with the Utah Legend (and brief member of the Los Angeles Lakers). It's worth pointing out here that Kobe's only averaged that many points once in his career, during that awesomely awful 2005-2006 season when he was 27 years old, surrounded by a bunch of abysmal teammates, and dedicating himself entirely to scoring points, arguably at the expense of winning.
In all likelihood, Bryant will remain at the three position on the all-time list when the dust settles on a career that will have spanned two decades of NBA play. That's not the worst thing in the world, even if it would be fun to see him turn the clock back and make a game effort at challenging Kareem's number one spot (to do so, by the way, he'd have to average a Wilt-ian 44 points per game for the duration of his career). For the entire list, click here.