Age Matters in Soccer: Should Argentina's Fans Be Worried?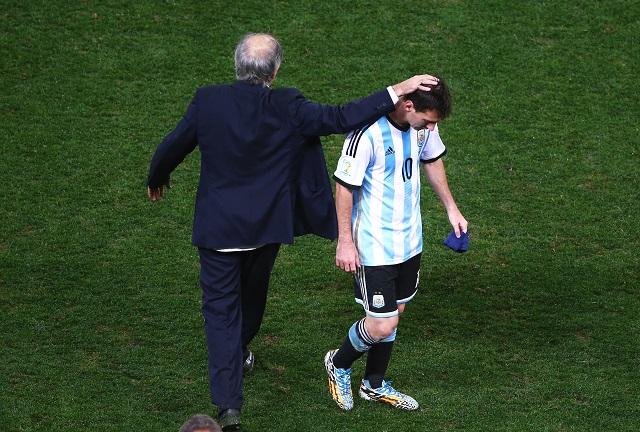 The final match in the biggest sporting event in the world has been decided: Argentina will play Germany in the World Cup final, and according to at least one metric, Lionel Messi and company are definitively at a disadvantage. Via The Economist, it looks like age plays a much larger factor into how a soccer team fares on the pitch than it might seem. Of course, Argentina's opponents — Germany — have been beating up on younger teams all tournament, and seem to be the favorites by the eye test. So maybe the Albicelestes are doomed anyway.
According to The Economist, the biggest factor in the success of defending World Cup Champions — that was their way of adjusting for the statistical noise in the tournament — "[T]he single strongest factor that influenced their performance was probably the (close to) home-field advantage: teams that played on their own continent performed nearly six places better in the final standings than those that had to travel further afield." So far, we're looking at advantage: Argentina.
They also found, though, that a one-year difference in age was approximately equal to a four position drop from year to year. Extrapolated out, that means that the same squad from 2010 playing in 2014 would finish more than sixteen places worse, at least according to the numbers — although Landon Donovan would assuredly disagree. Obviously, there's some small sample size warnings when you're boiling the teams down to only "defending World Cup Champions," and Argentina has made it this far in the tournament entirely by beating younger teams, as they're the oldest team in the tournament.
"[N]obody's really going to remember much about [Argentina/Netherlands] except that it sent the greatest player of his generation, Lionel Messi, to his first World Cup Final," said Sports Illustrated's Grant Wahl, noting that while Messi didn't look like himself during the match, which ended scoreless after 120 minutes, a first for a World Cup Semifinal, he did notch one key penalty kick to help Argentina advance. This is the first time Argentina will be in the last match of the World Cup since 1990.
With Germany having an extra day of rest, being a younger squad, and simply playing better as far as the eye test is concerned, Sunday's game — which kicks off at 3 p.m. Eastern Time — will be an uphill battle for Argentina, particularly if they employ the same strategy they've used all tournament: being extremely conservative with the ball and hoping that Messi can bail them out on offense. Of course, within the small handful of players that can make that strategy pay off, he's probably the best.