Al Michaels Is Applying Drew Brees and Tom Brady's Teachings as He Approaches the End of His Own Legendary Career
Most of the faces around professional football have changed for NBC Sports play-by-play voice Al Michaels. Some, including Tampa Bay Buccaneers star quarterback Tom Brady, are happily staying the same.
Time is unbeaten, and Michaels, who turned 77 on Nov. 12, is nearing the end of his time on Sunday Night Football. However, the 2013 Pro Football Hall of Fame inductee is still trying to learn from the younger generation, whether it's Brady or NBC teammate Drew Brees, and apply their lessons to his own life.
Al Michaels is trying to learn from Drew Brees and Tom Brady as he rapidly approaches his 80s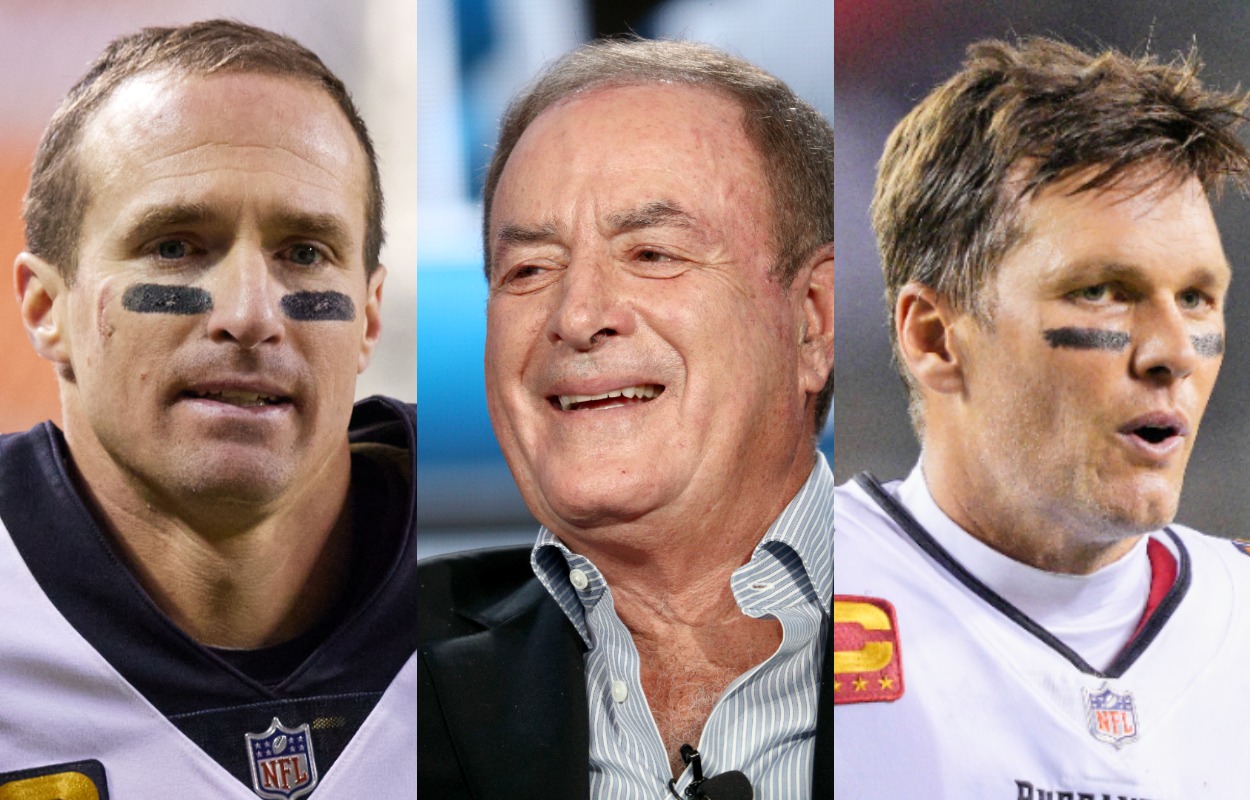 The modern NFL has quickly become an older man's game, at least with regards to quarterbacks. Brady is still playing at an MVP level at 44 years old, Green Bay Packers star Aaron Rodgers (who turns 37 in December) has looked impressive when he's not spreading COVID-19 misinformation, and Atlanta Falcons veteran Matt Ryan (36 years old) has enjoyed a resurgence in 2021.
The NFL lost Brees (who turns 43 in January) and Los Angeles Chargers legend Philip Rivers (who finished his final season at 39 years old) after the 2020 season. It is too early to know if Pittsburgh Steelers great Ben Roethlisberger, who turns 40 in March 2022, will retire after this season.
Then, you have Michaels, who is still successfully calling Sunday Night Football in his late 70s. In a Nov. 4 appearance on the Sports Illustrated Media Podcast, the broadcasting icon said he'd spoken with Brady and Brees, each of whom continued performing at a high level as they aged, about their own process.
"When they get towards the end of their career, and in a way, you know that the end is much closer than the beginning or even the middle, and I'm really just sucking out all the joy I can from this season. I wanna get to the end of the year and then figure out what's gonna happen."

Al Michaels
Michaels added that he is still "relishing" the opportunity he has at NBC Sports. Although his contract expires in February 2022, the veteran announcer has not hinted at any desire to retire.
Michaels would be wise to keep channeling Brady at this stage in his life
At their current pace, we might see an 83-year-old Michaels call a 50-year-old Brady's touchdown pass at some point in 2027. What would have sounded ridiculous a decade ago now feels entirely feasible.
Brady completed 67.3% of his passes for 2,650 yards, 25 touchdowns, and five interceptions in his first eight games this season. With the 17-game schedule, that's a 5,632-yard, 53-touchdown, 11-interception pace. Remember that he's only passed for over 5,000 yards once, a 5,235-yard showing in 2011, and thrown for at least 40 regular-season touchdowns twice in 21 seasons as a starter.
Then, there's Michaels, who called two of Brady's starts in the 2021 season's first four weeks. Even in his late 70s, he hasn't lost any speed off his fastball and remains one of the sport's most celebrated active play-by-play voices.
Although Brees continued playing at a high level in his final seasons, various injuries limited the Super Bowl 44 champion to 23 of a possible 32 games from 2019-20. If Michaels is lucky, he'll try to keep mimicking Brady, who hasn't missed a game because of injury since 2008.
Brady, however, doesn't get to enjoy the load management that Michaels and Philadelphia 76ers big man Joel Embiid — who is 27, by the way — do multiple times a year.
The now-78-year-old Michaels is determined to keep going as long as he can, just like Brady
You might still be skeptical about the idea of Michaels calling Brady's games in six years. At least we know that the latter doesn't intend to retire after the 2021 season.
Michaels is widely expected to join Amazon Prime as the Thursday Night Football play-by-play voice in 2022. Joe Buck, who currently calls the weekly event for Fox Sports, is not expected to continue in that role after this season.
As for Michaels' NBC role, it is not yet known if the network will keep him on Sunday Night Football in any type of role next season. NBC has former Monday Night Football play-by-play announcer Mike Tirico waiting in the wings as Michaels' replacement.
If you're feeling old now, just wait for 2027 when Brady throws his 800th career touchdown pass on Thursday Night Football. 
Like Sportscasting on Facebook. Follow us on Twitter @sportscasting19.