Al Michaels Has Called Football Games for Over 30 Years but Had a Special Reason for Calling Pete Rose His Favorite Athlete To Cover
Long before he joined NBC Sports and spent many a Sunday night watching Tom Brady sling touchdowns, Al Michaels dedicated his weeknights to Pete Rose and the Cincinnati Reds.
Recent generations understandably know Michaels for his work on Sunday Night Football and, once upon a time, as the voice of EA Sports' Madden NFL series. However, he spent several years as the Reds' radio play-by-play announcer in the 1970s and developed a close friendship with Rose, the controversial hit king.
Al Michaels called Pete Rose his favorite athlete he had the opportunity to cover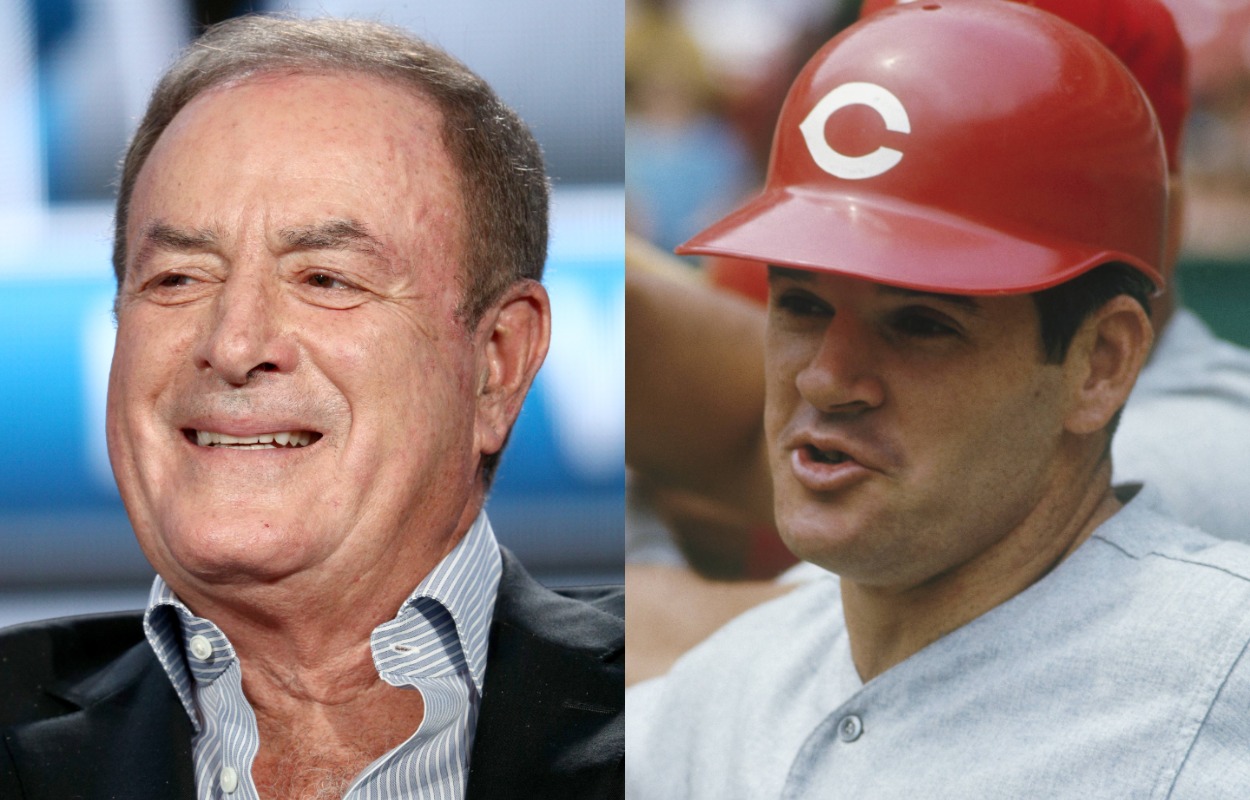 After spending a couple of years as a sports anchor and play-by-play voice in Hawaii, Michaels returned to the mainland in 1971. At only 26 years old, the Arizona State graduate partnered with former Reds pitcher Joe Nuxhall on the team's radio broadcasts.
Although this was a few years before the Big Red Machine emerged and captured consecutive World Series titles, the Reds nonetheless had a solid core in place. Johnny Bench was already emerging as one of the league's top young catchers, and third baseman Tony Perez provided a steady presence in the middle of the order. 
Then, there was Pete Rose. The All-Star right fielder hit .304 with 192 hits and 13 home runs in 160 games that year.
In his 2014 book You Can't Make This Up, Michaels described Rose, who remained with the Reds through the end of the 1978 season, as his favorite athlete he's had the opportunity to cover.
"I watched his every at-bat for three years. His work ethic was out of this world. He was a terrific teammate, embraced by almost everyone on the team. When you were around him, you always felt more alive."

Al Michaels
Rose hit .317 in the three seasons Michaels spent as the Reds' play-by-play voice. The sport's eventual hit king captured the 1973 NL MVP Award when he hit .338 on a Reds team that lost to Tom Seaver and the New York Mets in the National League Championship Series.
Rose's skillset has been forgotten in the years since his lifetime ban
Rose is, understandably, one of those athletes whose name evokes a negative connotation. A lifetime ban for gambling on games will do that, even in a time when professional sports leagues have widely embraced legalized betting.
Those who only know Rose for his ban may never appreciate how talented he was as a hitter. The 17-time All-Star barrelled through catchers, sacrificed his body to make catches, and retired as one of the most valuable and important players in modern history.
During that same section in his book, Michaels reflected on his close relationship with the Reds legend and how Rose is more than someone who will likely never enter the National Baseball Hall of Fame.
"I loved being around him because I would always learn something new about the game. He would see nuances and subtleties no one else did. I'd sit with him on the bus leaving a stadium, and he could recite the box score from his brain. The entire box score. He literally remembered every pitch of a game."

Al Michaels
Michaels, who became the San Francisco Giants' television voice in 1974, also dismissed the idea that Rose was selfish "because he paid so much attention to his own statistics."
"That's flat-out nonsense," Michaels wrote. "He paid attention to everybody's statistics."
Michaels has always been appreciative of his time in and around baseball
The last of the millennials, and everyone born in 1997 or later, know and appreciate Michaels for his NFL work. It's hard to dispute such an idea given that he's regularly called NFL games since 1986. Older generations, however, will never forget his work on Monday Night Baseball (yes, this existed) or the Olympics.
Michaels, for his part, has never viewed baseball as a stepping stone he used en route to becoming a premier NFL voice. He's spoken glowingly about his experiences with everyone from Rose to longtime Los Angeles Dodgers announcer Vin Scully, who he tried replicating at a young age.
Michaels last called a baseball game in 2011 when he and Bob Costas, his then-NBC Sports colleague, worked a Mets-Giants game for MLB Network. The Mets' 5-2 victory that night marked Michaels' first time announcing a baseball game since the 1995 World Series.
The baseball world hasn't forgotten about Michaels, who entered the Hall of Fame earlier this year as the 2021 recipient of the Ford C. Frick Award. We can only selfishly hope that the legendary announcer works one last baseball game, whether it's on MLB Network or YouTube.
Like Sportscasting on Facebook. Follow us on Twitter @sportscasting19.
RELATED: Al Michaels Cost Himself $5,000 With a Single Swing as a High School Student