Al Michaels Cost Himself $5,000 With a Single Swing as a High School Student
Generations of football fans have grown up with legendary broadcaster Al Michaels calling games in a sharp sports coat and an affectionate grandfatherly tone.
Michaels, who turned 76 earlier this year, didn't always fill that role. Just ask those who grew up with him in the decades before he became a signature play-by-play voice.
Al Michaels cost himself $5,000 after a fistfight in high school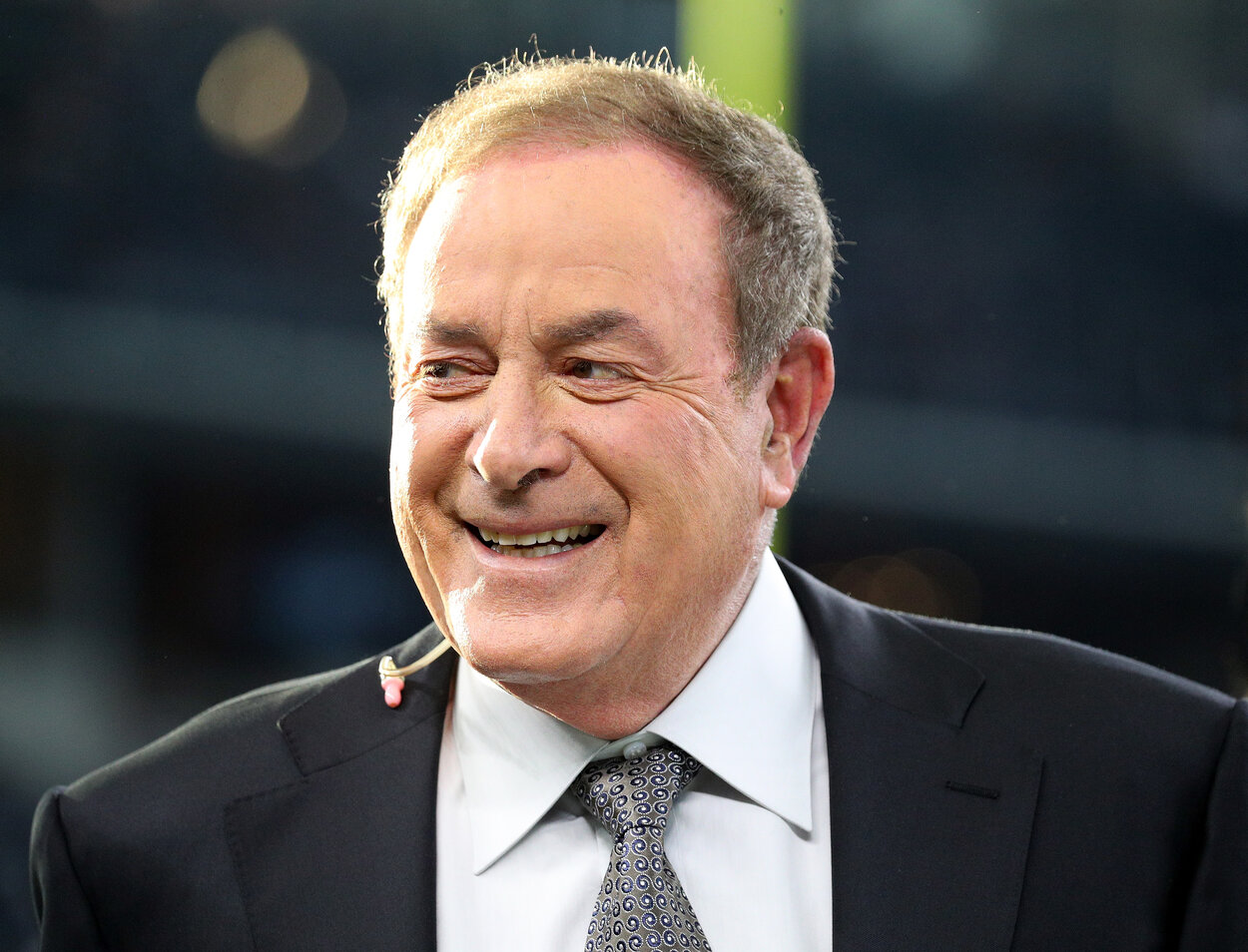 We know it may sound difficult to imagine Al Michaels getting into a physical altercation. But according to him, it happened, and he emerged victoriously.
In his autobiography, You Can't Make This Up, the broadcasting icon wrote about getting into his only fight in the 11th grade. Although he didn't remember what led to the altercation, he certainly recalled the other details, including his longshot odds of winning.
"If odds had been posted, the other guy would have been a 5-to-1 favorite," Michaels joked.
Michaels said he surprised his opponent with a straight left hand to the cheek. The Sunday Night Football voice immediately felt teeth crunching, and luckily for him, they weren't his molars. Unfortunately for the high schooler, he caused $5,000 worth of dental damage.
"For a while after that, my friends kiddingly called me the Toonderbolt (a punch-then heavyweight champion Ingemar Johansson of Sweden had made famous). I soon joked that I would remain undefeated. But it wasn't funny at the time."

Al Michaels
Michaels admitted he even scared himself with the punch.
Michaels later called boxing — the real thing — as an adult
No matter what his friends may have said, no one would ever confuse Michaels with a professional fighter. However, he's had ample chances to call the highlights of those who have stepped into the ring over the years.
Although he's best known for calling the NFL, Michaels announced several high-profile boxing matches, including the 1985 bout between undisputed champion Marvelous Marvin Hagler and challenger Thomas Hearns, in his long career. Hagler entered that famous showdown with a 60-2-2 record with 50 knockouts, while Hearns boasted a 40-1 showing and 34 knockouts.
Marvelous Marvin won the classic match with a third-round knockout. It remains one of the most celebrated events in modern boxing history nearly four decades later because of its action and intensity.
Michaels also hosted ringside boxing matches for NBC's coverage of the Premier Boxing Champions in 2015.
Michaels has wisely avoided any on-air brawls during his legendary broadcasting career
It seems fair to say that the adult Michaels, whether he was calling primetime baseball games in the 1970s or Super Bowls in the 2010s, has exercised far greater judgment than his teenage self.
No matter how frustrating a game has been, no one has ever seen Michaels punch Cris Collinsworth or try putting John Madden in a chokehold. They've survived weather delays, overtime games, and mask mandates without losing their cool in the booth.
Although Michaels might be nearing the end of his broadcasting career, we're confident he won't relapse and cause any dental damage anytime soon. However, if Collinsworth fails in his trademark slide and causes a bottle of water to spill onto his partner's pants during a Sunday night game, "Toonderbolt" may just make a return after all.
Like Sportscasting on Facebook. Follow us on Twitter @sportscasting19. How to get help: In the U.S., contact the National Council on Problem Gambling helpline at 1-800-522-4700.