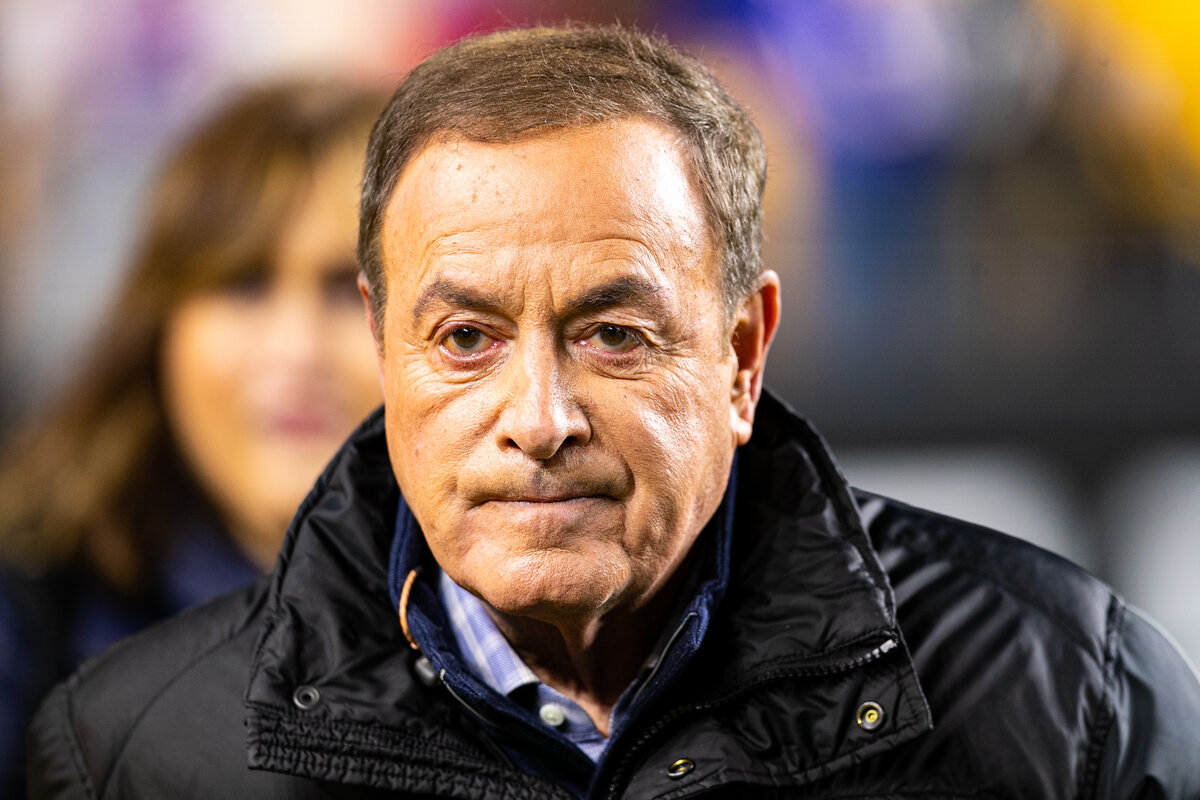 Al Michaels Feels He Cheated Death During the 1989 World Series Earthquake
Al Michaels is a legendary broadcaster who has called many iconic moments. Michaels believes he could have tragically died in a 1989 earthquake.
For over 40 years, Al Michaels has been an influential and beloved voice in sports media.
Now potentially entering his final years at NBC, Michaels has called everything from the 'Miracle on Ice' to many Super Bowls. If there is a memorable sports moment from 1980 to now, the chances are that Michaels was involved somehow.
One such moment came in October 1989, when an earthquake struck San Francisco while Michaels called the World Series. In later interviews, Michaels acknowledged that he could have tragically died that day.
Al Michaels is a legendary broadcaster
Al Michaels has lent his voice to some of the most iconic sports events from the last 40 years.
Football fans now have heard Michaels and Cris Collinsworth on NBC's Sunday Night Football for over a decade. Michaels began his 'SNF' work in 2006, months after Disney traded him to NBC in exchange for Oswald the Rabbit.
Before Sunday Night Football, Michaels called Monday Night Football from 1986-2005. Michaels has called baseball, basketball, and boxing; he also hosted the Summer and Winter Olympics from 2010-16.
Michaels has called 10 Super Bowls so far, and hopes to increase that total in February 2022. As of now, that is expected to be the last game Michaels calls at NBC.
Michaels recently received the Ford C. Frick Award and will enter the National Baseball Hall of Fame next summer. He joined the Pro Football Hall of Fame in 2013 after winning the Pete Rozelle Radio & Television Award.
Michaels was on the air for the 1989 World Series earthquake
One of Al Michaels' signature moments came on Oct. 17, 1989.
Michaels, longtime MLB catcher Tim McCarver, and ex-Orioles ace Jim Palmer were in San Francisco for Game 3 of the World Series. The Oakland Athletics had a 2-0 series lead on the cross-town Giants.
Midway through the introduction, at 5:04 p.m. local time, an earthquake struck the Bay Area. Michaels famously spoke as the earthquake hit and briefly relayed that moment to the audience.
"I'll tell you what, we're having an earth-"
Michaels' audio cut out for 15 seconds. He returned shortly and, via telephone, called that moment "the greatest open in the history of television, bar none."
Michaels spent that night reporting on the earthquake from ABC's production truck. The Loma Prieta Earthquake killed 63 people and caused over 3,700 injuries.
The World Series resumed play 10 days later, and the Athletics won the final two games to capture the championship.
Al Michaels believes he could have tragically died in that earthquake
Al Michaels has always been open about the experience covering Game 3, from when the earthquake struck to the night reporting on what he saw outside Candlestick Park.
The years since have given Michaels an additional perspective on how things could have gone differently that night. Michaels spoke with ESPN in 1999 and said he believes he would have been killed had the earthquake lasted longer than 15 seconds.
In a 2019 interview with ESPN, Michaels again touched on the idea that he and his fellow broadcasters could have tragically died during the earthquake.
"Could we have been pitched out of the booth? Could the upper deck have collapsed? Those were the thoughts that made your heart sink, and your throat go into your heart, later on."
Thankfully for Michaels and his partners, everyone escaped without serious injury. Michaels, McCarver, and Palmer suffered bruised thighs from grabbing each other so intently during the earthquake.
Like Sportscasting on Facebook. Follow us on Twitter @sportscasting19.