Al Michaels Recalls John Madden's Smooth Transition From the Raiders Sideline to the Broadcast Booth: 'Easy as Pie'
Anyone working in sports media must know about the legendary broadcasting duo of former Oakland Raiders coach John Madden and Al Michaels. The two men worked in tandem for ABC and NBC networks for years, masterfully calling NFL games.
Madden's sudden death at the age of 85 stunned the sports world. He left his mark on the NFL and impacted the lives of many, including his longtime broadcast partner. Michaels recently opened up on what it was like working with Madden over the years.
Al Michaels and John Madden worked together for 7 years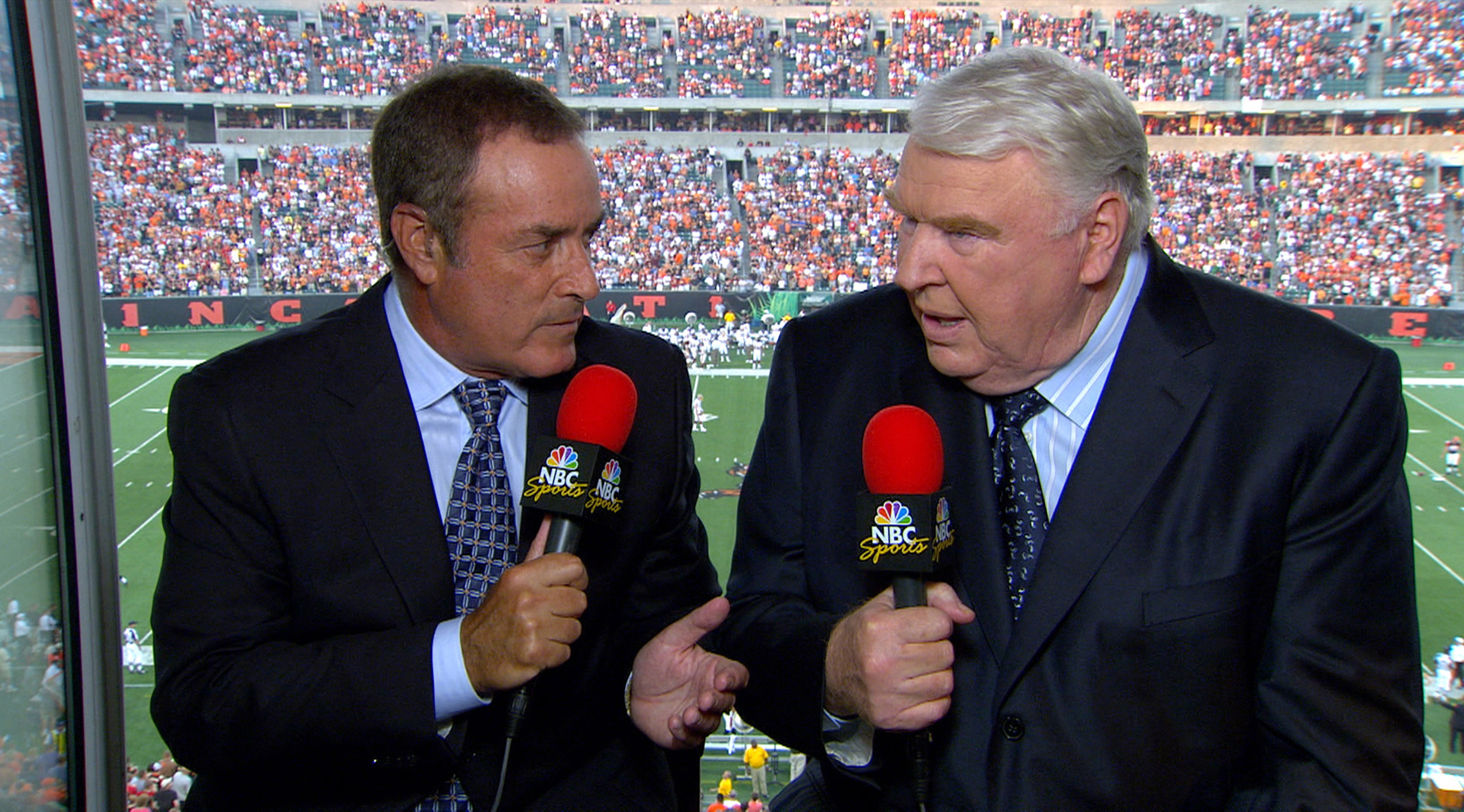 When John Madden retired from coaching after the 1978 NFL season, he transitioned to broadcasting.
In 1979, he joined CBS as a color commentator, working with various partners, including Pat Summerall. The duo would eventually move onto a deal with Fox as its lead broadcasting pairing.
Madden eventually joined ABC's Monday Night Football broadcasting team in 2002, working side-by-side with Al Michaels.
Madden and Michaels enjoyed a seven-year career working together for ABC and NBC's Sunday Night Football. Michaels recently joined The Colin Cowherd Podcast and discussed his experience working with Madden for the first time.
"I had seven wonderful years with John," he said. "It was basically very easy. We had heard each other so much. I heard him do hundreds of games. John was always in the bus after a Sunday game, and on Monday night, he heard me do hundreds of games."
When John Madden and Al Michaels first got together, the producer asked if they wanted to do a practice run together before the real thing. The two agreed that wouldn't be necessary.
"We both felt it would've been artificial," said Michaels. "When John and I made our debut, by the second commercial, I felt like I'd worked with this guy for 50 years. This was easy as pie. We had a genuine feel for each other's rhythm. It made it so pleasurable and so fascinating."
The 'Sunday Night Football' announcer remembers Madden's time with the Raiders
Long before Al Michaels teamed up with him, John Madden had established himself as one of the most recognizable NFL head coaches.
Madden served as the head coach of the Oakland Raiders from 1969 to 1978. He posted an impressive career record of 103-32-7. He still holds the highest win percentage (75.9%) of any head coach in NFL history.
The Raiders never had a losing season with Madden at the helm. He led the franchise to the playoffs in eight out of 10 seasons. Oakland won Super Bowl XI to culminate the 1976 NFL season.
Al Michaels fondly remembers Madden's coaching style on the sidelines.
"It was pretty much what the Raiders' style was, too," he said. "Go vertical. They were a physical team, and they were exciting. I would say they played not only winning football but unbelievably entertaining football. You go back through some of the games John coached, and those are some of the most memorable games in NFL history."
Michaels' greatest memory of John Madden on the sideline had nothing to do with the game itself.
"When I picture him on the sidelines, John always had one of those paper credentials," Michaels added. "Tied to his belt loop, as if he needed a credential to get into the Oakland Coliseum. I love it. John was a larger-than-life guy who was going to the Hall of Fame as a coach, and he's got that little credential dangling from his belt loop. He was special."
Madden left a lasting legacy on the NFL
Al Michaels gained a tremendous amount of respect for John Madden over the years as a coach, broadcaster, and person.
"One of the great things about John," Michaels said. "Apart from the game itself, he was a fascinating man. He was extremely well-read and curious about everything. Some of the greatest conversations I've had with John had nothing to do with football. He was a true renaissance man."
The Hall of Fame Raiders head coach impacted many lives in some way or another. Madden was a recognizable figure to players, coaches, and fans alike.
Beyond coaching and broadcasting, even the casual fan knows his name, thanks to the iconic Madden NFL video game series. His unique voice and marketable personality shined in the gaming space.
John Madden was one of a kind. To be able able to transcend generations, one must be remarkable. He enjoyed a legendary football career as a coach and a broadcaster. He was a captivating figure who the game of football will never forget.
Al Michaels' description of John Madden as "special" rings true. He was larger than life, but he gave people a piece of himself so they could get to know the man behind the name.
RELATED: John Madden's Humanity Was Never More Apparent Than After Darryl Stingley's Tragic Injury