Alabama Quarterback Bryce Young Approaches the $1 Million Mark in NIL Endorsements Says Nick Saban
Even before the University of Alabama and its head football coach Nick Saban arrived for SEC Media Days, they already made the news.
Starting sophomore quarterback Bryce Young has almost $1 million in endorsements according to Saban. This could make Young one of the highest-paid college football players in the U.S. this year.
Bryce Young makes bank after the NCAA approves NIL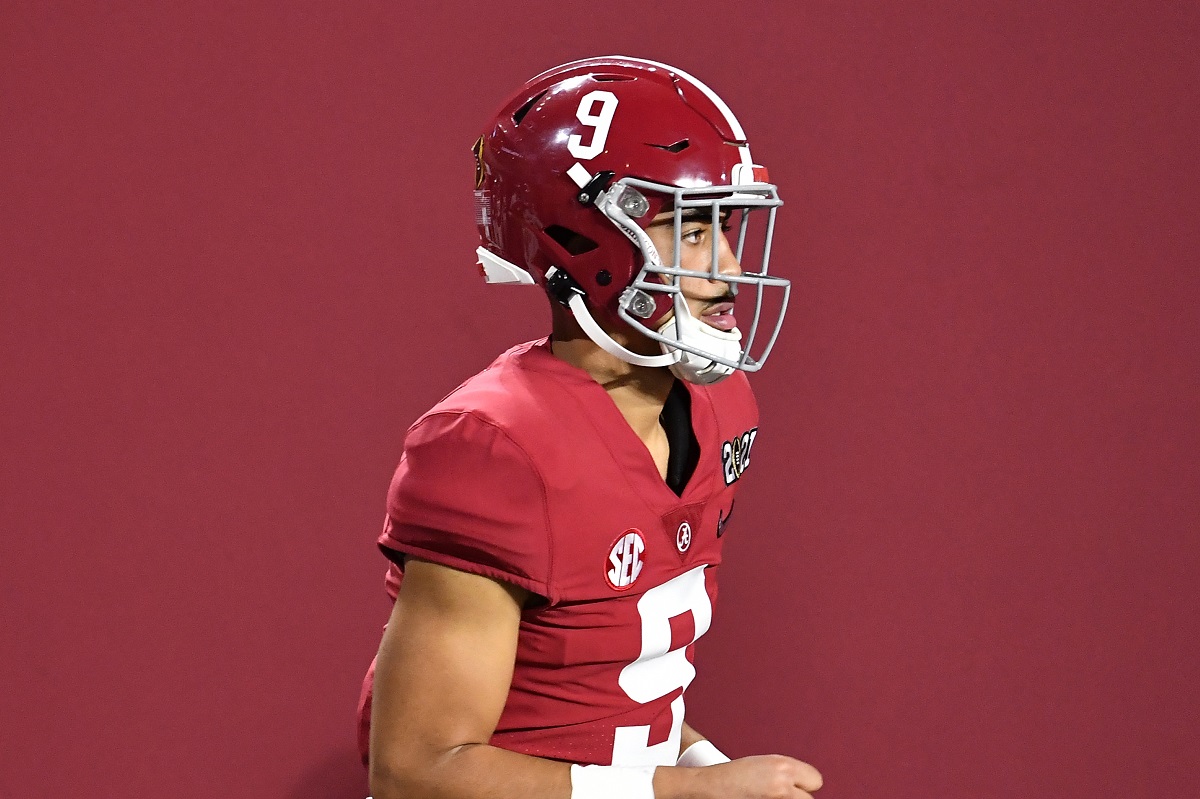 A few months ago, the NCAA approved a proposal that allows student-athletes to make money off their name, image, and likeness.
Student-athletes are allowed to make deals with companies as long as it is approved by the school.
Young, who is the presumptive starter for the Alabama Crimson Tide, is already looking at making seven figures before the season begins, according to his head coach.
Saban said Young was offered "ungodly numbers" that equaled almost seven figures. 
"And it's like, the guy hasn't even played yet," Saban said, according to The Athletic. "But that's because of our brand."
Per the Wall Street Journal, back in 2019, Alabama football generated over $140 million and was the third most valuable football program in the country behind Texas and Ohio State.
Reggie Bush supports players being paid
For years, many current and former college athletes have advocated for players to be paid. One of those athletes is former USC running back Reggie Bush.
Bush was stripped of his Heisman, and USC was put on probation for cheating violations. Now, because of the new rules, he feels he should not only get his Heisman back but his football records reinstated by the NCAA.
Bush also stated that both the NCAA and Heisman committee refused to take his calls. He tweeted on July 1: "I never cheated this game. That was what they wanted you to believe about me."
Will Young's endorsements hurt Alabama?
While Young has every right to make money, it may garner resentment from teammates who aren't getting paid like NFL players.
Although athletes are allowed to make money, most won't get deals like Young because they may not be as famous or as popular as him, which could lead to issues in the locker room.
With the new NIL rule, even some players on smaller teams may make as much money or even more than their head coaches.
Mississippi head coach Lane Kiffin was caught off-guard by Young's numbers. He had just wrapped up his news conference during day two of SEC Media Days, which runs from July 19-22, when he heard the story.
Kiffin seemed to be shocked.
"Close to seven figures, wow! That number blew me away. You didn't prepare me for that. That's amazing. A million dollars and he hasn't started a game yet. I don't even know how to respond for that."
As the news of Young's endorsement money grows, Kiffin won't be the only head coach who's shocked by what the young quarterback and other student-athletes are earning. 
Will it cause problems? Only time will tell