Alabama's Taulia Tagovailoa Can Secure NFL Payday by Transferring to a Florida School
Taulia Tagovailoa had an opportunity to succeed his brother as Alabama's next star quarterback. If Taulia Tagovailoa follows Tua Tagovailoa into the NFL, the younger quarterback likely won't have done so at Alabama.
Taulia Tagovailoa entered the transfer portal and can restart his college career elsewhere. WIth Tua now playing for the Miami Dolphins, Taulia's best option is transferring to one of Florida's seven FBS programs.
Taulia Tagovailoa briefly played at Alabama
Taulia Tagovailoa only saw game action last year because his older brother suffered an infamous hip injury. The younger Tagovailoa completed nine of his 12 passes for 100 yards and five touchdowns across five games.
Tua's former backup, Mac Jones, will likely start as Alabama's quarterback this season.
Taulia Tagovailoa can always leave the transfer portal and rejoin the Crimson Tide if Nick Saban wanted him back.
Tagovailoa should transfer to a Florida school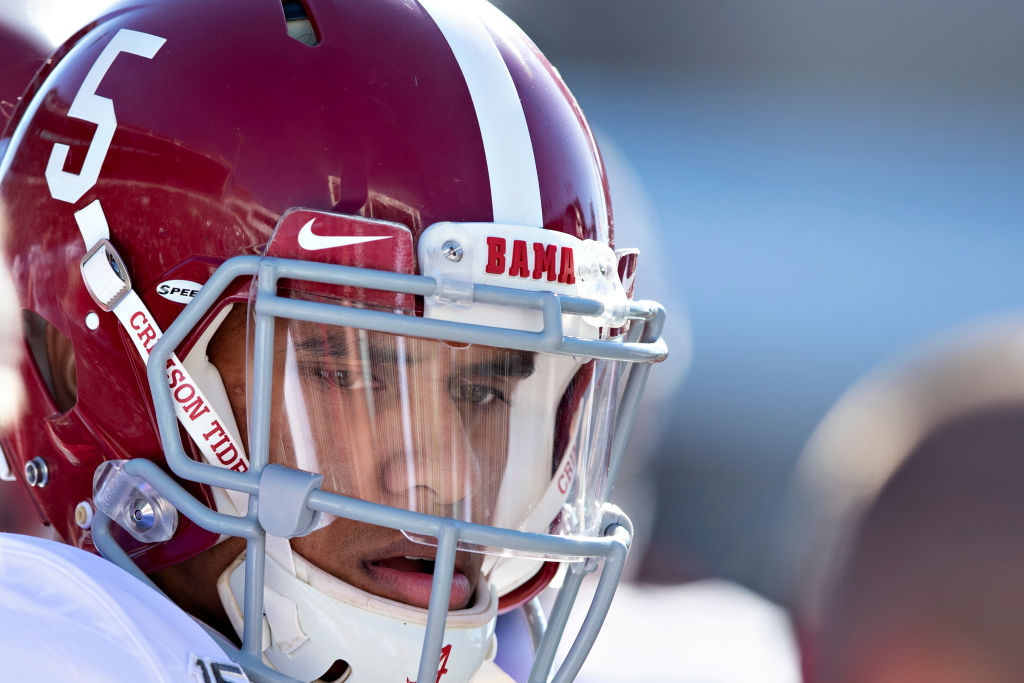 There is always a market for Power 5 quarterbacks, especially those in the SEC, who want to transfer to another program.
Almost all of Florida's seven FBS schools have long-term quarterback questions either entering the 2020 season or when their current starter leaves.
Florida International star quarterback James Morgan exhausted his final year of eligibility. Morgan's backup, Kalyan Wiggins, is the early frontrunner to replace the newest Jets quarterback.
Florida Atlantic not only returned all-conference quarterback Chris Robison but signed Willie Taggart Jr., the son of FAU's newest head coach, in February. If Robison declared for the 2021 NFL draft, Taulia Tagovailoa could slide in as Robison's replacement.
Former FAU head coach Lane Kiffin, who recruited Tua Tagovailoa at Alabama, took the same position at Ole Miss last December.
Kiffin and Charles Weis Jr. worked together at Alabama and FAU. Weis Jr. is now USF's offensive coordinator, and the pre-existing relationship could lead to Taulia Tagovailoa donning green and white.
Miami signed Houston's D'Eriq King as a graduate transfer this offseason. Tagovailoa is the perfect heir to take over King's spot in 2021.
University of Florida quarterback Kyle Trask, like King, is likely in his final year. Trask missed the 2017 season with an injury and could petition the NCAA for another year of eligibility, though.
Florida State has a loaded quarterback room, and UCF's Dillon Gabriel is the likely 2020 starter.
Which Florida school should Taulia Tagovailoa pick?
Of the seven Florida schools, the first one to cross off is Florida State. It seems unlikely that Taulia Tagovailoa would transfer to a program that already has three scholarship quarterbacks in place for 2021.
Florida International is the state's 'QBU' and had two quarterbacks drafted in the last three years. Head coach Butch Davis turns 69 later this year, though, and the Panthers don't have the best facilties.
If Lane Kiffin still coached at FAU, there would be more incentive for Taulia Tagovailoa to play in Boca Raton. With Taggart Jr. and another young quarterback, Javion Posey, on the Owls' roster, FAU might be better off addressing other positions.
That's not to say FAU head coach Willie Taggart wouldn't want Taulia Tagovailoa. But FAU has plenty of options for 2021 regardless if Chris Robison returns or not.
Miami's recent handling of quarterback situations should rightfully scare Tagovailoa. Still, the opportunity of playing so close to his older brother may not be worth passing up.
USF and UCF are each considered dark horse options. It would not be surprising, though, to see either make a serious run at Taulia Tagovailoa.
Although Gainesville is over 300 miles away from Miami, the Gators make the most sense for Taulia Tagovailoa. Florida International, despite its facility issues, ranks second and FAU third.