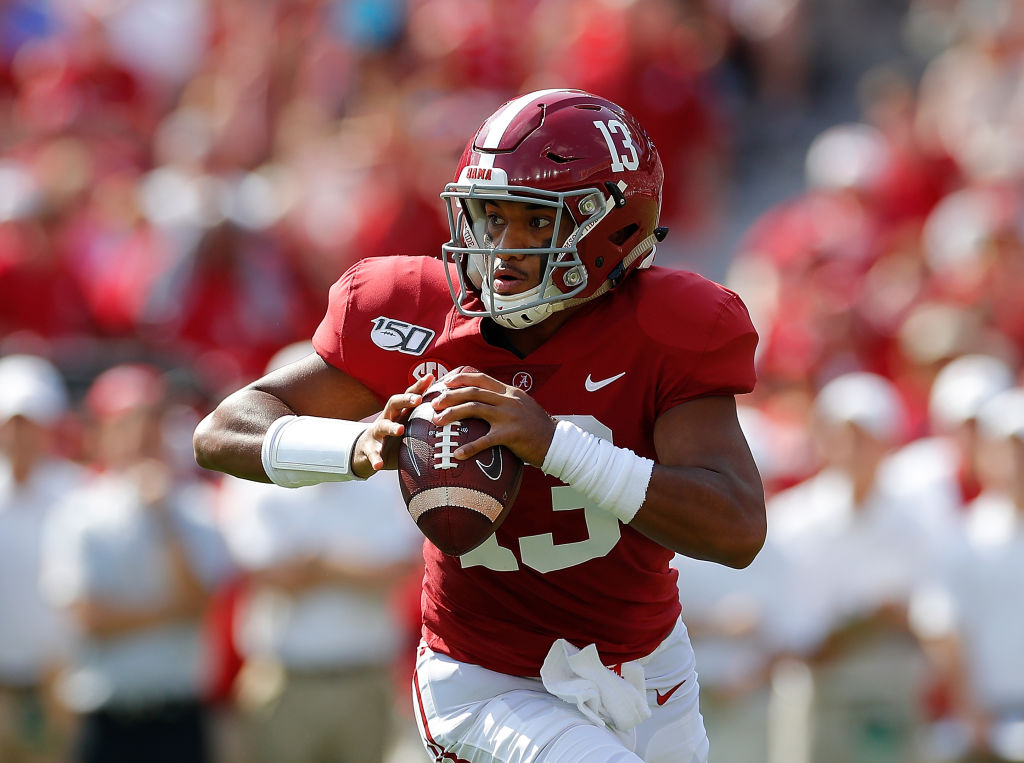 Alabama's Tua Tagovailoa Deserves His Steve Young Comparisons
Alabama's Tua Tagovailoa has earned comparisons to NFL legend Steve Young. Those comparions, especially one from an ex-coach, are warranted.
Tua Tagovailoa drew comparisons to San Francisco 49ers great and Hall of Famer Steve Young before he debuted at Alabama. Now on the verge of starting his NFL career, Tagovailoa will likely hear his name compared to Young once again.
Who started the comparisons between Tua Tagovailoa and Steve Young, and why are they relevant less than two weeks before Tagovailoa will be drafted. Let's take a look.
Lane Kiffin started the Tua Tagovailoa-Steve Young comparisons
Ole Miss head coach Lane Kiffin has never been one to mince his words or hold back from lofty comparisons. A quick look at Kiffin's Twitter is enough of a reminder that the veteran head coach approaches both football and life much differently than other coaches.
Lane Kiffin served as Alabama's offensive coordinator from 2014-16 and recruited Tua Tagovailoa to the Crimson Tide. Kiffin never coached Tua Tagovailoa at Alabama, though. Florida Atlantic hired Kiffin as its next head coach in December 2016, months before Tagovailoa enrolled at Alabama and a year before the lefty became a college football hero.
Kiffin compared Tua Tagovailoa's traits and poise to Steve Young's multiple times. The first public comparison came when Kiffin, already at FAU, appeared on SEC Country's Alabama podcast in May 2017.
"I call him 'the human jugs machine' because he can throw a ball all day long and never gets tired. He's a lot more trained and [will have] less transition from his high school system. He's going to be a phenomenal player, best comparison I think would probably be Steve Young. Smooth release like that, not fast but really quick feet and smooth release."
Tagovailoa is an elite quarterback prospect despite the injuries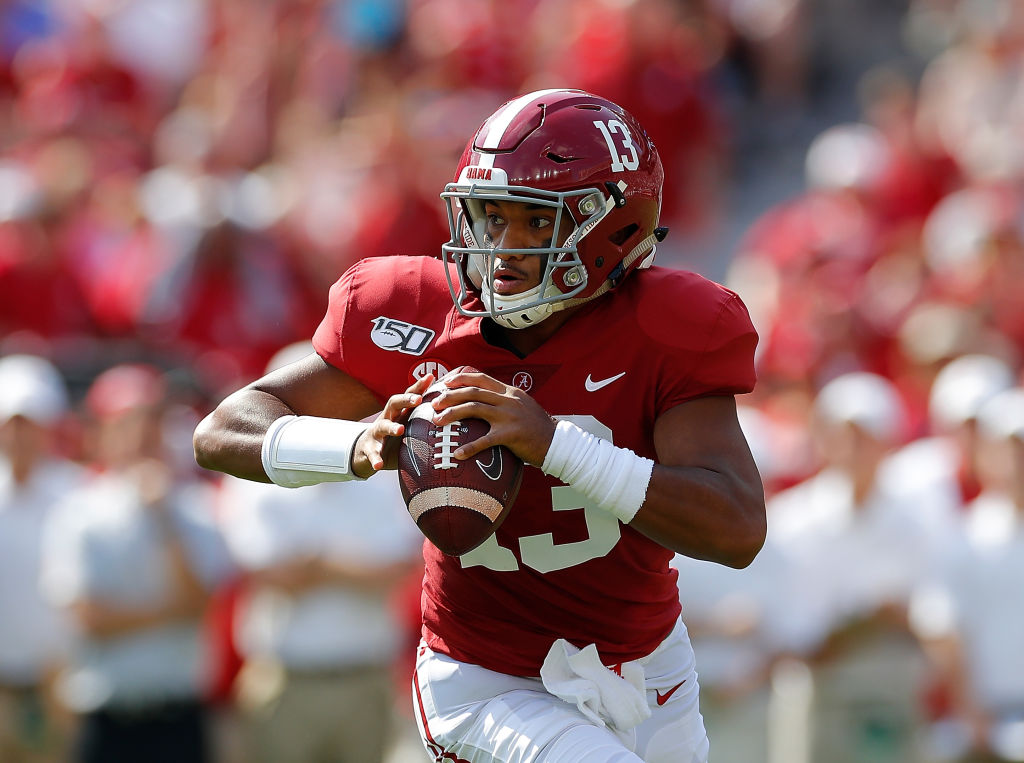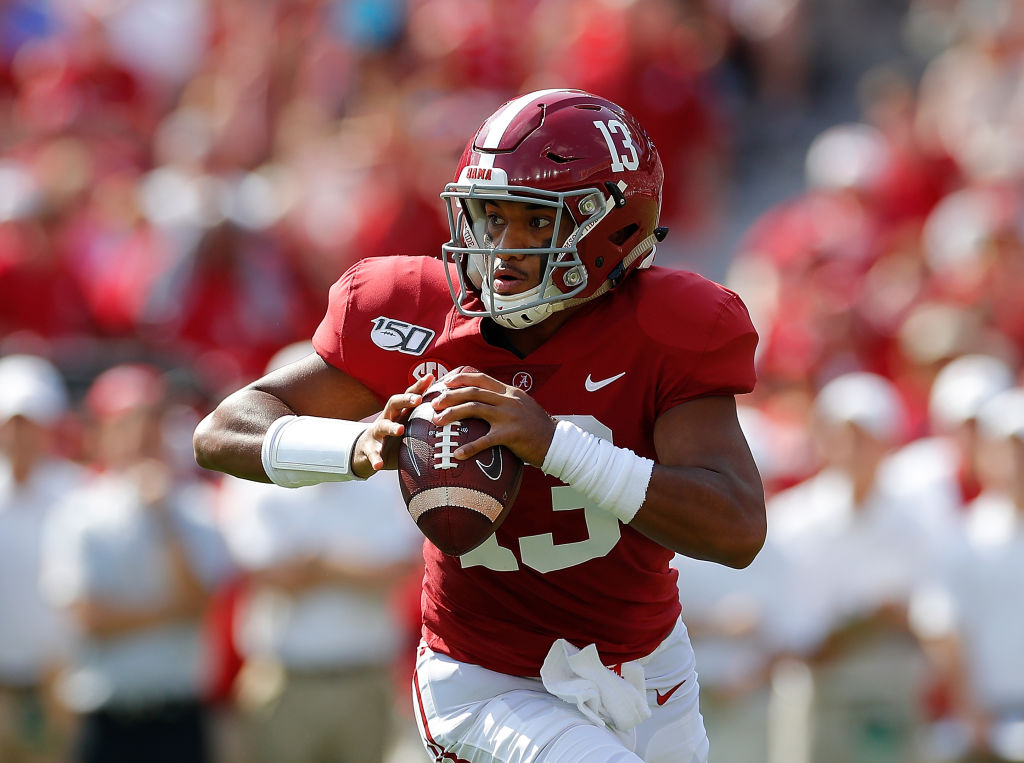 Tua Tagovailoa suffered multiple injuries in his college career. Those concerns shouldn't stop teams needing a franchise quarterback from investing a first-round pick in the Hawaiian standout.
Tagovailoa used his vision and composure to shine in Nick Saban's system. Tagovailoa ended his college career with an 8:1 touchdown-to-interception ratio and his accuracy cannot be taught.
The Miami Dolphins and Los Angeles Chargers, both of whom hold top-seven picks in the NFL draft, are expected to be in the running for Tagovailoa's services. Miami has been linked to the "Tank for Tua" movement for months. The Chargers parted ways with veteran Philip Rivers and did not sign a quarterback in free agency.
There is always the possibility that a team willing to redshirt Tagovailoa, like the New England Patriots or Las Vegas Raiders, trades up to select the former Heisman finalist. The Cincinnati Bengals are expected to use the top pick on LSU's Joe Burrow or trade down.
What does Steve Young think of Tua Tagovailoa?
Steve Young hasn't shied away from discussing Tua Tagovailoa's potential. Young told ESPN's Adam Schefter he was impressed with Tagovailoa's ability and arm strength. Young even went so far as to say "it really feels familiar" when he watched Tagovailoa play.
It would be unfair to Tua Tagovailoa and his next team to believe he will have a Hall of Fame career like Steve Young. But if Tagovailoa is healthy and showcases the same skills that put him in the same conversation as Young, both Tua and his next team will have plenty to celebrate over the next decade.