Albert Haynesworth Formed a Lasting Friendship With a Player He Stomped On
When Albert Haynesworth was on his game, he was easily among the NFL's most dangerous defensive tackles. But there was one Sunday afternoon when Haynesworth took dangerous to a new and extreme level.
Albert Haynesworth committed one of the ugliest acts in modern NFL history when he stomped on Cowboys center Andre Gurode's head in 2006. Here's how the two, against all odds, turned that horrific moment into a lasting friendship.
Albert Haynesworth was a very talented defensive tackle
RELATED: The Tennessee Titans Could Take a Massive Step Back by Not Re-Signing Their Former $30 Million Man
A first-round pick from the University of Tennessee in 2001, Albert Haynesworth showed flashes of becoming a dominant run stopper.
After several years, Haynesworth finally broke out in 2005, his age-24 season. Haynesworth recorded three sacks and 52 tackles in 14 starts that year.
Albert Haynesworth had issues and signs of a temper, though. In 2003, Haynesworth kicked Titans center Justin Hartwig in the chest at a practice.
Teammates restained Hayworth that day. No one, maybe not even Haynesworth, could have predicted what would happen in October 2006.
Haynesworth famously stomped on Cowboys center Andre Gurode's head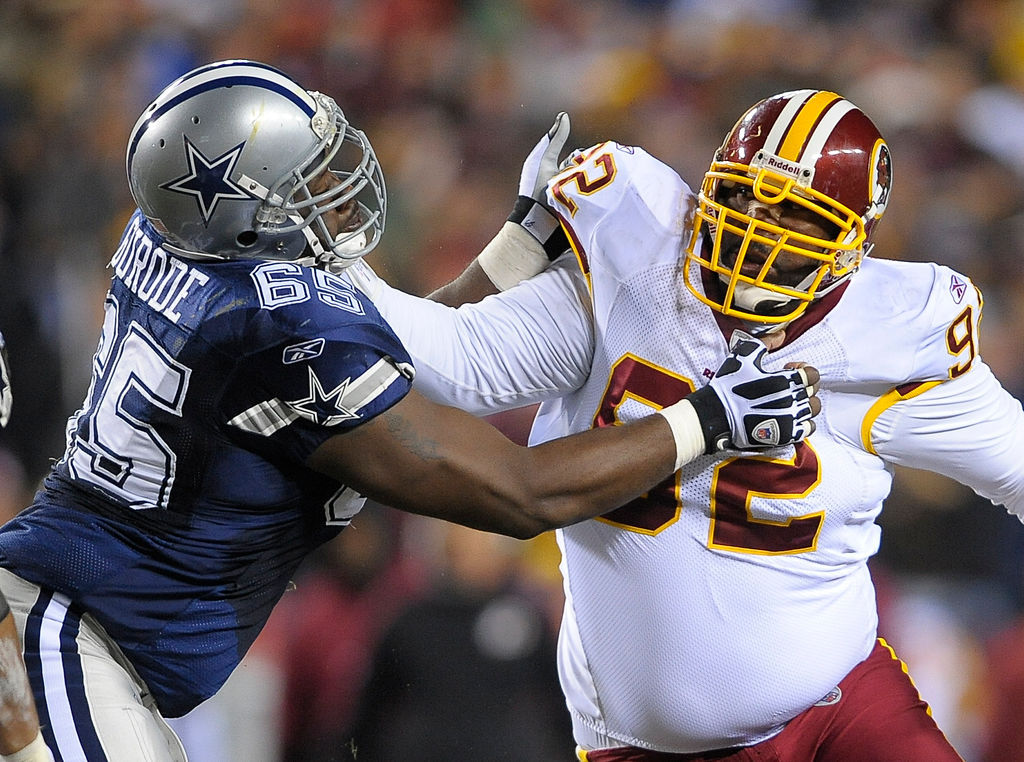 RELATED: Will the Titans Regret Letting a Key Part of Their Playoff Run Walk Away?
Albert Haynesworth was frustrated on Sunday, Oct. 1, 2006. Tennessee had just allowed Dallas Cowboys running back Julius Jones to score a goal-line touchdown.
Cowboys center Andre Gurode fell to the ground during that play. From there, the chaos began in Tennessee.
Albert Haynesworth removed Gurode's helmet and tried stomping on the center's head, but he missed.
Haynesworth again tried to stomp on Gurode and nicked his forehead with his cleats; a few more inches and Haynesworth's cleat would have made direct contact with Gurode's right eye.
Amazingly, officials didn't immediately eject Haynesworth. It was only when Haynesworth threw his helmet to the turf that he left the game.
The NFL suspended Albert Haynesworth for five games and there were legitimate concerns he'd played his last game for the Titans. Andre Gurode elected not to press charges and he later made the Pro Bowl that year.
Haynesworth publicly apologized and vowed to work on his temper. He forfeited nearly $200,000 in salary and after he privately apologized to Gurode, elected not to appeal the suspension.
Albert Haynesworth and Andre Gurode later became friends
RELATED: Why the Titans Will Regret Ryan Tannehill's $118 Million Contract
Despite what could have been a life-altering incident for both players, the two turned that horrific moment into a friendship. Because the two became Pro Bowl players, they had the opportunity to spend time with one another in Hawaii.
Albert Haynesworth signed with the Washington Redskins in 2009, which guaranteed him at least two games a year against Gurode and the Cowboys. Haynesworth received a seven-year, $100 million contract with $41 million guaranteed.
The two were on great terms by that point. Gurode made it clear in interviews that he'd moved on from the stomping, according to ESPN.
"It was a big deal. Nobody expects anything like that to happen. My teammates rallied around me. It was bad judgment on his part. I got healthy, and we moved forward and got better."
Andre Gurode got the last laugh on Albert Haynesworth. Dallas swept Washington that season and took three of four games in Haynesworth's two seasons with the Cowboys.