Albert Pujols Has Made Over $450,000 per Home Run in His Career
Albert Pujols has been one of the greatest baseball players of all-time for the St. Louis Cardinals and Los Angeles Angels. He has won two World Series titles and has hit the sixth-most home runs in MLB history. Because of all of the success he has had, especially with hitting home runs, Pujols has earned a lot of money over the course of his career.
Albert Pujols has had a great MLB career
Albert Pujols made his MLB debut in 2001 with the St. Louis Cardinals. He was an instant star that season too. Pujols earned an All-Star selection that season as he went .329 at the plate and hit 37 home runs to go with 130 RBIs. It also helped him earn the NL Rookie of the Year award.
Pujols then ultimately spent 11 seasons with the Cardinals, and he was an All-Star in nine of those seasons. He also won three NL MVP awards with the Cardinals and two World Series titles. Pujols then left the Cardinals after the 2011 season. He ultimately went .328 at the plate during his time there and hit 445 home runs to go with 1,329 RBIs.
After the 2011 season, Pujols signed a massive deal with the Los Angeles Angels. He has not had as much success with them, though, as he has just been an All-Star once. In eight seasons with the Angels, he has gone .258 at the plate and has hit 211 home runs to go with 746 RBIs.
Here is a look at some more of Pujols' accomplishments with both the Cardinals and Angels. 
10-time All-Star
Two-time Gold Glove winner
Six-time Silver Slugger 
656 career home runs (sixth all-time) 
2,075 career RBIs (fourth all-time) 
3,202 career hits (15th all-time)
Pujols only went .244 at the plate last year to go with 23 home runs and 93 RBIs.
Pujols could play beyond the 2021 season
Pujols' deal with the Angels goes through the 2021 season, according to CBS Sports. Despite his numbers being down last year, though, and despite him just turning 40 years old in January, Pujols could play past that 2021 season.
"I don't think about it that way," Pujols said to ESPN in Spanish, according to CBS Sports. "It's my last year under contract, but that doesn't mean I can't keep playing. I haven't closed that door. I'm taking it day by day, year by year, but you haven't heard from my mouth that I'm going to retire next year, or that it's going to be my last year, or that I'm going to keep playing. I haven't said any of that. When that time comes, we'll see. Just because you have one year left on your contract doesn't mean it's your last year. It could be, but it could not be. God hasn't put that in my heart yet."

Albert Pujols
No matter what Pujols does after the 2021 season, though, he has already earned plenty of money in his career.
Pujols has earned over $450,000 per home run in his career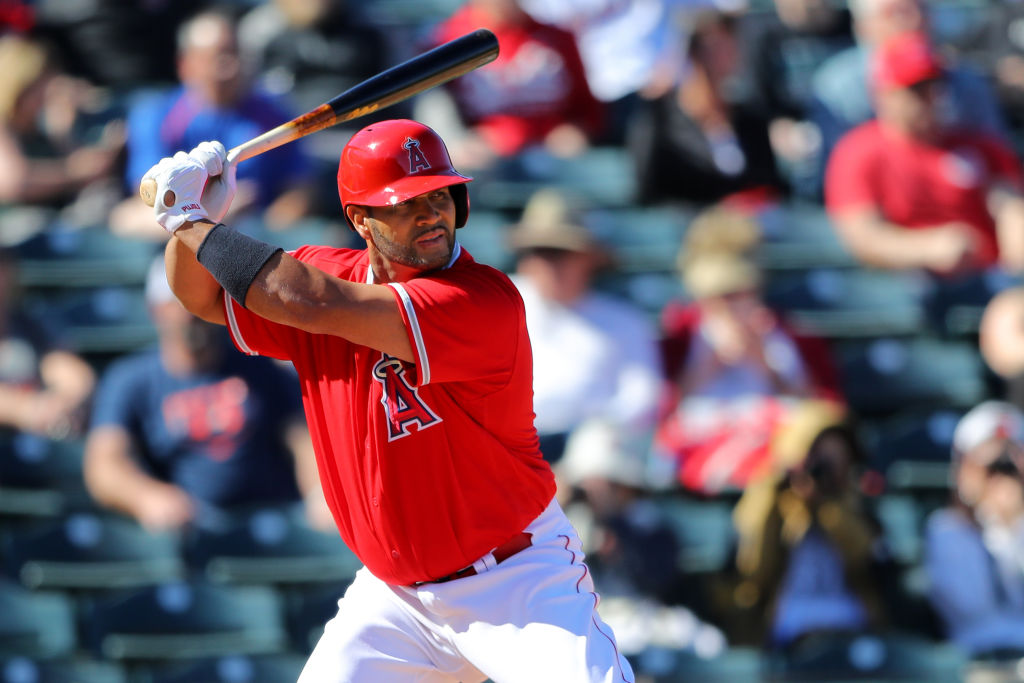 Throughout all of the seasons Pujols has played in his career, he has made an estimated $298.47 million, according to Spotrac. A lot of that has come from his time in Los Angeles as the deal he signed with the Angels after the 2011 season was a 10-year contract worth $240 million, according Bleacher Report.
Breaking it down in terms of home runs, Pujols has hit 656 home runs in his career. That means he has earned $454,984 per home run. He has earned more money for each home run than most people make in a year. That is an insane number.
Albert Pujols will continue to make money the next couple of years. He will also, most likely, continue to hit home runs. Time will tell, though, how long he will continue playing after that, but he should be set for life.