MLB: Albert Pujols Finally Opens up About why He Left St. Louis
Despite declining production that pales in comparison to the numbers he put up earlier in his career, the Los Angeles Angels' Albert Pujols has a career that points to him as one of the greatest active players in 2019. He debuted for the St. Louis Cardinals in 2001, and in 11 seasons there, he established himself as a mainstay for one of baseball's best franchises. After the team's 2011 World Series victory, though, he left for a long-term deal with the Angels.

The classy Pujols has rarely discussed what caused him to part ways with the franchise he was associated with for so long. Recently, however, Pujols opened up about why he left the Cardinals. To view it in its proper context, it helps to first look at his overall numbers as well as his production and impact in St. Louis.

Albert Pujols and his impressive career numbers
Albert Pujols' career stats are Hall of Fame worthy. He joined the prestigious 3,000 hit club last year, and he could reach 3,200 by the end of the 2019 season. His 635 home runs put him seventh all time. His batting average has dipped considerably in recent years, but his career average still sits above .300 at .302. Pujols has a career on-base percentage of .382, and he's also the active career leader in grand slams.
Pujols also has a significant amount of awards and achievements. He won the Rookie of the Year Award in 2001. He was the MVP three times, in 2005, 2008, and 2009. Pujols made 10 All-Star teams. He also has two Gold Gloves and the 2004 National League Championship Series MVP Award.

Impact on St. Louis
Pujols solidified his status as a surefire Hall of Famer before he ever left St. Louis. He hit 445 home runs, had 1,329 RBIs, and batted .328 for the Cardinals. He also helped lead them to two World Series victories over Detroit in 2006 and over Texas in 2011.

To get a real understanding about the importance of Pujols to the Cardinals franchise, here's a quote from St. Louis great Red Schoendienst comparing the slugger to the greatest Cardinals player of all time, Stan Musial:

"Of course, Stan and Albert are a lot alike…the great ones are all a lot alike. They both love to hit. And they both are good people on and off the field. That matters."

When a player draws favorable comparisons to Stan the Man Musial, it means he most likely has a critical place in Cardinals lore. St. Louis fans even gave Pujols his own Musial-like nickname as an homage — El Hombre.

Where does he rank in the Cardinals' major stat categories?
Albert Pujols' career in St. Louis was heralded for a reason. Take a look at where he ranks among the all-time leaders in St. Louis Cardinals history for multiple statistic categories including:
Wins Above Replacement (WAR): He's third with 86.6 (behind only legends Stan Musial and Rogers Hornsby).
Home runs: He's second behind only Musial.
RBI: Again, second to Musial.
Doubles: Second (behind Musial in yet another category) with 455.
Slugging percentage: At .617, he's second behind only Mark McGwire.
Hits: Fourth with 2,073.
It's clear that his place on the leaderboard leaves him among the greatest Cardinals of all time. That's why his departure after the 2011 season was so shocking.

Why did Albert Pujols leave St. Louis?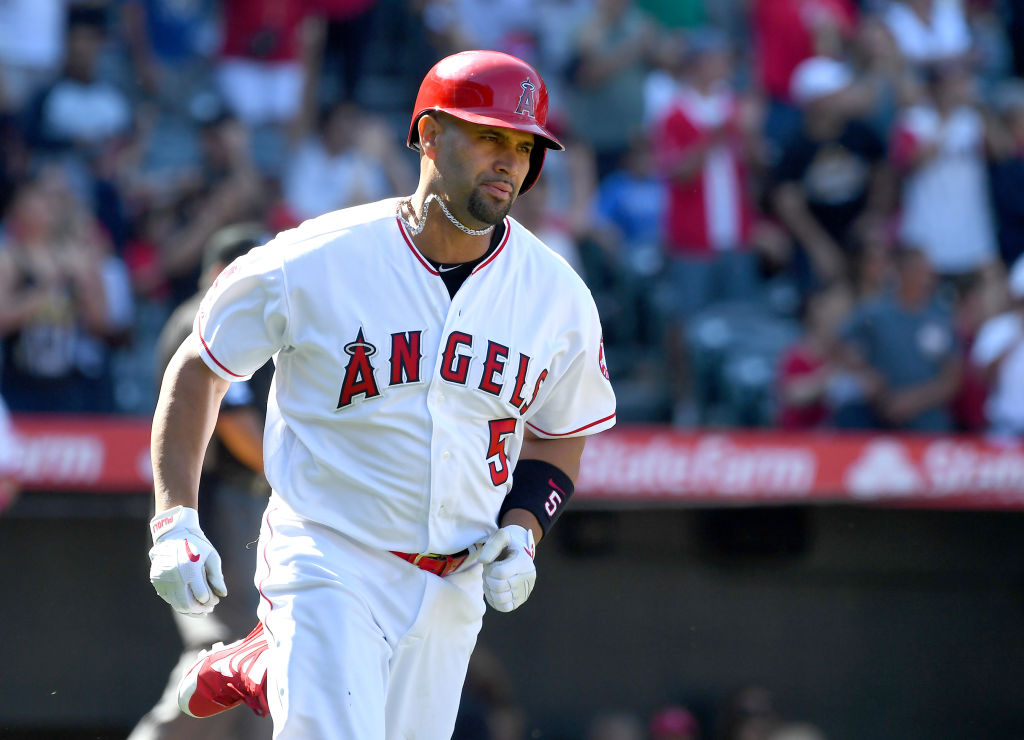 Pujols decided to leave St. Louis and go to Anaheim when it appeared to him that the Cardinals weren't interested in signing the slugger to a long-term deal. ESPN reported that in an interview with In Depth with Graham Bensinger. Pujols said the following:

"I felt that the approach that they took wasn't showing me that they wanted me to be a longtime Cardinal…I believe I made the right decision."
The Cardinals offered Pujols substantially less than the Angels, leading one of the franchise's all-time great players to depart. While Pujols acknowledged it was a hard decision, there's little doubt that he'll always hold a special place in the hearts and minds of St. Louis baseball fans for his contributions while he played there.