Alex Antetokounmpo Says People Treated His Family Differently When Brother Giannis Antetokounmpo Got Drafted
The journey of Giannis Antetokounmpo and his brothers is a triumph of perseverance and love. The family survived on the fringes of Greek society before the NBA drafted Antetokounmpo. Their status as stateless immigrants forced them to rely on each other for everything because they had no safety net to protect them.
Of course, having a superstar and eventual NBA Finals MVP in the family shifted how their adopted country viewed the family. Eventually, the greatness of Antetokounmpo convinced Greece to fully support his whole family.
The Antetokounmpos were just another struggling family before Giannis entered the NBA
Greek society did not care about the Antetokounmpo family. In the Athens neighborhood of Sepolia, they lived in such abject poverty that Giannis and his older brother Thanasis needed to sell handbags and other trinkets on the streets to help pay bills or buy a meal they could split between them.
Getting consistent work was difficult because they could be deported if the police discovered they were undocumented. The racist attitudes from some of the population made their plight worse. In an article for Fox Sports, Giannis Tzikas, a cafe owner who handed out free sandwiches to the Antetokounmpos from time to time, was criticized for feeding the poor, hungry kids. "Some people said to me, 'Why are you feeding the black kids?'" Tzikas recalled.
Giannis and his brothers were also wary of visiting the neighborhood courts due to threats of violence. Some tried to airbrush that part of the story out once Giannis was chosen in the 2013 NBA Draft.
The New York Times published an excerpt from Mirin Fader's biography on Antetokounmpo, titled Giannis: The Improbable Rise of an NBA MVP. One of his younger brothers, Alex, describes how the change in status changed people's perceptions of Giannis and his family:
"Alex Antetokounmpo remembered people looking at him strangely, thinking, 'Oh, he's acting different because his brother got drafted.' They'd text him to play basketball, and if he missed the text or wouldn't respond in time, they'd text him, 'Oh, you can't hang out because your brother's in the N.B.A.?' It infuriated him. 'I was the same person as I was before,' he said.

It didn't help that people back in Greece began to look at the family differently. His friends didn't understand how precarious Giannis's situation felt. Yes, he was in the N.B.A. right now, but what about tomorrow?"
Anxiety over his potential career and past life explains his reticence to spend money as a young NBA player.
Their background taught them not to trust outsiders easily
Their origin story makes it easy to see why the Antetokounmpo brothers are wary of letting people in. Even the Milwaukee Bucks found it difficult to reach Giannis emotionally until the worst winter storm in 20 years hit the area.
The Arctic polar vortex of winter 2013 dropped the temperature below zero 24 times and created life-threatening wind chill conditions. Giannis didn't own a winter coat. He chose to wear team gear and some clothes given to him by teammates. Giannis and Bucks assistant video coordinator Ross Geiger got caught in the middle of a blizzard after a late dinner at the Cheesecake Factory.
Geiger drove the car, activating the windshield wipers as often as the car would allow, but the snow was unforgiving. He couldn't see a thing and pulled over to clear the debris himself. But Giannis said, "We keep going." The NBA rookie grabbed a towel and used his 7-foot-3 wingspan to clean the front of the car every 30 seconds. This method got Geiger home safely.
Fader presents this moment as a foundational event in the relationship between Giannis and the franchise:
"Geiger realized he had crossed a threshold: He had gained Antetokounmpo's trust, something Antetokounmpo still allows few to do. As a child, Antetokounmpo learned that trusting people was dangerous. Trusting people could let others see that there was vulnerability in him. But maybe it was OK that Geiger saw that. Maybe it was OK to truly let someone see him."
Giannis still primarily keeps to himself, choosing not to chase friendships with other stars and train with his brothers instead. But that inner circle has grown in recent years. Now, Giannis has two children with his partner, Mariah Riddlesprigger.
The Greek Freak's greatness likely meant a lot to their case for citizenship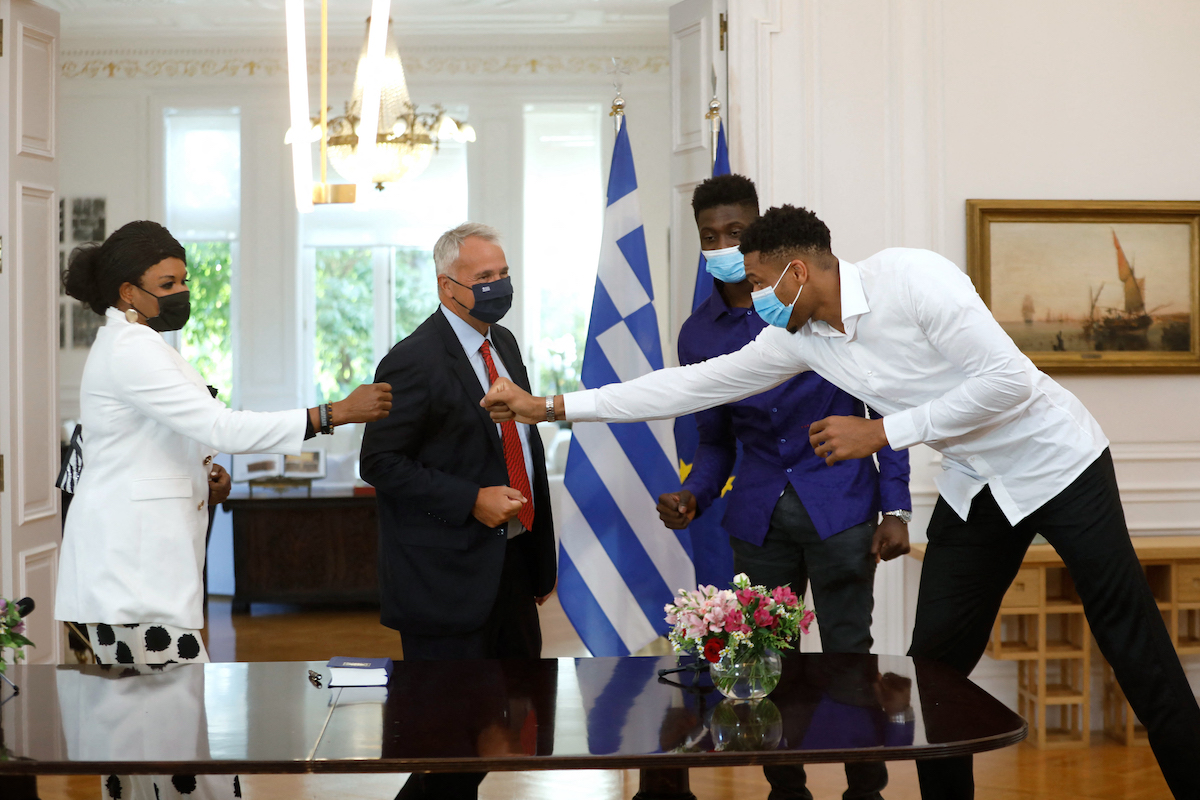 Giannis used those early hardships to become a unique superstar who embodies the best things about basketball to fans. Thanasis and Kostas managed to stick in the NBA, winning championship rings of their own. Alex is a professional player in Europe. The home country that once shunned them now views the Antetokounmpos as their prodigal sons.
Giannis and Thanasis became Greek citizens in 2013. Last summer, Alex and their mother followed suit. "We always felt Greek, but now we have an official stamp and we are happy," Antetokounmpo told the AP News after the ceremony that took place at the home of Prime Minister Kyriakos Mitsotakis. "Alex and my mom are Greek citizens now."
It's tough to think about their treatment when the brothers were children and believe that all of that animosity disappeared, or that kids in similar situations now aren't dealing with similar prejudices in their lives. The Antetokounmpo family's story shows it's always worth fighting for yourself.
RELATED: Giannis Antetokounmpo Delivers Powerful Message After Winning an NBA Title: 'I Hope This Can Give Everybody Around the World Hope'