Alex Bowman Isn't Anywhere Close to Safe as the NASCAR Playoffs Head to Bristol
Alex Bowman doesn't have a great shot to improve his standing in the NASCAR Cup Series Playoffs at Bristol.
Alex Bowman had his best race in more than six months Sunday at Kansas Speedway.
But he and his No. 48 team still might have missed an opportunity to advance past the first round of the 2022 NASCAR Cup Series Playoffs.
Alex Bowman dominated portions of the race at Kansas
Bowman started Sunday's race third, his best qualifying effort since a second-place start in the Daytona 500, and quickly advanced to the lead by Lap 3 and led the field to the competition caution at Lap 27.
His biggest mishap wasn't ultimately costly, but his crew chief Greg Ives called for two tires on a pit stop late in Stage 1, and Bowman collided with Chase Briscoe as Bowman tried to exit his pit box and Briscoe tried to enter his.
The damage was minimal, however, and he stormed back to the front of the field to win Stage 2. Bowman maintained his lead for the first 27 laps of Stage 3 before Bubba Wallace passed him en route to his first win of the season.
Bowman led a race-high and personal season-high 107 laps in a day that ended with a fourth-place finish. It was just his fourth top-five of the season and first since a fifth-place result in early May at Dover Motor Speedway.
Summer was unkind to the No. 48 team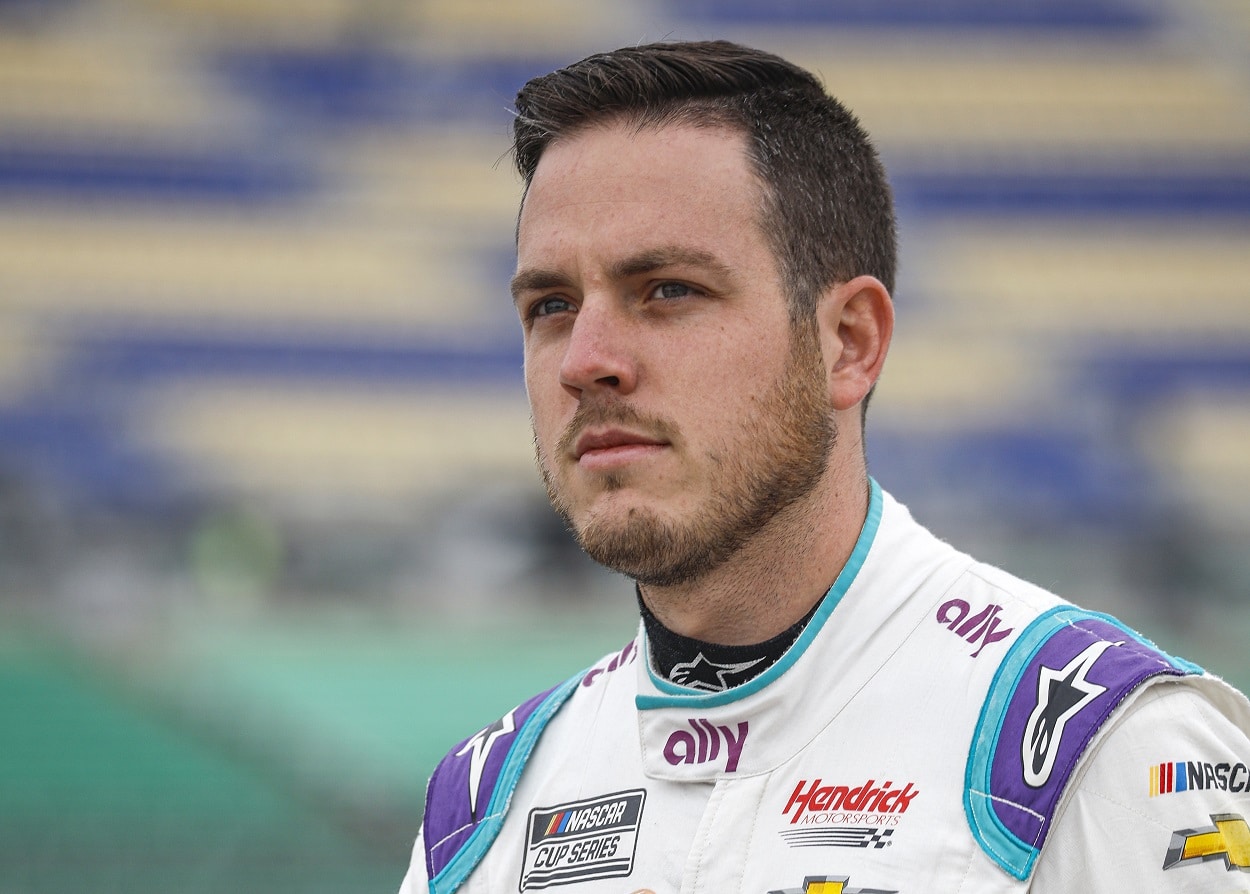 Bowman sat fifth in the points standings at that point with a win already in the bank from the third race of the year when the series visited Las Vegas Motor Speedway. He looked poised to build on his career-high four-win total from a year ago and grow into a championship contender that Hendrick Motorsports expects out of all four of its drivers.
Instead, Bowman hit an intense dry spell.
He did not finish better than ninth in any of the final 14 regular-season races and did not lead another lap after Dover until he paced the field for 11 circuits in the regular-season finale at Daytona International Speedway.
His Las Vegas victory kept him safely in position to make the playoffs, but he had fallen to 14th in the standings by the time the series headed to Daytona.
Bowman opened the playoffs three points behind the 12th-place cutoff to reach the postseason's second round. A 10th-place result in the playoff opener at Darlington Raceway got him above the elimination cutline to 10th in the standings with 10 points to spare.
His fourth-place run at Kansas boosted him even higher in the standings. He now sits sixth with a 30-point margin over Kyle Busch in 13th.
Conventional wisdom suggests he should be in the clear to reach the next round of the postseason, except Bristol Motor Speedway looms Saturday night as the third and final race of round one.
Bowman has had spotty results at Bristol
Bowman has a 20.5 average finishing position in 11 career races on the concrete surface at Bristol Motor Speedway. That ranks 19th among active drivers and ahead of only Christopher Bell and Ross Chastain among playoff drivers.
Bowman did finish fifth in the Bristol night race a year ago, but he also has four finishes of 15th or worse in his last six races on that surface, including a 23rd in 2019 and 37th after a crash in 2020.
Busch, meanwhile, leads all active drivers with eight career wins and nearly 2,600 laps led at the half-mile bullring in eastern Tennessee. Chances are good that Busch will run well Saturday night and put pressure on all of the drivers ahead of him in the standings.
A decent finish should keep Bowman and the No. 48 team within the top 12 playoff drivers to advance to the next round. Still, Bristol is notorious for races full of havoc that could ruin any driver's championship hopes aside from points leader Christopher Bell, who is the only driver locked into the second round.
Bowman was in position to do the same had he held on to win at Kansas, but his fade to fourth on the final two runs prevented the comfort that a win provides with the automatic bid to the next round of the playoffs.
Kansas was still an excellent race for Bowman. But it was also an opportunity lost. He was close to being able to race at Bristol with an uncommon sense of peace. Instead, one typical Bristol incident could put him right back on a playoff bubble that is anything but comfortable.
Stats courtesy of Racing Reference
Like Sportscasting on Facebook. Follow us on Twitter @sportscasting19 and subscribe to our YouTube channel.