Alex Bowman Gets 'No Respect,' Tagged With 'Terrible' NASCAR Nicknames and 'Caveman' Artist Rendering
The hosts for FS1 RaceDay asked NASCAR Cup Series driver Alex Bowman in a pre-race interview to vote on his favorite nickname.
The three choices?
"Bowman the Showman."
"Front Row Bow."
And, of course, "hack."
Bowman smiled and played along.
Alex Bowman: 'Bad nicknames, bad artist rendering everyone just doing me dirty lately'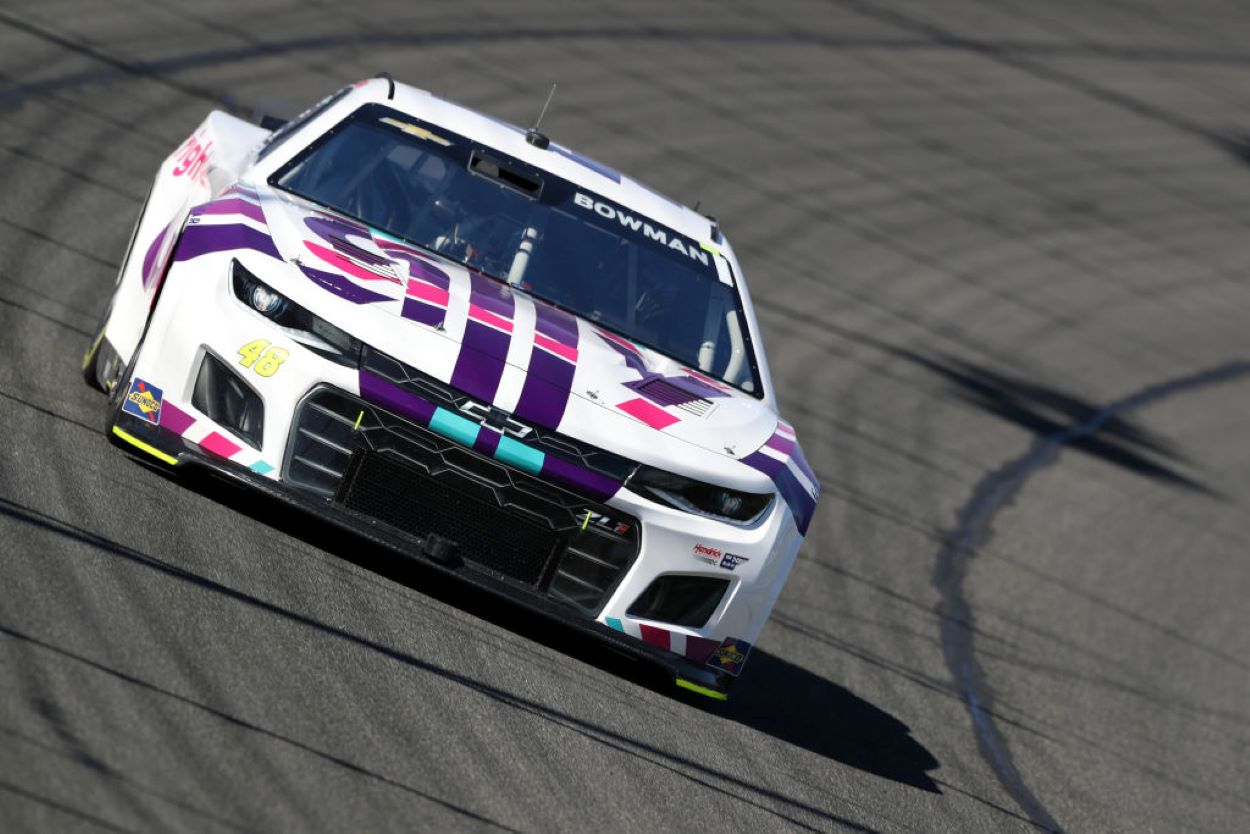 "They are all pretty terrible," Bowman replied with a grin.
The 2020 winner of the Auto Club 400, the last time NASCAR made a trip to Fontana, California, Bowman put on a comedy act of his own. He did his best Rodney Dangerfield's "I Get No Respect" shtick.
I tell you, I get no respect. Did you see "my face on the walk of fame thing they did here?
"It looks like a caveman."
Ta-dum-dum.
Bowman concluded his impromptu stand-up act by stating his lack of respect must stem from his lack of on-track conspiracy.
"Bad nicknames, a bad artist rendering," he joked. "Everyone's just doing me dirty lately."
Returning track champion Bowman weary of wear and tear
NASCAR skipped a stop to Fontana, California, in 2021 because of coronavirus (COVID-19) restrictions.
The old track got older.
Is Bowman wiser?
Bowman earned a career-best four wins last season on diverse tracks. Returning to Auto Club Speedway, Bowman couldn't use much data from his dominating performance on March 1, 2020.
Different car.
Different size tires.
Two additional years of track wear and tear.
Bowan led 110 laps during the Auto Club 400, including the final 41 following green-flag pit stops. He beat runner-up Kyle Busch by 10 seconds.
During the first two stages of the Wise Power 400 on Feb. 27, Bowman ran in the middle of the lead pack. On Lap 100, he rode up on rookie Austin Cindric aggressively and bumped the reigning Daytona 500 champion. The two drove on as Tyler Reddick followed up his Stage 1 win with additional Stage 2 points.
Bowman finished a lap down after a Stage 3 accident.
'Hack' Bowman seeks to prove he has championship consistency
The "hack" is looking for more consistency this season. Since he won the last NASCAR event at Fontana, two of his Hendrick Motorsports teammates have earned drivers' championships, Kyle Larson last season and Chase Elliott in 2020.
He has seen up close what it takes to win a title. It takes what he has yet to prove. It takes consistency.
In four starts before his 2020 win at Fontana, Bowman never finished better than 13th.
He earned the pole during the 2021 Daytona 500 but led just one lap and crashed out after 13 laps.
The "hack" won four races last season but finished 26th or worse seven times.
"In 2021, we won or finished last," Bowman said. "We have the speed. But we need to do that more consistently."
After placing 24th during the 2022 Daytona 500 and 25th during the Wise Power 400, Bowman is still searching.
For respect.
Like Sportscasting on Facebook. Follow us on Twitter @sportscasting19.
RELATED: Drawing Ire: Alex Bowman Catches Flack as Non-Playoff Driver Helps Create Late-Race Chaos Before Capturing First NASCAR Cup Series Event at Martinsville