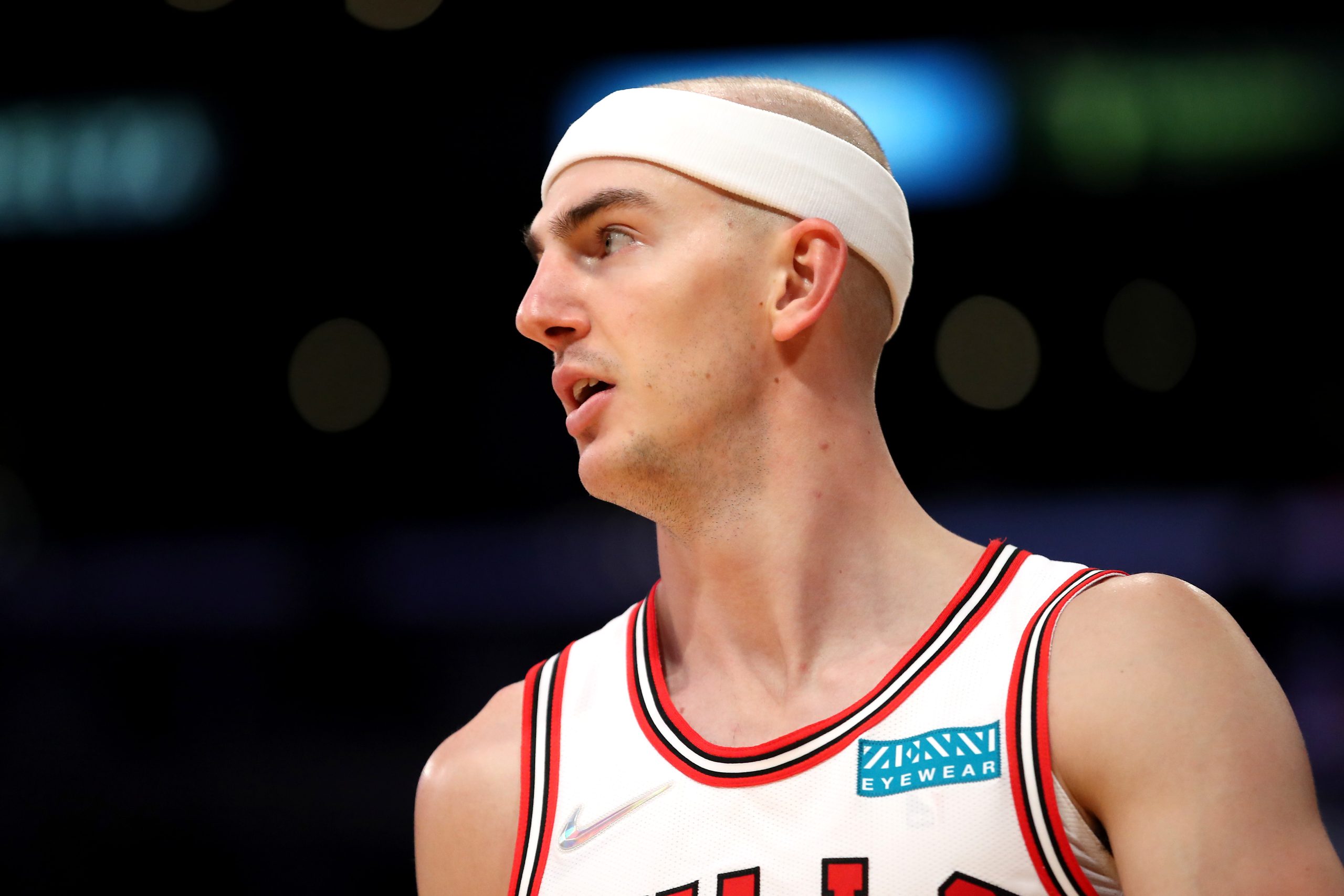 Alex Caruso Injury Update: Latest Instagram Post Creates Excitement For Bulls Return
Alex Caruso is expected to be out for a few weeks still, but an interesting Instagram post is fueling speculation about a quicker return to play.
When Alex Caruso fractured his wrist in mid-January and was expected to miss 6-8 weeks, it put a damper on what has been an exciting, refreshing season for the Chicago Bulls.
The Bulls, who have been largely marred in mediocrity for the last several seasons, finally made moves that upgraded their talent and complemented their core. Finally, Zach Lavine has some running mates.
DeMar DeRozan, who is a competitive candidate for the MVP award (but will likely be overshadowed by otherworldly performances from Nikola Jokic and Joel Embiid) has made himself known as a primary offensive option. The Bulls also nabbed the aforementioned Caruso in free agency, a defensive asset who has upped his offensive contributions this season as well with an increased amount of playing time.
Since Michael Jordan left the Bulls, the league has been dominated by the likes of the Lakers, Warriors, Heat, and Spurs. It's somewhat fitting that the Caruso signing has proven to hurt the Lakers in a big way. As of late, though, it's more than just the Lakers missing Caruso.
Alex Caruso is missed by the Bulls
Caruso fractured his wrist on January 22 against the Milwaukee Bucks on a controversial play where Grayson Allen closed out with AC on a fast break opportunity. Allen connected with Caruso in the air sending him free-falling, ultimately landing on and injuring his wrist. Allen was called for a flagrant 2 foul on the play and subsequently ejected from the game.
Yes, Caruso being out since January is a big deal. The Bulls, prior to Caruso's wrist fracture, had a defensive rating of 109.6. Since he's gone out, that has fallen to 115.5. The team misses his high energy and defensive effort.
The Bulls have been resilient despite the absence — and they're also missing Patrick Williams, too — still standing at second in the Eastern Conference standings at 39-23. They have gone 11-7 since Caruso's injury. An All-Star break in the middle of the injury timeline has helped, but the team also took advantage of a lighter schedule in terms of opponent strength, winning six in a row in mid-February.
Alex Caruso Instagram post hints at upcoming return
Caruso recently took to Instagram to drop a slew of photos from, presumably, the last few weeks. Caruso captioned it, "Can't Kill My Joy ‼️" and then put a P.S. encouraging his followers to look at the fifth slide with an eye and hourglass emoji.
The first four images are all of the same variety. Caruso in street clothes boarding a plane, celebrating his team's success, or onlooking fellow players warming up for games. The fifth slide is an outlier: A picture of Caruso dribbling up the court in Miami in full practice gear calling out a play. The indication?
Well, it's not explicit, no Instagram post is.
But Caruso pointing out that fifth photo and using the hourglass emoji in the caption is indicative that he's ramping back up and that it's only a matter of time — perhaps soon, he's hinting at — before he's ready to return to the court and contribute to his team's final stretch before the postseason.
Or, maybe he's just excited to be back on the practice floor again and seeing some progress in his injury recovery.
Alex Caruso injury update: When will he return according to Bulls?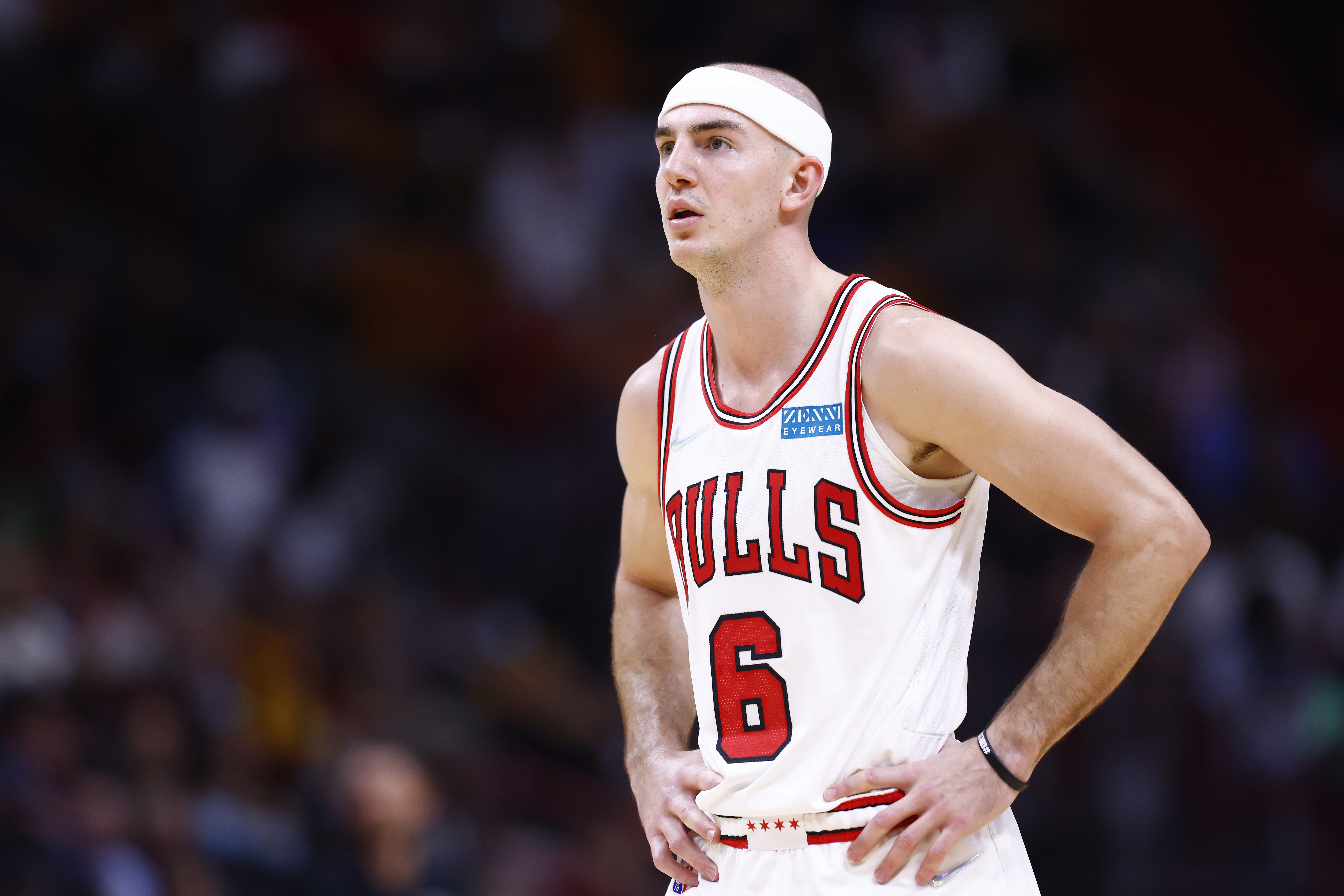 Though Caruso seems to possibly be suggesting otherwise, the Bulls have given a lengthier timeline for the guard's return to play.
After a blowout loss to Miami on presumably the same day the photo of Caruso was taken, head coach Billy Donovan suggested it would still be a couple of weeks before he would return to the court, and that Caruso was merely back on the practice floor for the first time. That's bad news for the Bulls, who Donovan himself said need to become "battle tested" against those higher caliber opponents.
The Bulls are 12-17 against opponents who have .500 records or greater, the fewest wins against such teams of any team currently slated to make the playoffs and avoid the play-in tournament.
The initial timeline on Caruso's wrist injury was 6-8 weeks, so there haven't been any significant delays yet. In fact, things seem to be moving right on schedule, if not ahead of schedule.
Who knows, maybe Donovan is giving a conservative external timeline in hopes that, behind closed doors, Caruso will ramp things up quickly and return sooner. Any attempt to calm the crowd's appetite for an AC Fresh return has been immediately dismantled by a single Instagram post from the Bald Eagle himself.