Alex Caruso Reveals His Reasoning for Leaving LeBron James and the Lakers Behind: 'This Is Real Life We're Talking About'
LeBron James has had many great teammates throughout his career. Dwyane Wade, Kyrie Irving, and Anthony Davis, obviously, come to mind immediately, but there have been numerous others to succeed with The King. In fact, while Alex Caruso has a much smaller name than those guys, he had an undeniably great chemistry with James on the Los Angeles Lakers.
But Caruso moved on from LA this past offseason, as he's now on the Chicago Bulls. And he recently revealed what went into his free-agency decision and why he decided to leave the Lakers.
Alex Caruso was a valuable player for LeBron James and the Lakers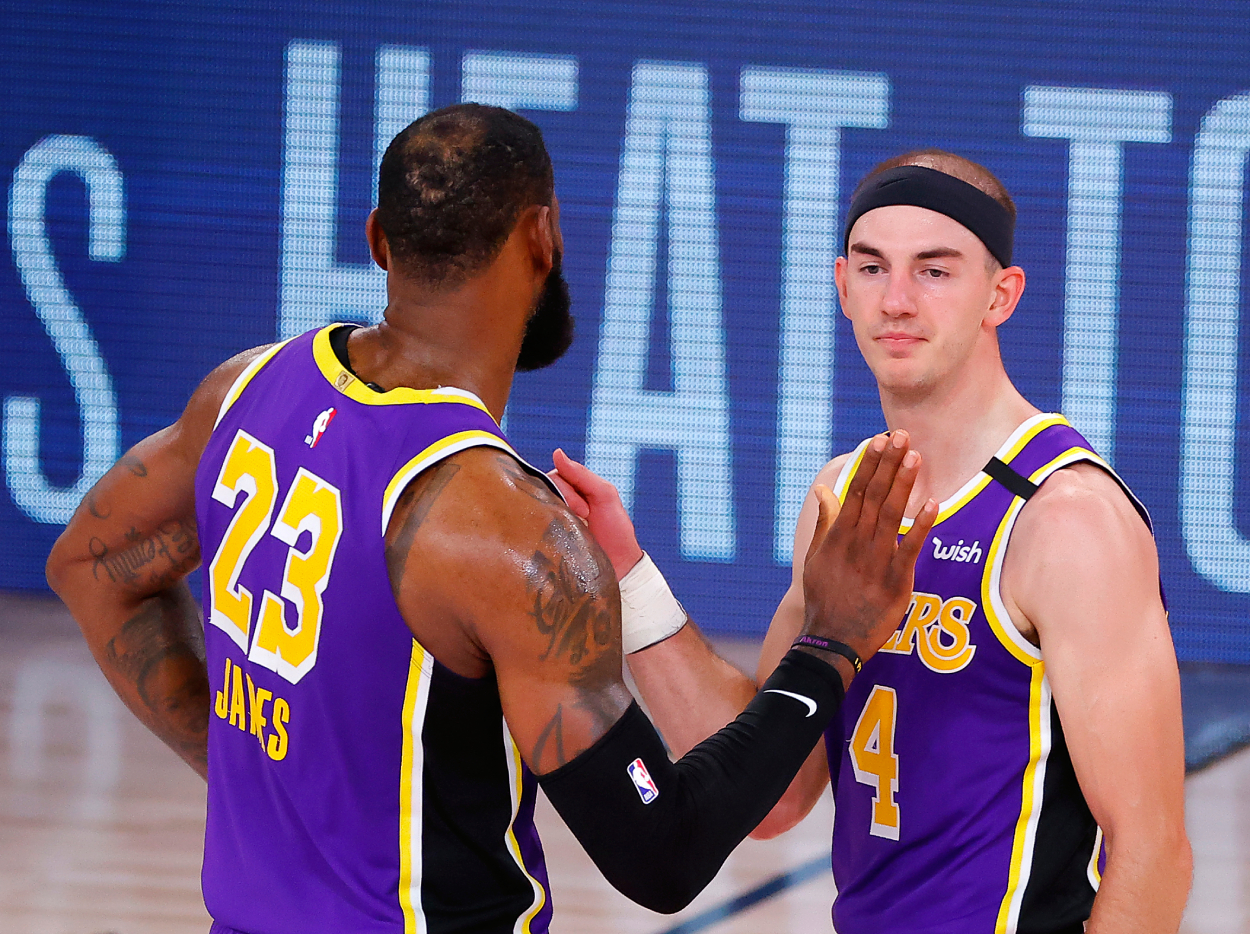 Alex Caruso may not have had incredible stats for the Lakers, but he played his role, and he played it well.
After playing in both the NBA and G-League during his first three pro seasons out of Texas A&M, Caruso became a valuable player for LA during its championship run in 2019-20. He only averaged 5.5 points that year, but he ranked second on the team, only behind Anthony Davis, with a 2.4 defensive box plus-minus, which estimates the defensive points per 100 possessions that a player contributes to his team above a league-average player.
Caruso then continued playing well the next season. He recorded 6.4 points, 2.9 rebounds, and 2.8 assists per game in 2020-21, and he ranked second on the Lakers again with a 2.3 defensive box plus-minus. But where he really shined was in his ability to help LeBron James play like, well, LeBron James.
Net rating calculates the point differential for a team per 100 possessions. The Lakers' total net rating in 2019-20 was +5.6, but when Caruso and James were on the court together, it was +18.6, per CBS Sports. In 2020-21, it was +2.9 compared to +17.1.
So, LA likely knew that losing Caruso meant losing one of James' best teammates ever. They just didn't do enough to keep him.
He revealed why he signed with the Bulls
As mentioned earlier, Caruso signed with the Chicago Bulls this past offseason. He recently discussed what went into his decision while appearing on JJ Redick's The Old Man and the Three podcast.
"This was the first time I had any type of leverage, had any type of decision-making power," he said on the Nov. 9 episode. "… Lakers made their offer, and it wasn't an offer I was gonna accept because I was going to be able to get considerable more money from another team."
Compared to other NBA stars, Caruso hasn't made that much money in his career so far. He essentially needed to get the most out of this free-agency experience to set himself up long-term.
"I need to get as much money; this is real life we're talking about," he said.
Caruso didn't think the Bulls were an option after they signed Lonzo Ball, as he didn't think they had enough money.
But they still did, and his call with executive vice president of basketball operations Artūras Karnišovas and head coach Billy Donovan sold him on a move to Chicago.
"The way they were just talking about how they wanted to play, how they saw me as a player, I thought they hit the nail on the head," he said. "… I thought there was a need for the stuff that I had. So, essentially we got that offer, went back to LA, asked if they could do the same; they said 'no.' Asked for something else that was a little less, they said, 'no.' I said, 'OK, well if that's what it comes to, I'm ready to go to Chicago and start the next chapter."
Caruso signed a four-year, $36.9 million deal with the Bulls. He is now tied to Chicago for the foreseeable future. But what did the Lakers offer him? Redick asked Caruso to blink once if their initial offer was under two years, $15 million and twice if it was over.
Caruso blinked once.
Alex Caruso is now helping the Bulls turn things around
While Caruso was on a team in the Lakers that had high expectations, he now plays for a Bulls squad that's trying to turn the franchise around.
After missing the playoffs each of the last four years, Chicago traded for Nikola Vucevic last season. It then signed Caruso, Ball, and DeMar DeRozan this past offseason and added them to a roster that already had a great scorer in Zach LaVine.
Everything seems to be working out so far, too, as the Bulls are 7-3 through 10 games, and LaVine and DeRozan are both averaging over 26.0 points. Caruso is recording 7.8 points, 3.9 assists, and 2.6 rebounds per game, and he is second on the team in defensive box plus-minus.
It appears he may have found a new home.
Some may have thought Caruso was done competing for championships when he left the Lakers. But that may not actually be the case.
Stats courtesy of Basketball Reference; Contract numbers courtesy of Spotrac