Alex Morgan Is Using Her $3 Million Net Worth to Pull a LeBron James With Her Latest Monumental Business Venture
When soccer fans think of the biggest soccer stars in the United States, they immediately think of Alex Morgan. She has not only proven to be one of the most talented athletes in the world, but she has also worked hard to ensure that female athletes in America receive the same opportunities that men do. Morgan's new business venture has only continued that mission, too. While there are multiple media companies founded by male athletes, like LeBron James' Uninterrupted, none have elevated the voices and told the stories of women athletes — until now.
Alex Morgan has gone from soccer star to business owner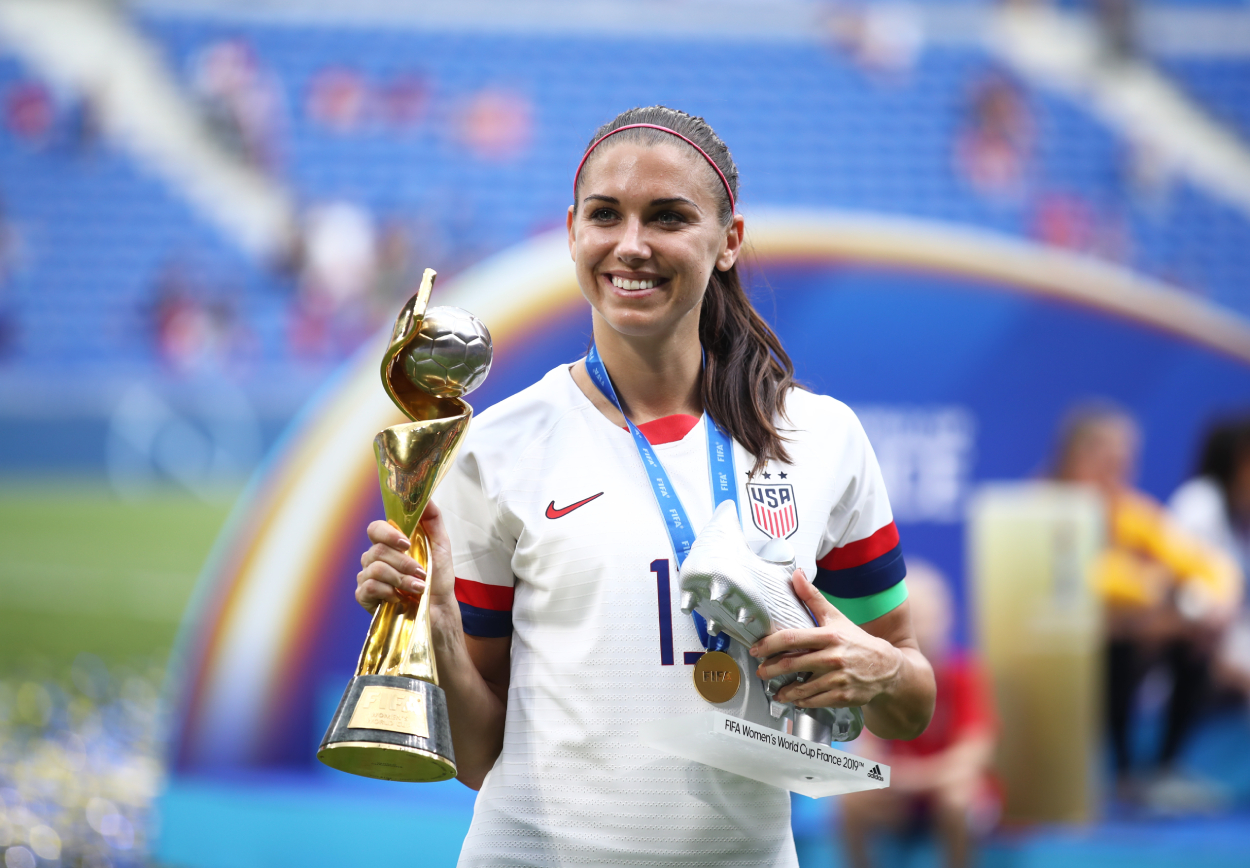 Alex Morgan has been one of the biggest soccer stars in America throughout the past decade. She is a two-time FIFA World Cup Champion and an Olympic gold medalist. Her superstardom throughout the soccer world has helped her rack up an estimated $3 million net worth, too, per Celebrity Net Worth.
Now, she is using part of that net worth to elevate the voices of female athletes. Morgan, as well as WNBA star Sue Bird, Olympic gold medalist swimmer Simone Manuel, and Olympic gold medalist snowboarder Chloe Kim, recently founded TOGETHXR, a media company that will tell women's stories, inside and outside of sports.
"This is going to be something that really breaks barriers," Morgan said, according to The New York Times. "Something that creates a community and a platform from female athletes for female athletes that has never been done before."
For years, women have often seen their stories go untold. This is why there was ultimately a need for a company like Morgan's.
"Growing up, Alex, Sue, Simone, and Chloe — and generations of women athletes — didn't have a place to go every day that told stories like theirs," TOGETHXR chief content officer Jessica Robertson said in a statement to Sportscasting. "A brand that was built just for them. And now, looking across the sports and culture landscape, there still isn't one. So the idea was ambitious but also simple: to build it."
TOGETHXR has already broken barriers. Women now have the opportunity to share their stories in a way that has primarily been only available to men. The company recently announced one of its first big projects, too.
Alex Morgan and Sue Bird are producing a podcast series about the 1996 Olympics
According to Yahoo Sports, Alex Morgan and Sue Bird recently revealed that they will produce and participate in a documentary podcast series called Summer of Gold. It will ultimately look at the 1996 Olympics in Atlanta and why those games were so monumental for women's sports.
"So much happened in women's sports in that summer," Bird said on the April 1 episode of ESPN's Stephen A's World. "… It launched the WNBA. It launched women's professional basketball, but (it impacted) so many other sports. You can talk about soccer, softball, so on and so forth. I think it's going to be great to revisit. You always have to give some shine to the past because that's whose shoulders we're standing on, and then go from there and just tell the stories. And that's what we're about at TOGETHXR; we just want to tell women's stories."
It appears that TOGETHXR is already proving to be a valuable opportunity for women, one they have never had before. And if one thing is for certain — especially when looking at companies similar to TOGETHXR — Morgan, Bird, Manuel, and Kim have a chance to make this business extremely successful.
LeBron James' Uninterrupted has become a top media company
According to Forbes, LeBron James and his childhood friend/business partner Maverick Carter launched Uninterrupted in 2014. It has successfully told the stories of athletes, from their perspectives, ever since, too. 
"It's all about authentication. And being authentic to what we talk about and being able to be yourself. That's why I started Uninterrupted," James said on Richard Jefferson's podcast, according to Forbes. "I came to [Maverick] one day, and I was like listen, I'm tired of my words being chopped and diced and put out. I talk for 20 minutes and they only show the headline."
James was one of the first athletes to really do this. Derek Jeter came out with Players Tribune around that same time, and Kevin Durant has since launched Thirty Five Ventures. None of them solely focus on telling women's stories, though.
Alex Morgan and her fellow star female athletes are now doing just that — and they're making history while doing it.