Alex Rodriguez Goes on Live TV and Absurdly Compares an MLB Player to LeBron James: 'Any Field He's on, He's the Best Player'
NBA superstar LeBron James has become a sports icon. His four league MVPs and four championships have made him one of the greatest athletes of all time, and anyone who hears their name mentioned in the same breath as him should be honored. According to former MLB star Alex Rodriguez, though, there's a current baseball player who deserves that recognition.
In a recent TV appearance on Fox, Rodriguez called Houston Astros shortstop Carlos Correa — not Mike Trout or Shohei Ohtani — the LeBron James of baseball.
Carlos Correa came up big for the Houston Astros in the ALCS
Carlos Correa had a nice year for the Houston Astros this season. He earned his second career All-Star selection, hitting .279 to go with 26 home runs and 92 RBIs. He has also helped put Houston in a position to compete for the American League pennant.
Behind his .385 batting average and four RBIs in the ALDS, the Astros beat the Chicago White Sox 3-1 in the series. He then had a massive performance against the Boston Red Sox in Game 1 of the ALCS. Correa went 3-for-4 and hit a go-ahead home run in the bottom of the seventh inning to put Houston ahead 4-3. His team then ended up winning the game 5-4 to go ahead 1-0 in the series.
The Red Sox have since evened things up, winning 9-5 in the second contest, but Correa's Game 1 performance led to Alex Rodriguez sending massive praise his way.
Alex Rodriguez called Carlos Correa the LeBron James of baseball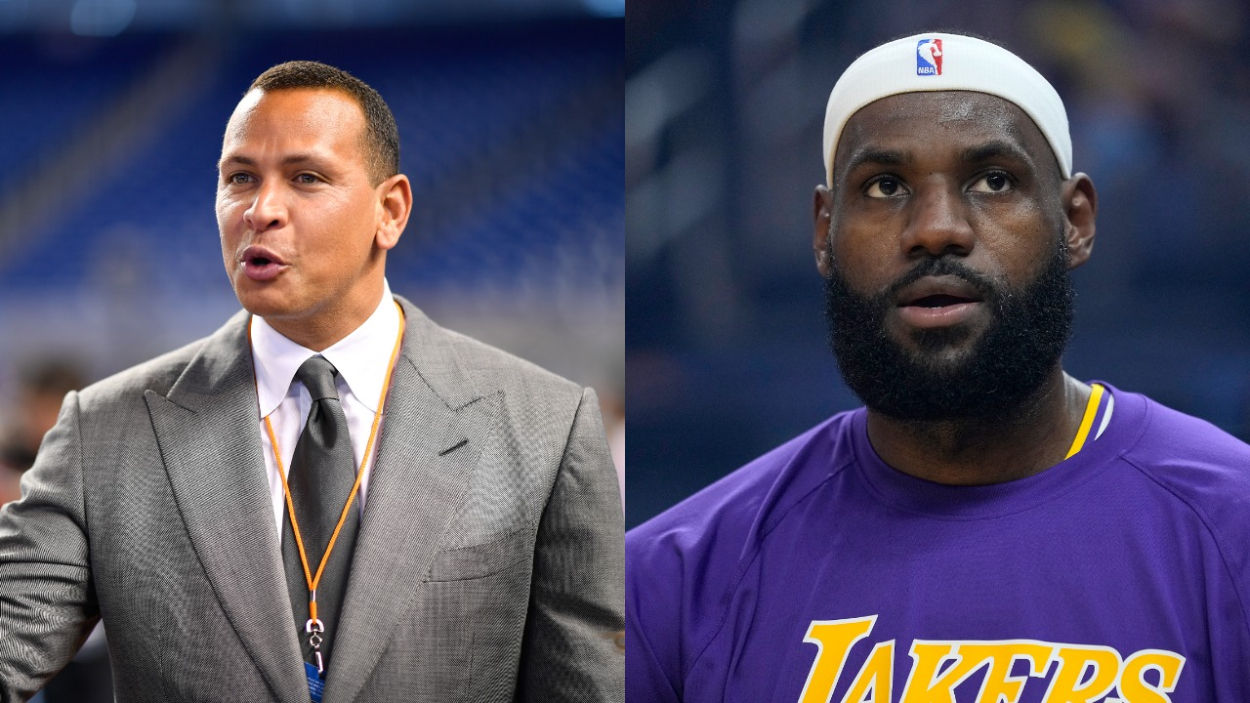 Ahead of Game 2 in the ALCS, former three-time MVP and 14-time All-Star Alex Rodriguez appeared on Fox. And he made some interesting comments about Carlos Correa.
"This guy is simply LeBron James, what he is to baseball," Rodriguez said on Oct. 16, per a video from the Fox Sports: MLB Twitter account. "What I mean by that is, he's a shortstop, he's 6-foot-4, he looks like he could be playing strong safety in the NFL. He can play two-guard in the NBA; he's world-class; any field he's on, he's the best player, he's the strongest, and he's the fastest. America: Carlos Correa's the real deal."
Saying he's the best player whenever he takes the field is a bold, bold claim for A-Rod to make. But is he right, or is this just a burning hot take we shouldn't take seriously?
Alex Rodriguez's Carlos Correa comments were absolutely false
Rodriguez maybe had a point when discussing Correa's athleticism. He is, in fact, big for a shortstop, like James is for a player who plays along the wing. Correa is also an elite athlete, which James is as well. In addition to being a basketball phenom, The King was also a top football prospect in high school.
But A-Rod's opinion lost some credibility when he said, "any field he's on, he's the best player."
That comment alone made it seem like he was comparing Correa's standing in the MLB to James' in the NBA, which either means he knows nothing about James' basketball legacy or just truly doesn't follow the MLB, the league he played in for over two decades.
James is a four-time NBA champion, four-time Finals MVP, four-time league MVP, and he has cemented his status on the Mount Rushmore of basketball players. Correa has been in the league for seven seasons, and through James' first seven seasons, he had already won two MVP awards and led the NBA in scoring once.
The Houston shortstop, on the other hand, hasn't led the American League, let alone the MLB, in any major category yet, and the highest he has finished in the AL MVP race is 17th. He wasn't even the best player in baseball this season, as that title either belonged to Shohei Ohtani, who recorded 46 home runs and went 9-2 on the mound, or Vladimir Guerrero Jr., who had a .311 batting average with 48 homers and 111 RBIs.
Yes, Correa already has a ring and went to the World Series one other time, while James had yet to win a title and only played in the NBA Finals once throughout his first seven seasons. But baseball is a very different game, and he has been on some stacked Astros teams.
So, all in all, Rodriguez should have given some thought before comparing anyone to LeBron James. If anyone deserves that title, it's Mike Trout; you know, the guy who only has three MVPs.
Stats courtesy of Baseball Reference and Basketball Reference
RELATED: Alex Rodriguez's Outspoken and Mistake-Riddled Commentary Earned Him a Harsh Brushback from Yankees Coach Phil Nevin: 'He's Never Been in That Position'