Alex Rodriguez's Outspoken and Mistake-Riddled Commentary Earned Him a Harsh Brushback from Yankees Coach Phil Nevin: 'He's Never Been in That Position'
The best news for New York Yankees fans entering a difficult and long offseason is that they likely won't need to hear much from Alex Rodriguez in the coming months.
Much as he did during his 13 seasons in pinstripes, Rodriguez is providing New York baseball fans with a headache in October. Yankees third base coach Phil Nevin is among those who have had enough of the three-time American League MVP and ESPN announcer's analysis.
Yankees coach Phil Nevin slammed Alex Rodriguez after the Wild Card Game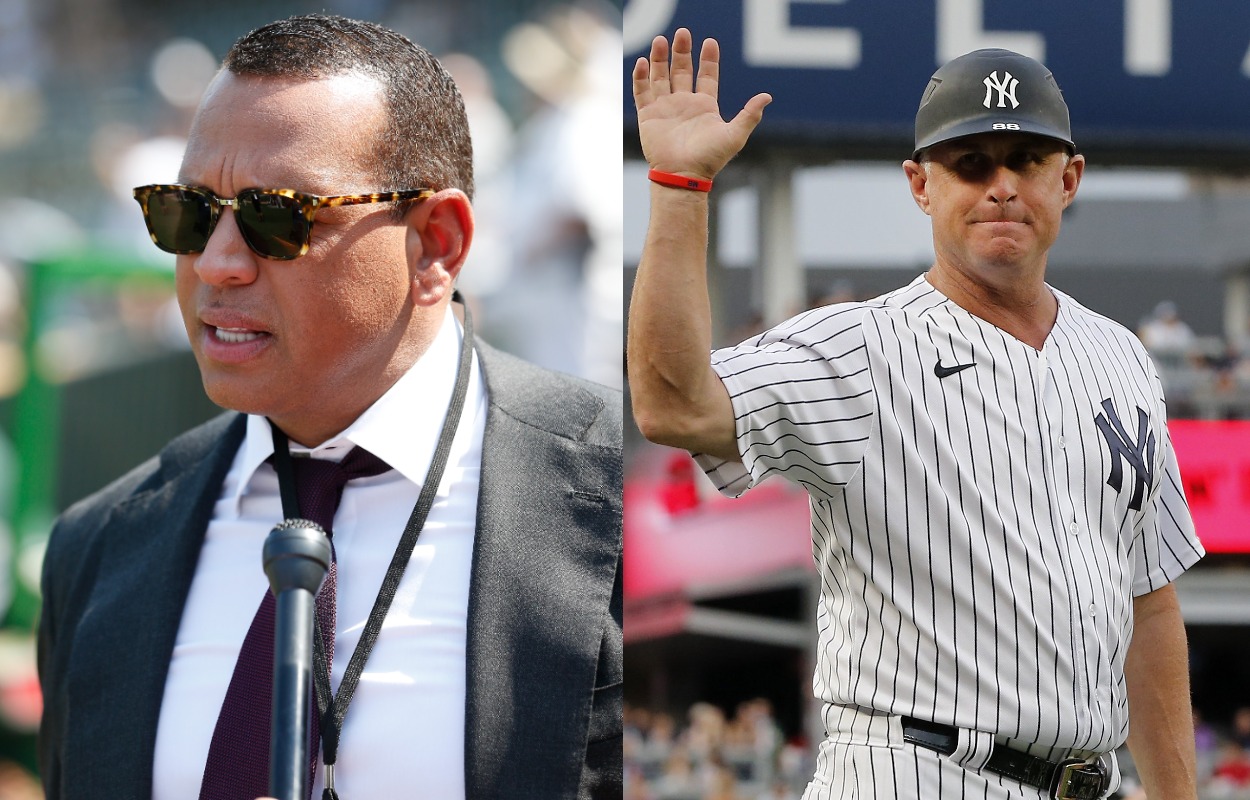 Those who watched ESPN2's alternative broadcast of the 2021 AL Wild Card Game were spared Rodriguez's commentary. However, they did witness Nevin's controversial decision to wave Aaron Judge home on designated hitter Giancarlo Stanton's sixth-inning double during the Yankees' 6-2 loss to the rival Boston Red Sox.
Rodriguez, the Twitter mob, and sports radio callers collectively criticized Nevin's call. Had he held Judge at third base, the Yankees would have had runners on second and third with one out in a 3-1 game. Instead, Red Sox reliever Ryan Brasier induced a popup from struggling Yankees left fielder Joey Gallo to end the inning.
'You don't have to overthink that one,'' Rodriguez said on ESPN. "I'm surprised of the magnitude of that mistake [by Nevin] in this situation."
In an interview with the New York Post, Nevin — who said he has a "good relationship" with Rodriguez — slammed the 2009 World Series champion.
"The guy has never been in that situation but thinks he has a good idea of what baseball is in that spot, and he's wrong. He's never been in that position."

Phil Nevin
Nevin added he didn't regret sending Judge to home plate even after the loss.
"There was one out, so you're gonna be a little more aggressive than with no outs,'' Nevin said. "With two outs, it would be a no-brainer. If it had ended up second and third and one out, and we don't score, I'd kick myself all night, too."
The Yankees lost for reasons beyond Nevin's controversial send
Hindsight is always 20/20, especially when coaching decisions are involved. Those who criticized New England Patriots head coach Bill Belichick for having kicker Nick Folk attempt a 56-yard field goal in the closing minute of a Week 4 loss to Tom Brady and the Tampa Bay Buccaneers would likely sing a different tune if Patriots rookie quarterback Mac Jones threw an interception on fourth down.
The Yankees did not lose solely because Nevin waved Judge around third base. Starting pitcher Gerrit Cole, who earned a staggering $36.5 million this season, allowed three earned runs in two-plus innings. The Yankees' high-profile offense didn't draw a single walk and struck out 11 times.
Gallo, the prized midseason acquisition who wears Rodriguez's No. 13, went 0-for-4 with a strikeout. That's how one really lives up to the retired slugger's legacy.
Nevin made an aggressive call in the heat of the moment. However, he wouldn't be as high on the list of scapegoats had Gallo driven Stanton in or even mashed a home run and tied the game at 3.
Rodriguez may have somehow had a worse night than Nevin
Luckily for Nevin, he spent nine innings on the field or in the dugout while Rodriguez analyzed the game — and even then, that's giving the 14-time All-Star too much credit.
Rodriguez made several baffling or factually incorrect comments throughout Tuesday's broadcast. He argued the Yankees were "set up" to succeed while down 3-0 because the team's bullpen was fully refreshed. The Yankees legend praised the team's decision to acquire Chicago Cubs first baseman Anthony Rizzo at the trade deadline because he's "a baseball player."
Great point. The Yankees might have only scored a single run if they had Luka Doncic or Serena Williams playing first base that night.
Rodriguez also tried explaining what a "bully offense" is and how teams could beat them. Considering the Yankees only reached one World Series in his decade-plus with the franchise, at least we know he's speaking from experience.
Then came the ninth inning. Rather than focus on Boston's chances of winning a second World Series in four years or the Yankees' disappointing finish, Rodriguez suggested Cole was due for a massive 2022 season.
"Gerrit Cole will be your American League Cy Young winner [in 2022]. The sophomore season in New York is so much easier than the first one, and Stanton is a great example of that."

Alex Rodriguez
Well, we have to give Rodriguez credit because Cole did look sharp at times throughout his second year in New York. How do we know that? This year marked his sophomore campaign with the Yankees.
Suddenly, baseball fans are looking forward to hearing Joe Buck and John Smoltz call the World Series.
Like Sportscasting on Facebook. Follow us on Twitter @sportscasting19.
RELATED: Alex Rodriguez Credited Opposing Fans for Giving Him the Biggest Compliment of His Career