Alex Smith Is Grateful for His Encounter With Aaron Donald: 'It Was Like Ripping a Band-Aid Off'
Free agent Alex Smith has overcome adversity several times throughout his NFL career. The quarterback has proven that his drive to get out on the field is unparalleled. At no point was this more apparent than in Smith's most recent season. Through just a handful of games, he showed that he could overcome a brutal injury.
Alex Smith's road back to the NFL
In a timeline published by The Washington Post, Smith made waves with the Redskins when JJ Watt's tackle changed it all. The compound spiral fracture in his right leg was gruesome, with footage often coming with a content warning. Smith missed the entire 2019 season. His ability to walk, let alone play football, was in question. He spoke about this with GQ. 
"I hadn't touched a football, and I had kind of been bitter towards football because I'm like, I was playing this stupid game and [the injury] happened. I remember how good it felt to play catch, how good it felt to have a football in my hand. I'd been playing catch my whole life, and how natural it felt."
With a long year of rehabilitation, he feared that he'd never use his leg again. Playing in the NFL is an unforgiving job where one minor injury can be the death knell of an entire career. Smith was ready to get back out on the field. 
His first opportunity came against the LA Rams in the 2020 season; Smith described his cocktail of emotions, from the excitement to be back out on the field to his dread that something terrible would happen. However, minutes into his first game back, Smith got a painful but poignant reentry into the NFL. 
Smith plays through it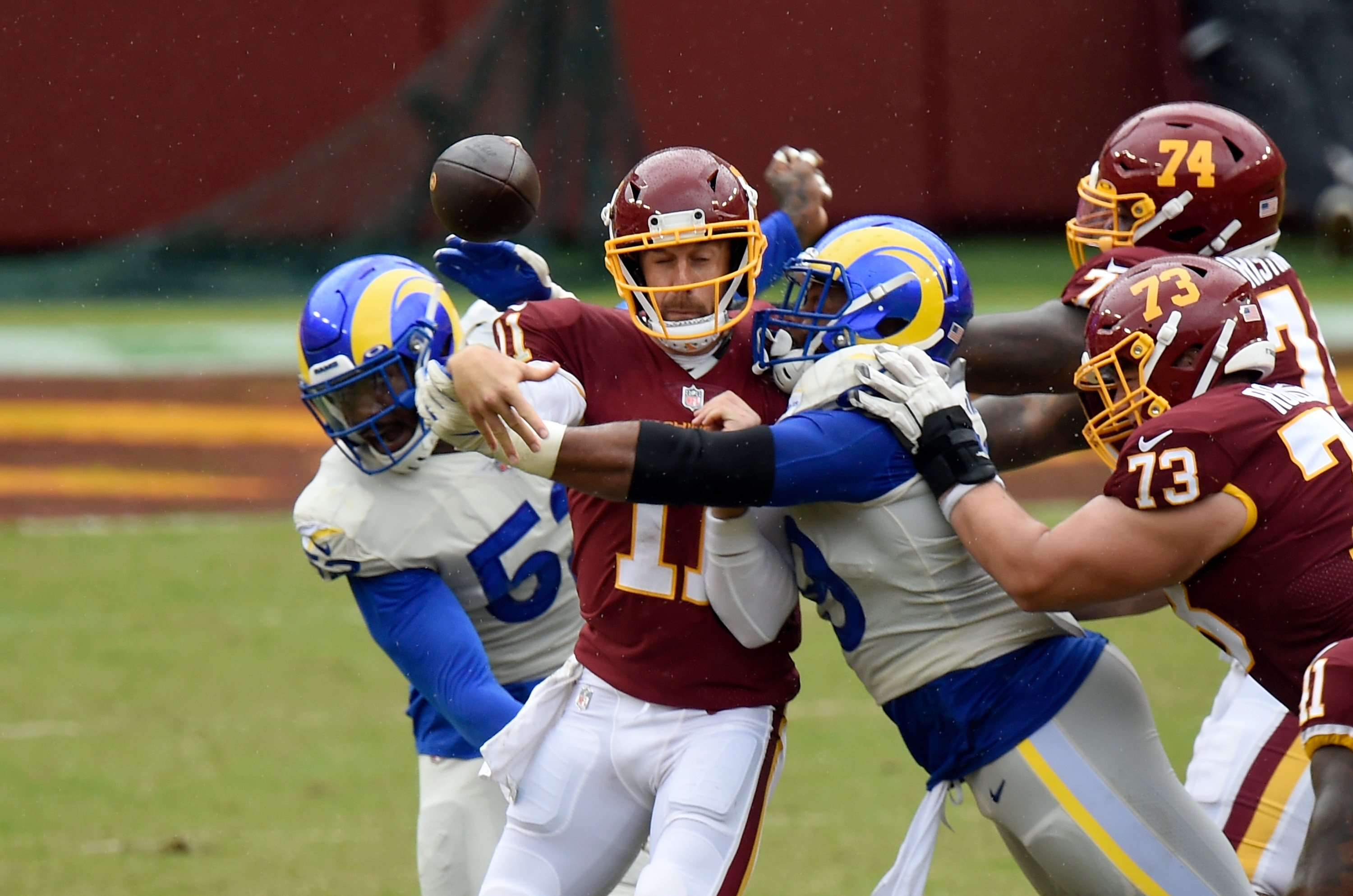 Several minutes into the game, Smith had a rude awakening at the hands of Aaron Donald. According to Smith, it was one of the biggest tackles he ever took and a good reminder that he was not defined by the injury that almost ended his career. 
That changed things. He was no longer afraid to play football. Everything seemed real again. For the first time since he fought to make his name in the NFL, he was at peace with whatever came his way. Smith didn't realize that the culprit behind the tackle was a three-time Defensive Player of the Year.
"I don't think I've ever been tackled like that in my entire career, ever playing football," Smith told GQ. "It's so crazy that the first time I get tackled after all this is Aaron Donald jumping on my back. If there's any other way for me to know that my leg was strong enough, here's the perfect example. In hindsight, I'm thankful for it. I was able to put all the contact stuff behind me and I could really just move on to playing football again."
Knowing that he could stand up to one of the best in the game, the rest came back naturally. Smith went from starter to injured reserve to third-string, second string, and starter again throughout his three-year run with the Washington Football team. It was an unprecedented journey that most would fold under. Alex Smith is not like most, however. 
The NFL awarded him for this drive to get back to the field, according to NFL.com. Smith won the 2020 AP Comeback player of the year award. Despite being a 36-year-old quarterback who just missed an entire season, Smith no longer focused on his low point. He led the team to a 5-1 record during his starts. Where he goes from here is anyone's guess. Still, the fact that Smith even has an NFL future is a testament to the work he and the medical team put in.
Alex Smith rips the Band-aid off
Feeling like he was playing the game he loves and not for his career changed everything. Smith likened it to an old adage. "I really felt like it was like ripping a Band-Aid off. My wife would ask me and I'm like, 'No, it's weird. I feel really good out there. I feel like I'm just playing football,'" He told GQ. 
According to a recent report by NBC Sports, Smith's future in the league is anybody's guess. However, whether Smith's legend gets bigger or this was a swan song, his journey back to football was inspiring. The man who once believed he would lose it all is still playing like a star. While his physical comeback was impressive, the mental fortitude that Smith displayed is on another level. 
Football is known for its toll on someone's body, but the mental hurdles it presents are what separates the stars from the role players. Smith has proved this many times, but his most recent example may take the cake as the most inspiring yet.