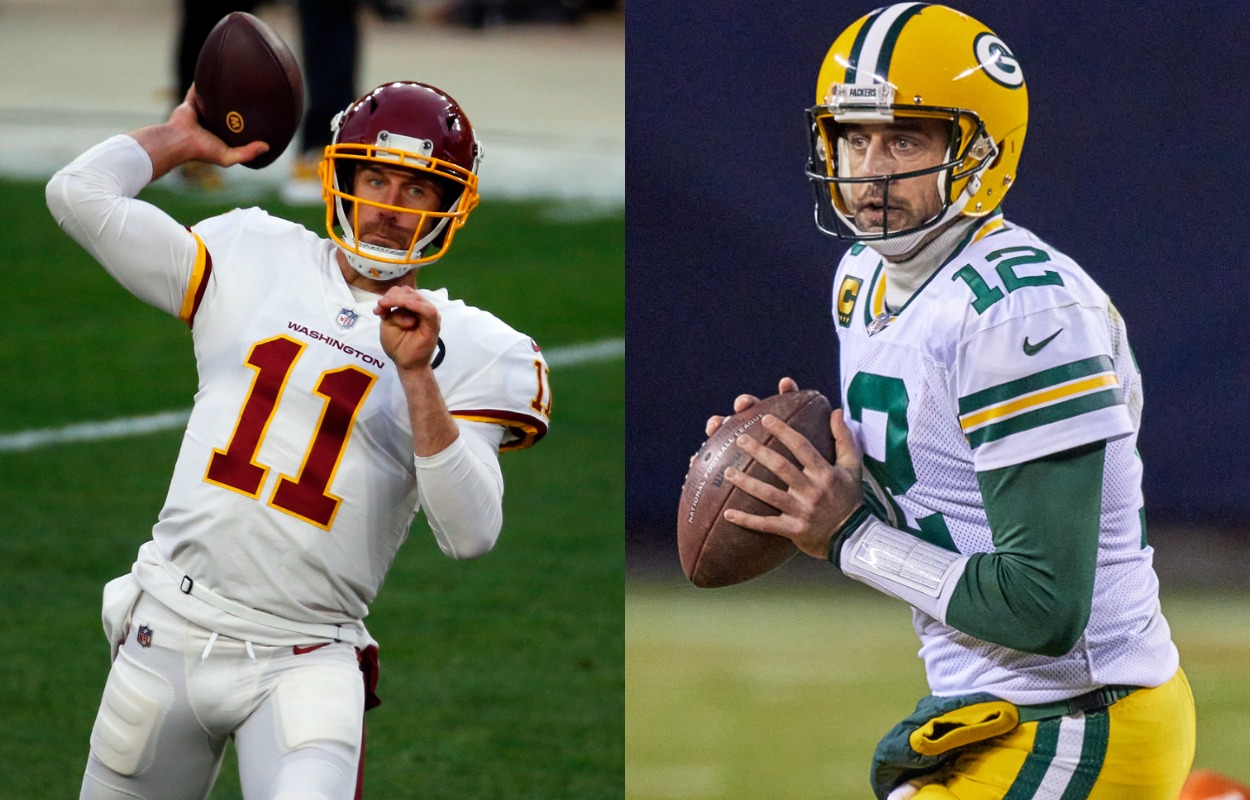 Alex Smith Has Officially Involved Himself in the Aaron Rodgers-Packers Feud: 'I Think It Hasn't Been Ideal There'
Alex Smith has officially weighed in on the situation between Aaron Rodgers and the Green Bay Packers.
With his football career over, longtime NFL quarterback Alex Smith is now trying to play marriage counselor for Aaron Rodgers and the Green Bay Packers.
The bitter feud between the Packers and their All-Pro quarterback has gone on for months without any end in sight. So perhaps both sides would be best off listening to Smith, the former No. 1 overall pick.
Smith criticized the Packers for not treating Rodgers correctly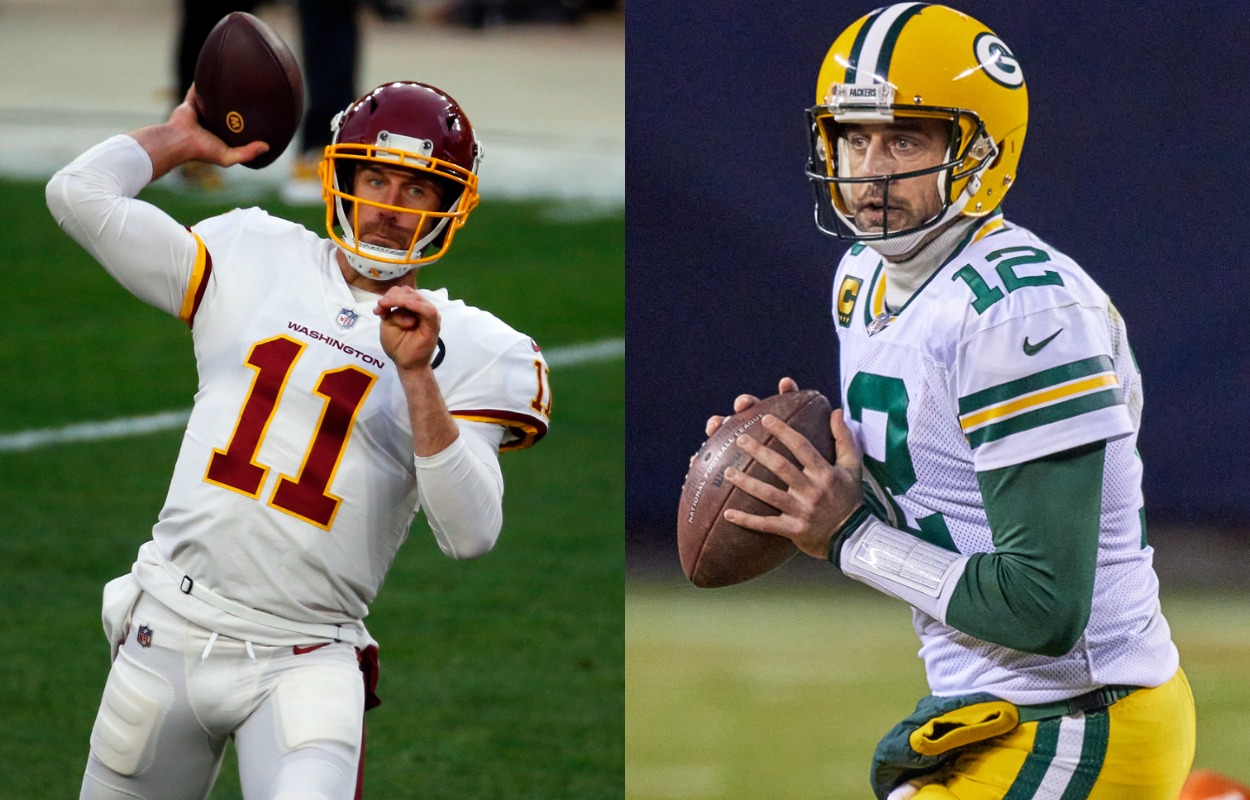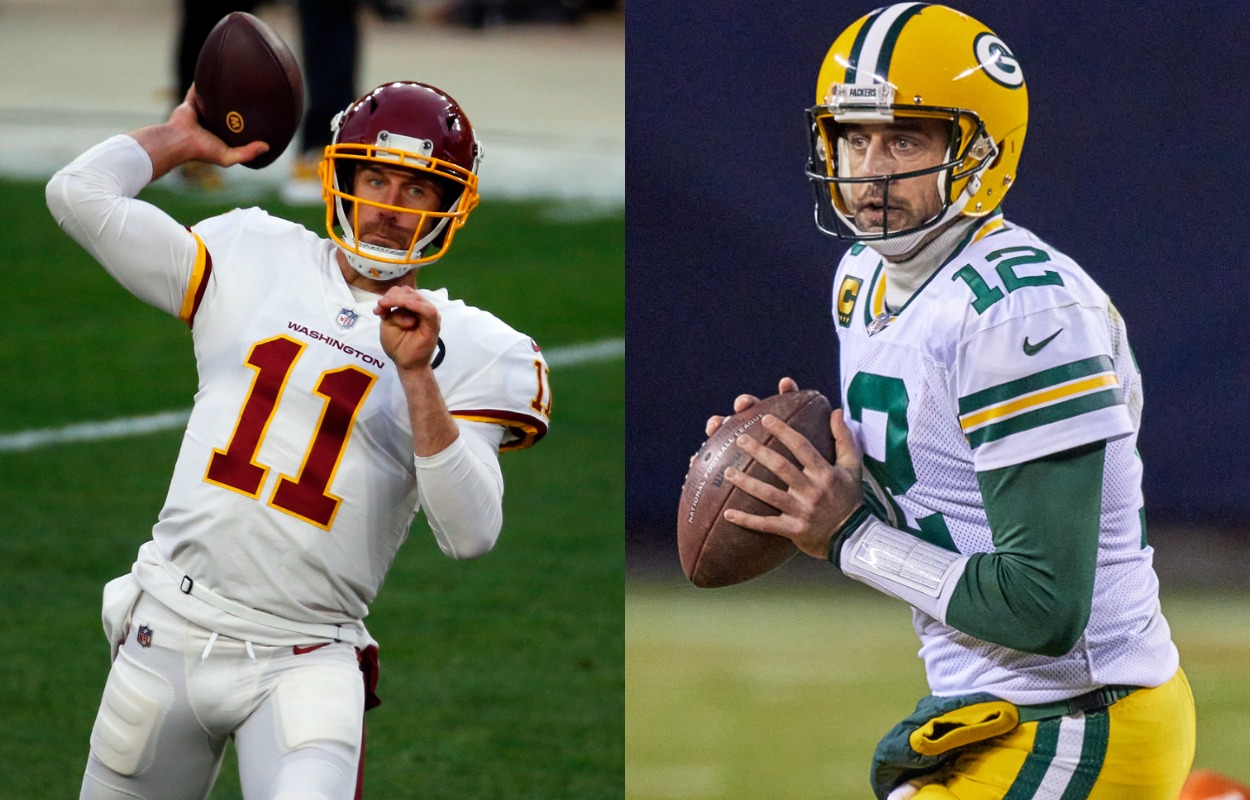 The most prominent issues between Rodgers and the Packers involve a perceived lack of communication and respect.
In a recent interview with USA Today, Smith made it clear whose side he's on. The longtime starting quarterback criticized the Packers for not treating Rodgers how a franchise player and a three-time NFL MVP should be treated.
"I think he's due a certain level of communication and a certain level of respect beyond the average player. And I don't think that's asking a whole lot just to communicate. … Clearly, that didn't happen over the last couple years."

Alex Smith
Smith praised Rodgers for staying loyal to the Packers in spite of the communication problems. 
"The way people have been treated, he's come out and said as much," Smith said. "So I think that's important in any business — not just football, but in any business and especially team sport, it's important how you treat people. Really, I think it hasn't been ideal there. Hopefully, they can get it figured out."
Smith perfectly assessed everything wrong in the Rodgers-Packers feud
Smith always handled himself as a well-spoken and intelligent speaker during his playing career. It is clear that the same holds true for him as a volunteer marriage counselor.
Despite all his issues with the Packers' front office, Rodgers remained a good and loyal soldier. Even after the team used a first-round pick on Utah State quarterback Jordan Love in 2020, Rodgers embraced the competition and won his third NFL MVP Award.
Had the Packers actually communicated with Rodgers, maybe they would have avoided this situation entirely. Instead, the Packers opted for the approach that only the front office needed to be in the know. They kept their franchise quarterback out of the loop until Rodgers had seen enough and made his stand.
If the Packers intend to salvage their relationship with Rodgers, they need to heed Smith's advice and try to communicate better. That's only if the damage isn't done and Rodgers is even willing to step foot on any of the team's property again.
What will the Packers do with Rodgers?
As Rodgers remains steadfast in his desire not to play for the Packers, the countdown for an eventual decision on either side remains in place.
In theory, Rodgers has until July 2 to opt out of the 2021 season. If he opted out, Rodgers wouldn't forfeit his $11.5 million signing bonus, and he could still earn $6.8 million in roster bonuses. However, as of publication, he had not publicly suggested he would consider such a move.
The Packers can obviously trade Rodgers, but will the team really want to cave in and give him what he wants? The organization holds power by controlling his rights, though Rodgers can make things extremely difficult if he remains away from the team.
Or, the standoff can end in one of three simple ways. Rodgers can return to the Packers, or he can decide to sit out the season. Alternatively, the Packers can simply tell him to stay away from the team.
Maybe the Packers should have consulted Smith during his recovery from a significant leg injury. Who knows what would have happened had the team communicated better in 2019 or before the 2020 draft?
Like Sportscasting on Facebook. Follow us on Twitter @sportscasting19.