Alex Smith Quietly Might Have Been the Most Important College Football Player of All Time
There will be no bust of Alex Smith at the Pro Football Hall of Fame in Canton, Ohio. His work as an NFL quarterback was good, but not Hall-worthy. But in two seasons at the University of Utah nearly two decades ago, Smith helped lead a revolution.
Smith retired earlier this month after 14 NFL seasons. But Alex Smith paved the way for significant changes at both the college and professional levels. He launched the Utah program toward a Power 5 conference, helped send a coach to the top of the college football heap and led a wave of spread quarterbacks into the NFL.
Alex Smith's NFL career was solid, not spectacular
RELATED: Alex Smith's Release Has Given Taylor Heinecke a Free Pass to the Starting Job for Washington
Alex Smith went first overall in the 2005 NFL Draft by the San Francisco 49ers. He struggled at times transitioning from the spread to a more traditional NFL offense. Playing for the rebuilding 49ers didn't help that process. The 49ers were just 16-32 in his first three seasons. Smith started 32 of those 48 games and San Francisco won only 11 of them. He missed all of 2008 with a shoulder injury.
Things changed in 2011 when a new coach, Jim Harbaugh, came to the Bay Area. Smith quarterbacked the 49ers to a 13-3 record and an NFC Championship berth. The following season, the 49ers were 6-2-1 before Smith sustained a concussion. He missed two games and never got his starting job back as Harbaugh went with the hot hand in a kid named Colin Kaepernick.
It wouldn't be the only time Smith set the table for a younger quarterback. In 2013, the 49ers traded to the Kansas City Chiefs, earning three Pro Bowl berths in five seasons as their starter. The Chiefs made the playoffs in four of those five seasons but won just one game in the postseason. With Kansas City ready to transition to Patrick Mahomes at quarterback, the Chiefs traded Smith to the Washington Football Team in 2018.
In 2 years at Utah, Smith changed everything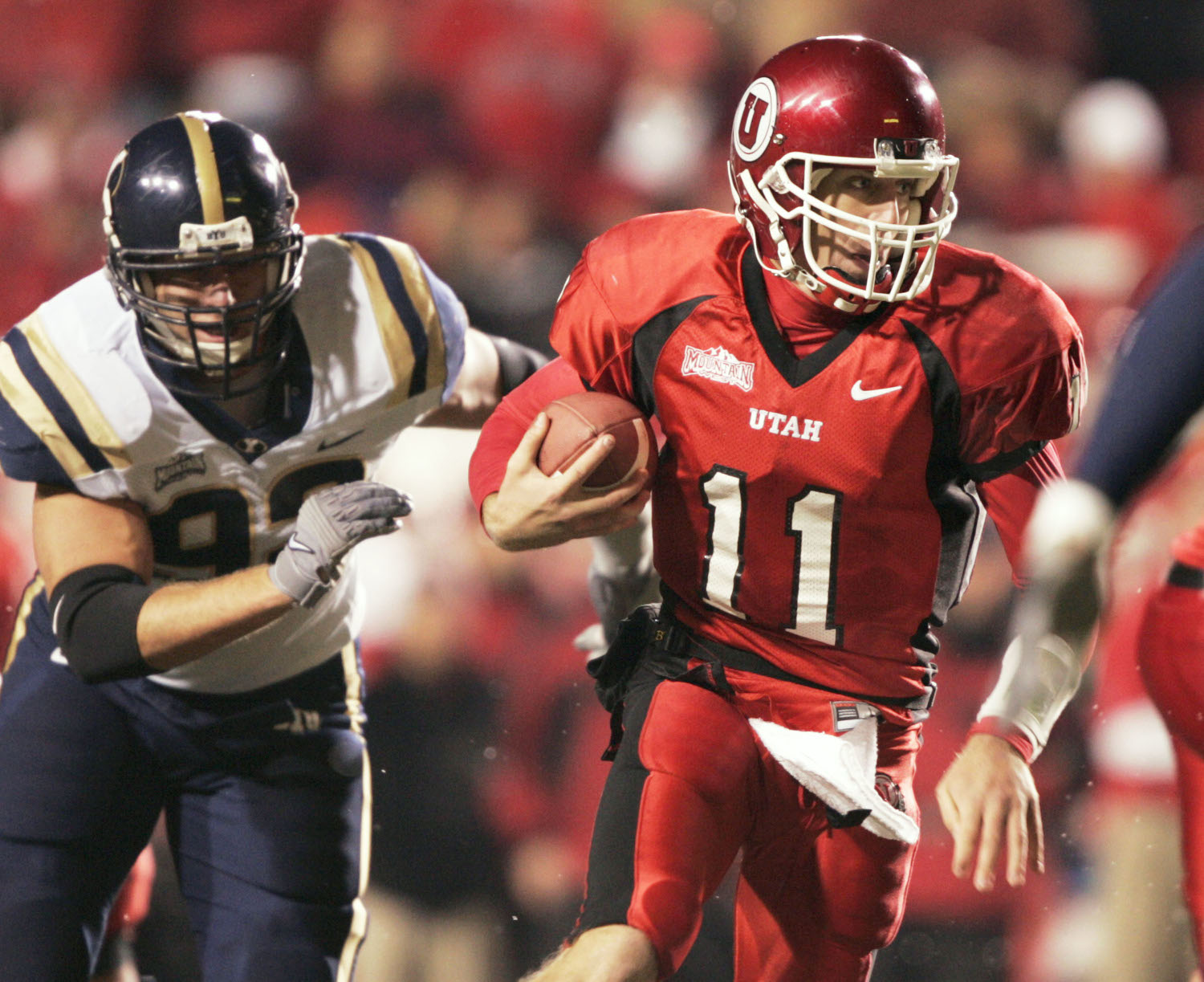 RELATED: Alex Smith Just Received The Best Possible Trophy From His Wife to Commemorate His Incredible 'Triumph'
Alex Smith was not heavily recruited out of Helix High School in San Diego. His role there was to hand the ball to Reggie Bush. According to Pete Thamel of Yahoo Sports, he had only two Division I offers, Utah and Louisville (where his uncle was head coach).
Smith entered his sophomore season as the No. 2 quarterback on the depth chart. Starter Brett Elliott broke his wrist late in a loss at Texas A&M and Smith ascended to the No. 1 job. The Utes went 9-1 the rest of the way. Utah finished the season ranked No. 21 in the Associated Press poll, their first season-ending ranking in nine years.
That championship season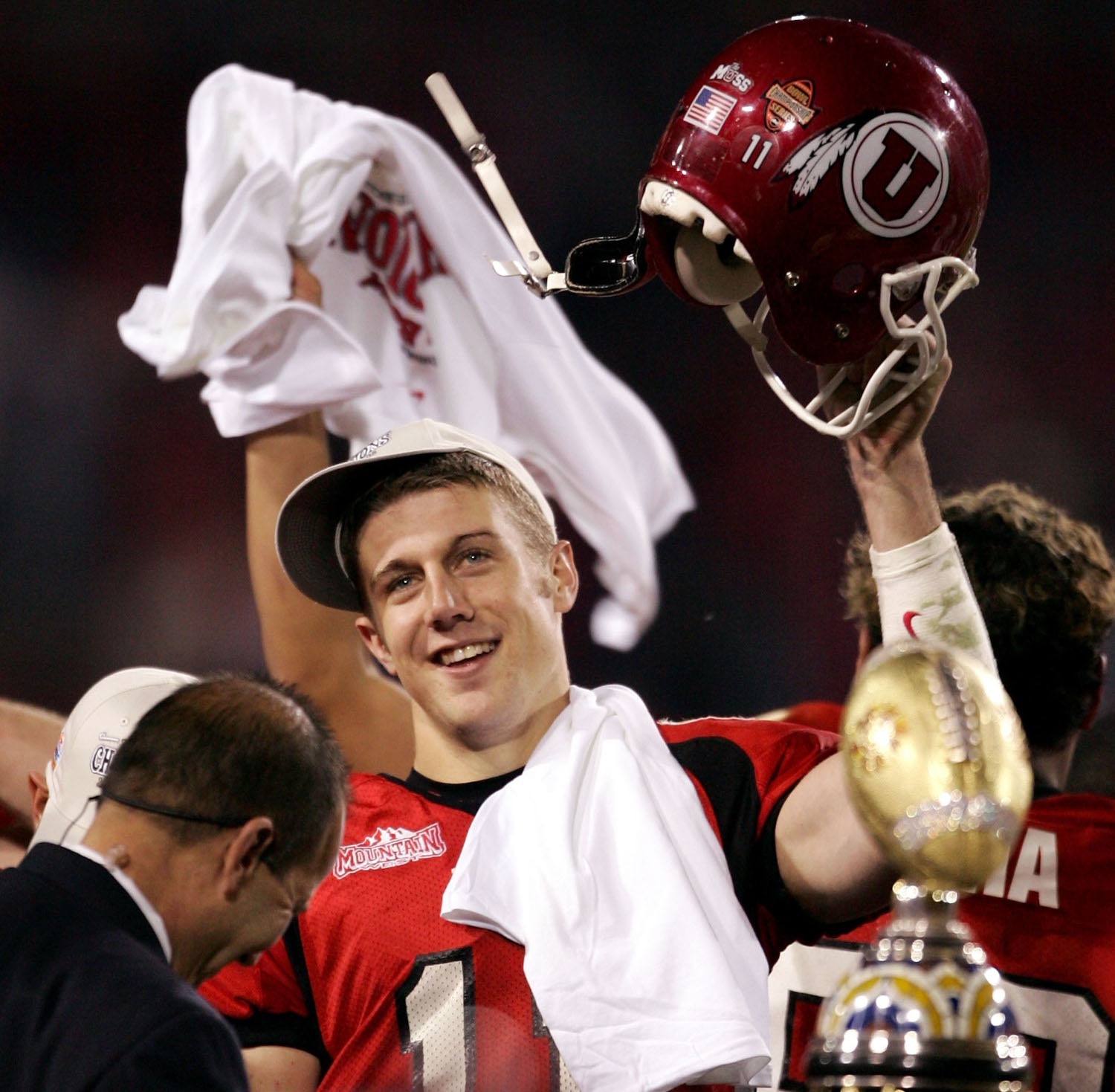 RELATED: Urban Meyer Just Realized He Hates A Certain Aspect of Being an NFL Head Coach
In 2004, the Utes were a wrecking ball. Utah finished the regular season 11-0 and won the Mountain West Conference, playing their way into a Bowl Championship Series berth. They were the first BCS buster and capped a perfect season by clobbering Pitt 35-7 in the Fiesta Bowl.
Alex Smith threw for 2,952 yards while throwing only four interceptions. He added 10 more scores on the ground, setting school records that still stand with 32 passing touchdowns and 42 touchdowns overall. With a 21-1 record as a starter, Smith went No. 1 overall in the 2005 NFL Draft, the first spread-formation quarterback to do so. His coach, Urban Meyer, left for the University of Florida, where he won two national titles and passed along some offensive concepts to New England Patriots coach Bill Belichick.
Those two seasons put Utah on the college football map. The Utes were on their way to being asked to join the Pac-12 Conference. The program's days on the outskirts of major college football were over and Smith played a huge role in that.
Alex Smith's complicated NFL legacy
RELATED: Who Is the Lowest NFL Draft Pick to Make the Pro Football Hall of Fame?
Alex Smith will never be in the Hall of Fame conversation. His 35,650 career yards and 199 touchdown passes in 167 starts don't merit that sort of discussion. But he opened the door for quarterbacks coming out of spread offenses. Smith was at the vanguard of the modern-day NFL. Mobile quarterbacks, considered a liability 20 years ago, are now targeted by talent evaluators.
Smith finished his career with a flourish, recovering from a gruesome injury in 2018 that nearly cost him his right leg. He missed all the 2019 season recovering from the compound fracture and a life-threatening infection. But he beat the odds, earning Comeback Player of the Year honors while leading the Washington Football Team to a division title in 2020.
Alex Smith may not have been a game-changer as an NFL quarterback. But in fundamental ways, Smith did change the game.