Alex Smith's Release Has Given Taylor Heinicke a Free Pass to the Starting Job for Washington
Going into the 2021 offseason, it seemed as though the Washington Football Team would have a quarterback situation as awkward as their team name. At first, there were three quarterbacks on the roster. Two of those quarterbacks were hurt, while the other put up a valiant performance in a losing effort. After Monday, one of those quarterbacks — Alex Smith — is off the team. This sets the stage for Taylor Heinicke to enter the spotlight.
Washington releases Alex Smith, its 2020 savior
RELATED: The Richest Man in the World is Reportedly Interested in Adding the Washington Football Team to His Financial Portfolio
We cannot understate how much of a risk Washington has taken by releasing Smith. The team owes a great deal of its 2020 division title to Smith's heroics in coming back from a potentially life-threatening leg injury from two years earlier.
Smith did not earn the 2020 NFL Comeback Player of the Year award for nothing. He won his last five starts at the helm since taking over for the injured Kyle Allen. One of those wins came on the road against the then-unbeaten Pittsburgh Steelers. His mere presence was an inspiration to his teammates.
From a harsh and unemotional point of view, however, Smith wasn't spectacular. Granted, he was spectacular for someone who had only one working leg, but his stats were nothing to write home about. He threw for six touchdowns against eight interceptions and finished with a rating of 78.5.
Taylor Heinicke's big break
RELATED: Dwayne Haskins Is Already Making the Pittsburgh Steelers 'Anxious' About His Future There
By contrast, Taylor Heinicke's sole start provided a much-needed offensive spark. Although Washington fell 31-23 to the eventual Super Bowl champion Tampa Bay Buccaneers, it wasn't for lack of trying. At one point, the score stood at 31-6, but Heinicke very nearly led a Washington comeback.
His final stats for the day: 26 of 44 for 306 yards and a touchdown. He also led the team in rushing with 46 yards and another touchdown.
On the strength of this one performance, Heinicke signed a two-year extension with Washington worth $4.75 million. According to J.P. Finlay of NBC Sports Washington, the deal also includes $1.5 million guaranteed and a $1 million signing bonus. Not bad for someone who had been taking virtual classes to finish his degree at Old Dominion.
The job is Heinicke's to lose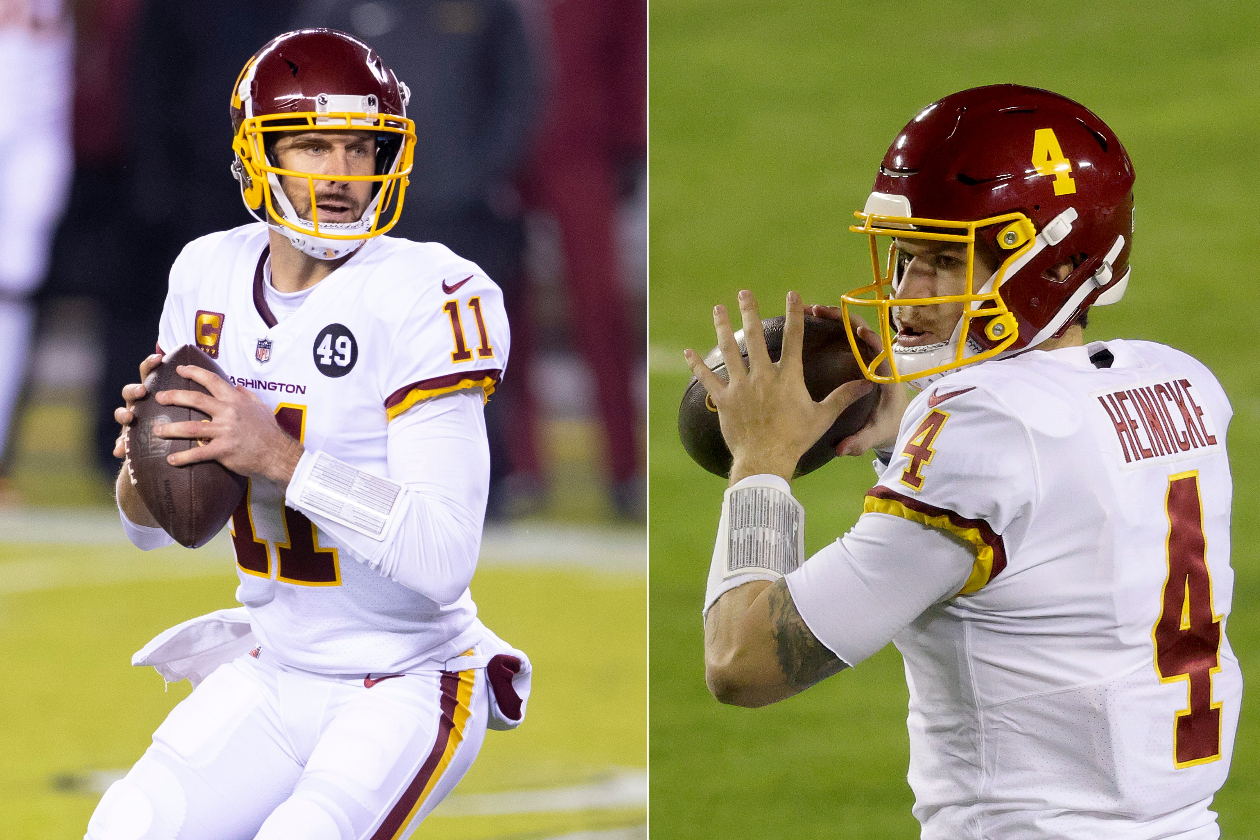 With the release of both Alex Smith and Dwayne Haskins, Heinicke is the only quarterback on the Washington roster who is both fully healthy and has some upside. He will face competition from Kyle Allen during training camp, but Allen himself is recovering from multiple injuries he suffered during the regular season.
It's possible that Washington could also bring in a quarterback from elsewhere to give Heinicke some competition. This could come from either free agency or, more likely, the NFL Draft. However, some of the big-name free agent quarterbacks, such as Carson Wentz and Matthew Stafford, are already out of reach. The others, such as Deshaun Watson and Russell Wilson, wouldn't want to touch Washington with a 50-foot pole. The team still has other needs to fulfill in the draft as well.
At this point, the starting job is Heinicke's to lose.