Alex Smith Was Cleared to Return, but Will He Ever Realistically Play Again?
Veteran quarterback Alex Smith has officially taken an incredible step in his comeback.
Smith, the former No. 1 overall pick best known for his years with the Kansas City Chiefs, has been cleared by his surgical team to play again. The veteran quarterback suffered a devastating injury in November 2018, his first season with the Washington Redskins.
Even if Washington's staff clears Smith to play again, will he realistically return to the field? And if he does, which team will he do it with? let's take a look.
Alex Smith has had a solid NFL career
The No. 1 overall pick out of Utah in 2005, Alex Smith deserves credit for turning his career around.
Smith was at best a little above average in his first six seasons with the San Francisco 49ers, but not enough to show he was the team's quarterback of the future.
Then, Jim Harbaugh arrived in 2011 and Smith become one of the league's most efficient quarterbacks. He went 19-5-1 in those two seasons and completed 64.3% of his passes for 4,881 yards, 30 touchdowns, and only 10 interceptions.
A concussion and the rise of Colin Kaepernick, though, sealed Smith's trade to Kansas City in the spring of 2013. It was a move the 49ers had to make, but it also proved to be one they may still regret.
From 2013-17, Smith went from a game manager to a prolific passer under Andy Reid. Smith went 50-26 and completed 65.1% of his passes for nearly 18,000 yards, 102 touchdowns, and only 33 interceptions.
Kansas City made the playoffs four times with Smith at quarterback. He earned three Pro Bowl nods and spent his final year working with rookie quarterback Patrick Mahomes.
Kansas City traded Smith to Washington after the 2018 season. He went 6-4 in 10 starts but suffered a compound fracture in his right tibia and right fibula that November.
He has not played since then and it is still unclear if he will ever see the field again.
Smith has been cleared to play again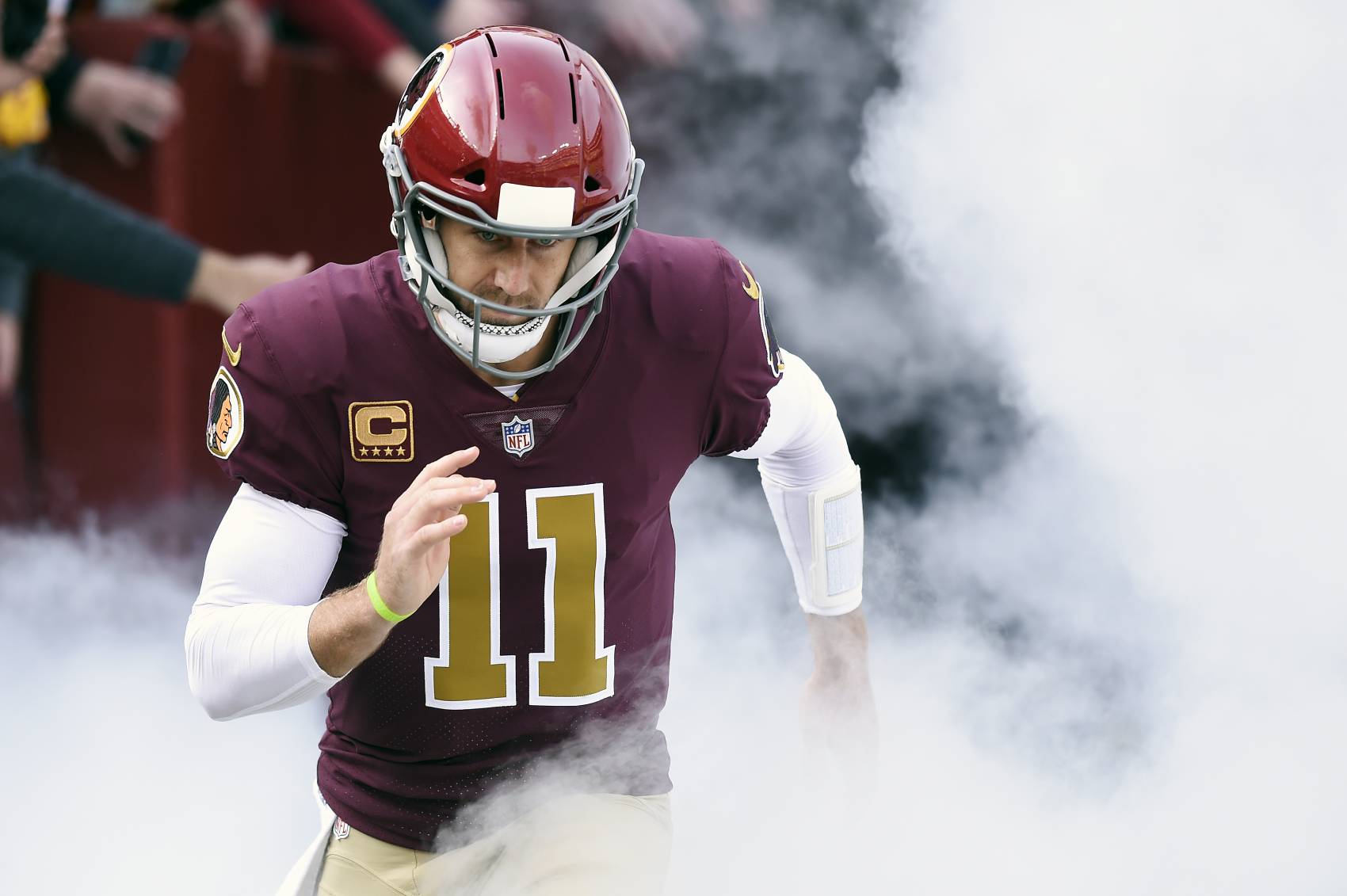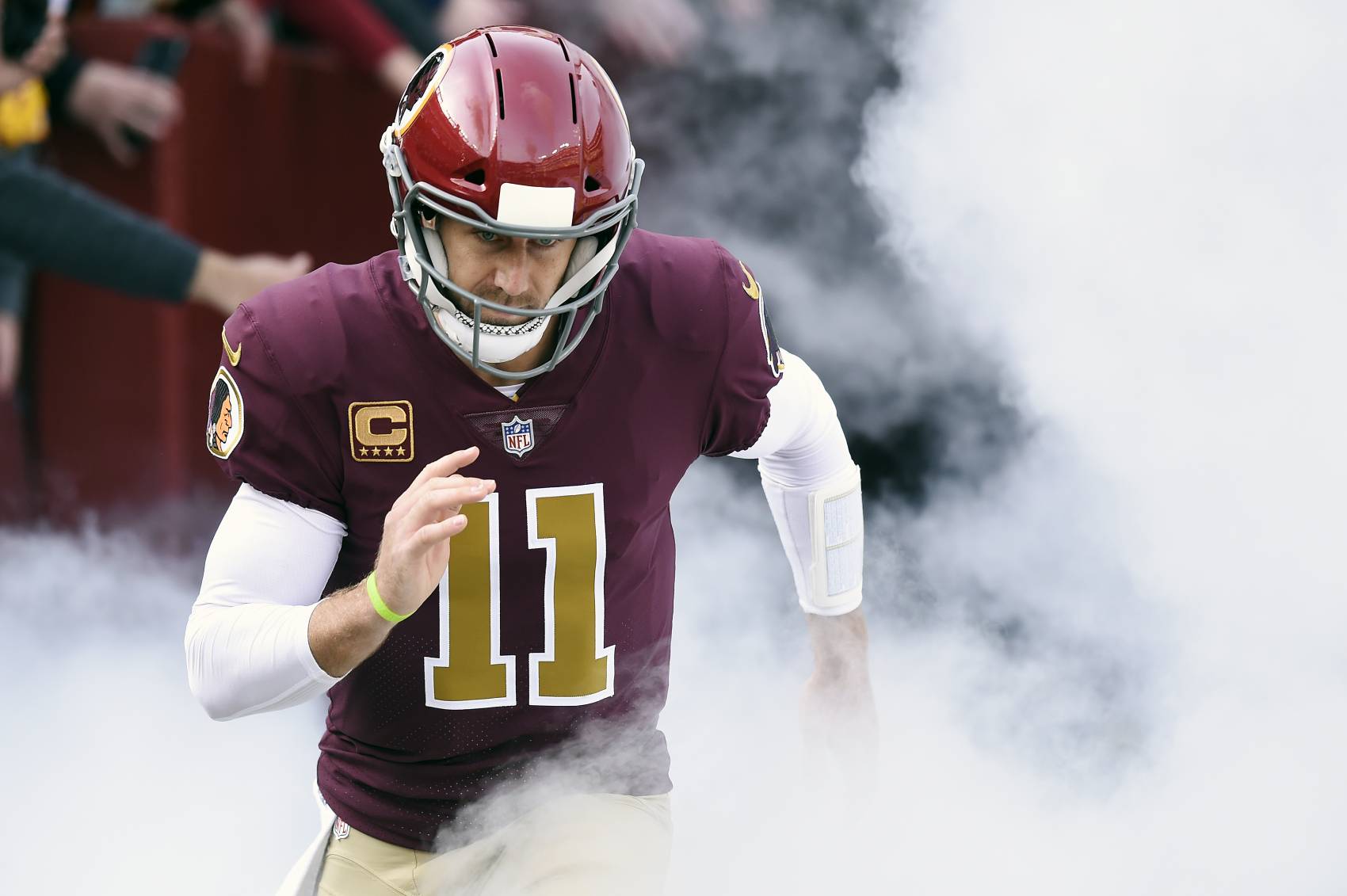 Alex Smith recently received great news when his surgical team cleared him to return to full football activity, according to ESPN.
Smith will need to pass both a team physical and COVID-19 test before he can practice in Washington again. The former No. 1 overall pick has spent time around the team but hasn't practiced since he suffered the injury in November 2018.
Although Smith turned 36 earlier this year, he is confident he can play again. New Washington head coach Ron Rivera has openly said Smith has a spot on the team.
If Smith is cleared by Washington's doctors, the team's quarterback room just got more interesting.
Washington already has its potential quarterback of the future, Dwayne Haskins, on the roster. If Haskins shows this fall that he might not fit that role, Washington can always draft someone like Trevor Lawrence or Justin Fields next spring.
Where could Alex Smith play again?
If Ron Rivera, who didn't draft Dwayne Haskins, holds an open quarterback battle, there holds Alex Smith's first path back to the field.
Smith could also compete with Kyle Allen for the backup job behind Haskin. Still, don't expect to see Alex Smith in Washington for the long haul.
The Washington Football Team can release him in 2021 and it would count toward nearly $11 million on their cap, according to Spotrac.
It is not yet known how the coronavirus pandemic's impact on league finances would impact those numbers.
Allowing Smith, who turns 37 in May 2021, to potentially play the final year(s) of his career elsewhere is a smart move. However, many teams may not be willing to bite on a quarterback who, depending on how this year goes, would have missed over two full seasons.
Assuming Smith is fully motivated to play again and a team is open to signing him, two teams stand out.
Smith could reunite with Andy Reid in Kansas City as Patrick Mahomes' backup, a role currently occupied by Chad Henne and Matt Moore. Similarly, former Chiefs quarterbacks coach and offensive coordinator Matt Nagy has a revolving quarterback room in Chicago.
The 2021 quarterback carousel is hard to predict. Smith's time away from the field makes it difficult to potentially say he could replace Ben Roethlisberger in Pittsburgh or Tom Brady with the Buccaneers.
But Smith has made it this far in his recovery, and that alone is something he should treasure. One final NFL down, even if it's kneeling the clock out, would be the perfect cherry on top of a terrific career.