All of the 1st-Round Picks From John Elway and Dan Marino's Stacked 1983 NFL Draft Class: Where Are They Now?
Even with the best scouting and analysis, a first-round NFL draft pick can turn out to be a bust, while a late-round pick can turn into a Hall of Famer. Occasionally, however, a class is so stacked with players who'll become stars that it's hard to miss. The 1983 NFL draft class fits that definition. Here's the full first round from 1983.
First-round picks from the 1983 NFL draft class
Pro Football Reference shows us all 28 picks in the first round of the 1983 draft:
John Elway, Baltimore Colts – retired in 1998
Eric Dickerson, LA Rams – retired in 1993
Curt Warner, Seattle Seahawks – retired in 1990
Chris Hinton, Denver Broncos – retired in 1995
Billy Ray Smith, San Diego Chargers – retired in 1992
Jimbo Covert, Chicago Bears – retired in 1990
Todd Blackledge, Kansas City Chiefs – retired in 1989
Michael Haddix, Philadelphia Eagles – retired in 1990
Bruce Matthews, Houston Oilers – retired in 2001
Terry Kinard, New York Giants – retired in 1990
Tim Lewis, Green Bay Packers – retired in 1986
Tony Hunter, Buffalo Bills – retired in 1986
James Jones, Detroit Lions – retired in 1992
Jim Kelly, Buffalo Bills – retired in 1996
Tony Eason, New England Patriots – retired in 1990
Mike Pitts, Atlanta Falcons – retired in 1994
Leonard Smith, St. Louis Cardinals – retired in 1991
Willie Gault, Bears – retired in 1993
Joey Browner, Minnesota Vikings – retired in 1992
Gary Anderson, Chargers – retired in 1993
Gabe Rivera, Pittsburgh Steelers – retired in 1983
Gill Byrd, Chargers – retired in 1992
Jim Jeffcoat, Dallas Cowboys – retired in 1997
Ken O'Brien, New York Jets – retired in 1993
Dave Rimington, Cincinnati Bengals – retired in 1989
Don Mosebar, Los Angeles Raiders – retired in 1994
Dan Marino, Miami Dolphins – retired in 1999
Darrell Green, Washington Redskins – retired in 2002
Stars from the 1983 NFL draft class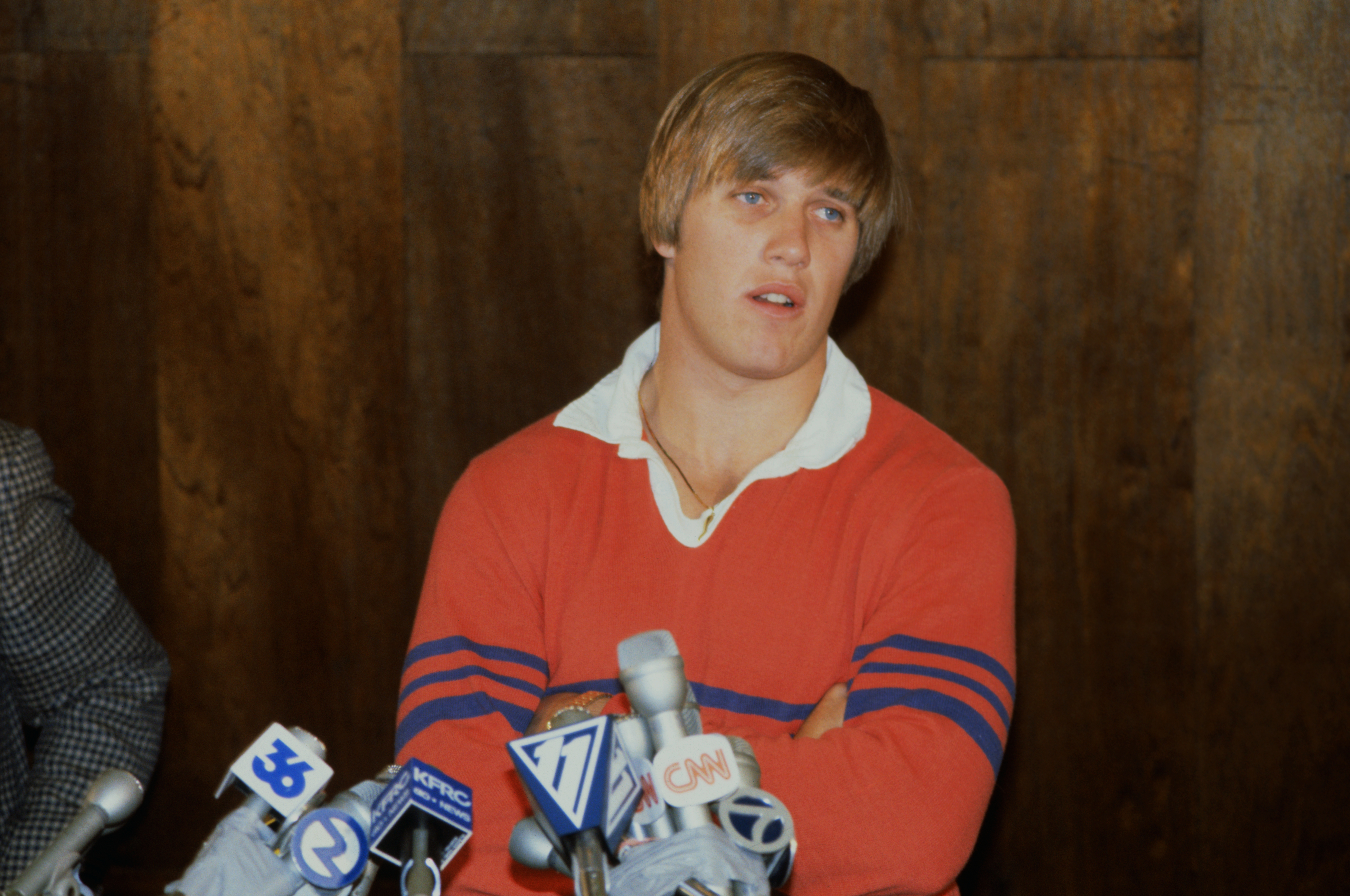 RELATED: Dan Marino vs. Bob Griese: Who Was a Better Quarterback?
Eight players selected in the '83 draft eventually earned a bust in Canton — seven first-rounders and Richard Dent. (The Bears took Dent in the eighth round with the No. 203 overall pick, which no longer exists in the draft.) The 1983 NFL draft class also featured 42 Pro Bowlers, per Athlon Sports. Despite so many at the Pro Bowl, the following stars shone brightest:
John Elway
Being the No. 1 pick puts a lot of pressure on a player, but Elway succeeded under pressure. He spent his entire 16-year career with the Broncos, leading them to two Super Bowl titles while winning an MVP. He eventually became the Broncos' general manager.
Dan Marino
Marino was the penultimate pick in the first and proved to be a relative bargain for the Dolphins. In 17 seasons, the quarterback earned an MVP and nine Pro Bowls. The biggest knock against him was not being able to win a Super Bowl.
Jim Kelly
Kelly's career lasted 11 seasons in Buffalo. The quarterback made the Pro Bowl in five of them. Like Marino, he doesn't have a Super Bowl ring. But he had plenty of chances, famously losing four straight.
Eric Dickerson
A running back who played for four teams over 11 seasons, Dickerson made six Pro Bowls and still has some of the best rushing stats in NFL history — ninth-most rushing yards and 13th-most rushing touchdowns.
Darrell Green
The last pick of the first round, Green had a 20-year career — all with the then-Redskins. The defensive back earned seven Pro Bowls and participated on two Super Bowl-winning teams.
Todd Blackledge busts out of the NFL
RELATED: Broncos Retired John Elway's Jersey 20 Years Ago — Where Is He Now?
Not every first-round pick went on to get in the Hall of Fame. The Chiefs took Blackledge seven picks ahead of Kelly and 20 picks before Marino — and he turned out to be a bust. In seven seasons in the league, reports Pro Football Reference, Blackledge would play in just 46 games, starting 29 of them.
His teams had a 15-14 record in his starts, and Blackledge ended up with more interceptions (38) than touchdowns (29) while completing 48% of his passes, making him one of the most memorable busts in NFL draft history.