All of the 1st-Round Picks From Adrian Peterson and Calvin Johnson's 2007 NFL Draft Class: Where Are They Now?
Adrian Peterson and Calvin Johnson are two of the best offensive players in the NFL in the last 15 years. They're also two first-round successes from the 2007 NFL draft. Sadly, other picks didn't work out as well.
The Raiders, for example, had the No. 1 overall pick but passed on Johnson to take a quarterback who is one of the five biggest draft busts in NFL history. Let's look at the 2007 NFL draft and where the first-round picks are now.
The 2007 NFL draft first-round picks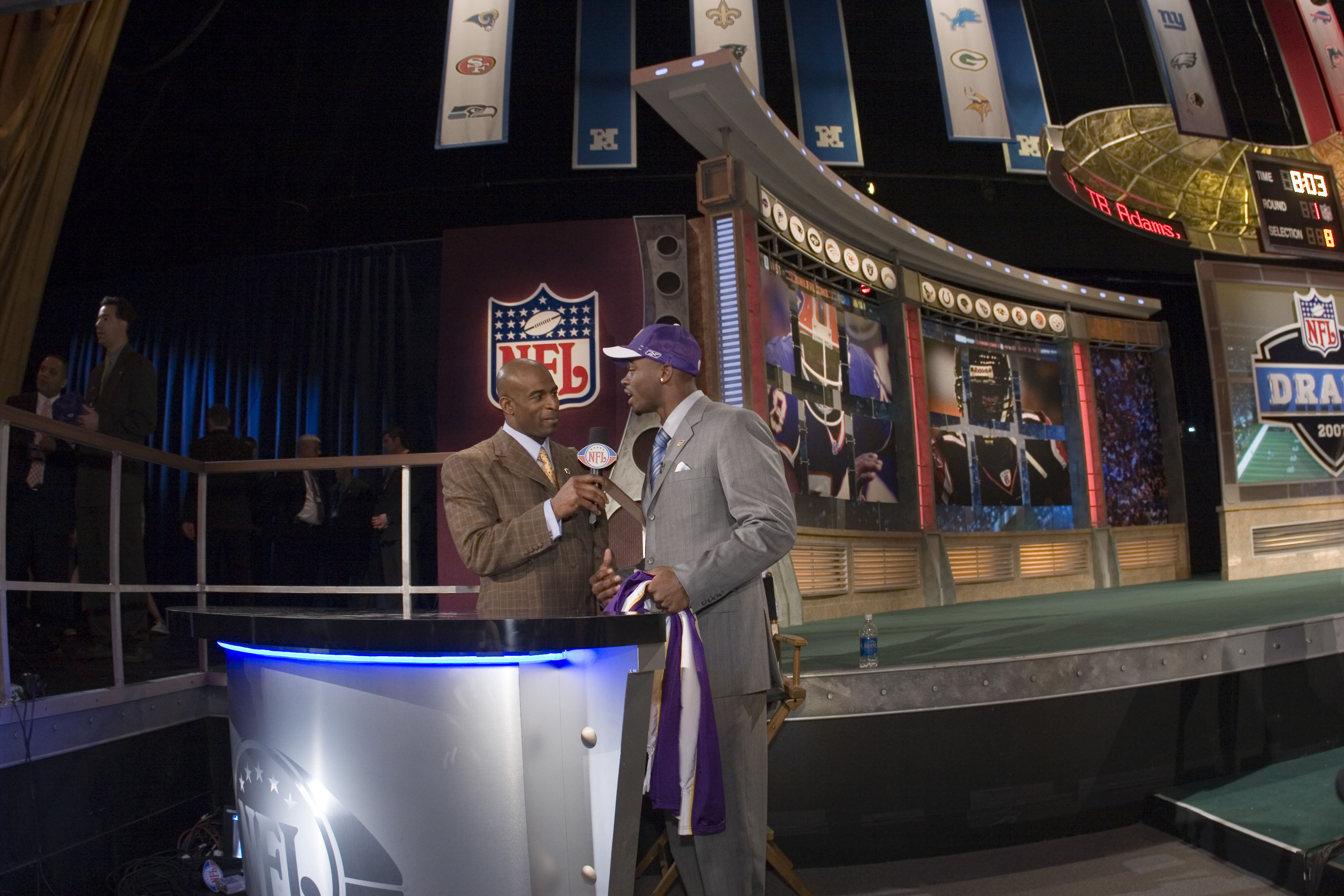 Pro Football Reference tells us who went in the first round of the 2007 draft:
JaMarcus Russell, Oakland Raiders – retired in 2009
Calvin Johnson, Detroit Lions – retired in 2015
Joe Thomas, Cleveland Browns – retired in 2017
Gaines Adams, Tampa Bay Buccaneers – retired in 2009
Levi Brown, Arizona Cardinals – retired in 2013
LaRon Landry, Washington Redskins – retired in 2014
Adrian Peterson, Minnesota Vikings
Jamaal Anderson, Atlanta Falcons – retired in 2012
Ted Ginn Jr., Miami Dolphins
Amobi Okoye, Houston Texans – retired in 2014
Patrick Willis, San Francisco 49ers – retired in 2014
Marshawn Lynch, Buffalo Bills – retired in 2019
Adam Carriker, St. Louis Rams – retired in 2012
Darrelle Revis, New York Jets – retired in 2017
Lawrence Timmons, Pittsburgh Steelers – retired in 2017
Justin Harrell, Green Bay Packers – retired in 2010
Jarvis Moss, Denver Broncos – retired in 2011
Leon Hall, Cincinnati Bengals – retired in 2018
Michael Griffin, Tennessee Titans – retired in 2016
Aaron Ross, New York Giants – retired in 2014
Reggie Nelson, Jacksonville Jaguars – retired in 2018
Brady Quinn, Browns – retired in 2012
Dwayne Bowe, Kansas City Chiefs – retired in 2015
Brandon Meriweather, New England Patriots – retired in 2015
Jon Beason, Carolina Panthers – retired in 2015
Anthony Spencer, Dallas Cowboys – retired in 2014
Robert Meachem, New Orleans Saints – retired in 2014
Joe Staley, 49ers – retired in 2019
Ben Grubbs, Baltimore Ravens – retired in 2015
Craig Davis, San Diego Chargers – retired in 2010
Greg Olsen – Chicago Bears – retired in 2020
Anthony Gonzalez – Indianapolis Colts – retired in 2011
Stars of the 2007 draft
RELATED: Marshawn Lynch Will Destroy His Hall of Fame Chances By Returning to the Seahawks
Fewer than 14 years have passed since the 2007 NFL draft, but there's already a Hall of Famer in the class, Calvin Johnson, details NFL.com. But more picks from the 2007 draft are sure to get to Canton when they're eligible. Here are some of the standout stars from the draft:
Adrian Peterson
Peterson is one of the few players in the draft still active as he comes to the end of his likely Hall of Fame career. He has an MVP award on his ledger and is one of eight backs in NFL history with a 2,000-yard rushing season.
Calvin Johnson
Johnson played a relatively short nine seasons, but he led the league in receiving yards twice and was productive enough that he was voted in the Hall of Fame in his first year of eligibility in 2021.
Joe Thomas
Thomas enjoyed a strong 11-year career with the Browns in which he made the Pro Bowl 10 times. In his final season in 2017, he became the first player in league history to play 10,000 consecutive snaps, with that streak coming to an end about a month later at 10,363.
Darrelle Revis
One of the best defensive players of his era, Revis finished in the top 10 in interceptions three times during his 11-year career. He earned the nickname "Revis Island" for his ability to shut down receivers he defended. The defensive back had three pick-6s in his career, including a 100-yarder in 2011. He has a Super Bowl ring from his time with the Patriots.
Marshawn Lynch
Lynch also has a memorable nickname, "Beast Mode," for his aggressive style of play that helped him lead the league in rushing touchdowns twice and overall touchdowns once. He's a five-time Pro Bowler who won a Super Bowl with the Seahawks.
Busts and tragedies of the '07 draft
RELATED: Will Adrian Peterson's Dark Past Tarnish His NFL Legacy?
On the other side of the coin are the busts from the '07 draft, who won't be joining Johnson in the Hall. 
JaMarcus Russell
One of the biggest busts of all-time is top pick Russell. He only played 31 games in his three seasons with the Raiders, going 7-18 in his 25 starts.
Amobi Okoye
Then there's the tragic story of Okoye, who the Texans made the youngest player to ever be picked in the first round at 19 years old. He had 16 sacks in seven seasons before his career was tragically cut short by anti-NMDA receptor encephalitis, which required him to be into a medically-induced coma to stabilize recurring seizures. 
Gaines Adams
Adams played three seasons in the league, getting an impressive 13.5 sacks in that span. Shortly after the 2009 season ended, on January 17, 2010, Adams died of cardiac arrest due to an enlarged heart. He was 26.