Former All-Pro LB Shawne Merriman Thinks John Elway or Peyton Manning Could Lure Aaron Rodgers to the Denver Broncos
Suppose Aaron Rodgers does end up leaving the Green Bay Packers via a trade with the Denver Broncos. In that case, former NFL All-Pro linebacker Shawne Merriman believes it will be because of the sway of John Elway or Peyton Manning.
Those are two legendary Broncos quarterbacks are named above. Could it eventually be three?
The Denver Broncos make sense as a trade destination for Aaron Rodgers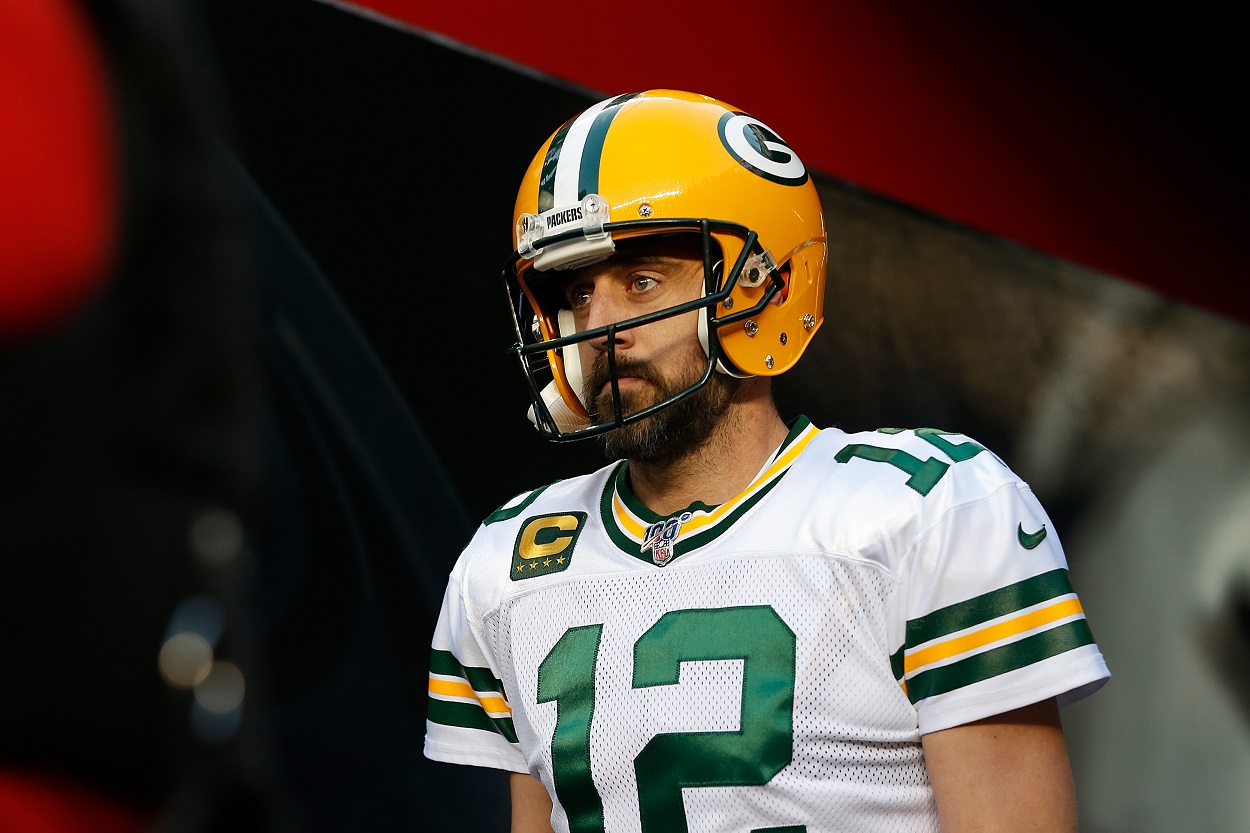 The Broncos have long been thought of as a potential destination for a Rodgers trade. The Packers would have to be willing to play ball, of course, but it does make sense.
Denver has the No. 9 overall pick in the 2022 NFL Draft and a handful of young players Green Bay could ask for in return. Trading away Rodgers wouldn't feel that bad if the Packers could get a top 10 pick plus Jerry Jeudy, Patrick Surtain II, or Noah Fant back. Heck, they may even be able to ask for the whole war chest.
From Denver's standpoint, the Broncos have to feel that even if they lose one of the above players in a trade, they're an elite quarterback away from being a Super Bowl contender.
They'll also have the cap space, which is something Green Bay doesn't have any of.
At the time of this writing, the Packers are expected to be $50 million over the cap in 2022. Rodgers accounts for $46.4 million of their salary cap. In a trade, the Pack can unload that salary Denver, with nearly $40 million in cap space heading into the 2022 league year.
Former Pro Bowl LB Shawne Merriman thinks John Elway or Peyton Manning can lure Rodgers to the Broncos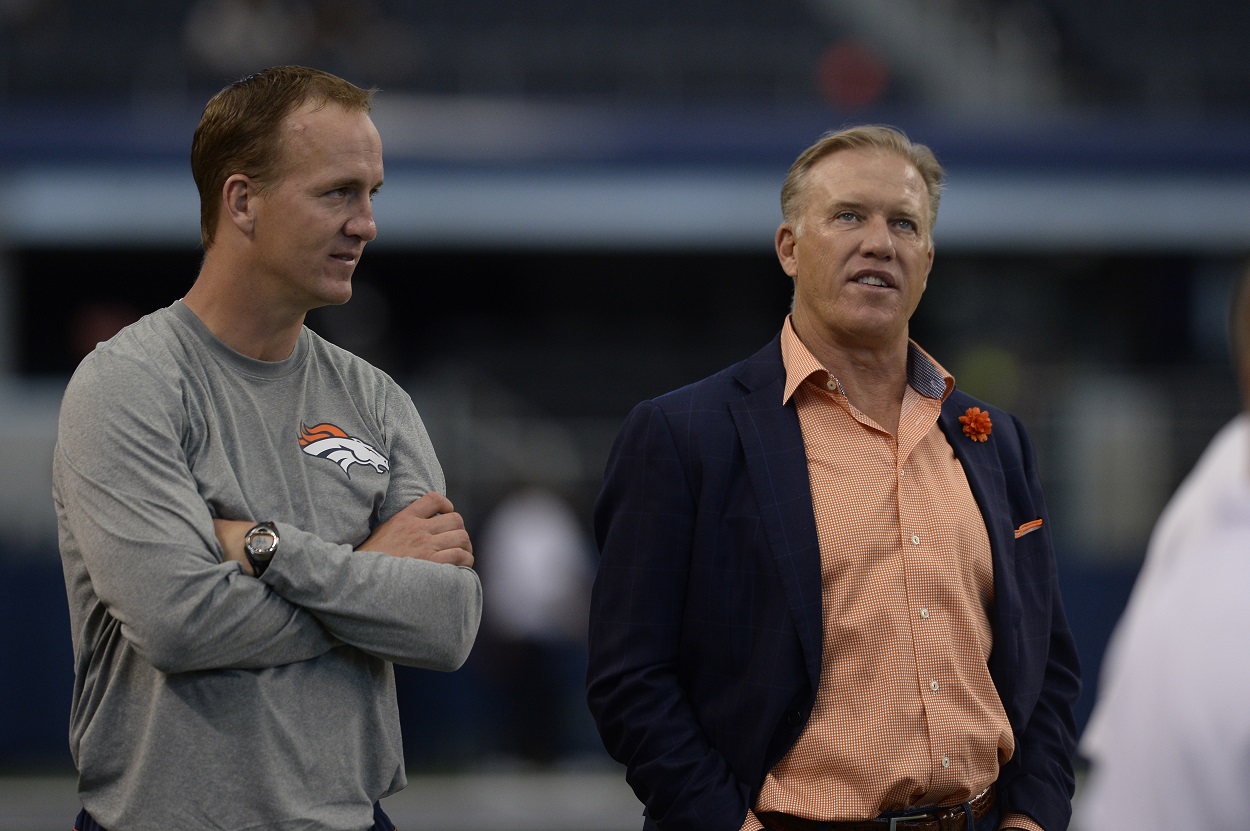 Elway won five Super Bowls as quarterback of the Broncos. He also won one with Peyton Manning at quarterback while he watched from the front office. Not only is still part of Denver's front office, but he's also reportedly part of a group that's looking into buying the team. Now that the Broncos have a new head coach, Nathaniel Hacket (formerly the offensive coordinator in Green Bay, mind you), they've announced plans to sell the team to a new owner.
Elway is part of one of the groups interesting in buying the franchise. One of his competitors? Interestingly enough, it's a group headlined by Manning.
If there wasn't enough going in Denver's favor as a potential trade partner for the Packers, Merriman told Gambling.com that he believes having either Elway or Manning involved in the new ownership of the team could sweeten the deal for Rodgers. It could make it so the Green Bay quarterback asks (or even demands) to go to Denver.
"I think Aaron Rodgers ends up in Denver, and I think the AFC West becomes the most competitive division in football, Merriman said. "I also think that John Elway will have a hand in it. And I think because they're up for sale and Peyton Manning's group is involved, so there are a lot of moving parts that make it really appetizing for him to go there."
The AFC West would be stacked with Rodgers in Denver
The one thing that may cause Rodgers some pause when it comes to a potential trade to Denver would be the absolute gauntlet that is the AFC West.
Rodgers and the Packers are currently the kings of the NFC North and they have been for some time. He's hands-down the best quarterback in the division. The second-best is arguably Kirk Cousins, which goes to show you how weak the division is quarterback-wise.
Cousins is not even on the same planet as Rodgers. Jared Goff is an afterthought with the Detroit Lions, and Justin Fields is still very much an unknown for the Chicago Bears, especially with a new defensive-minded head coach leading the way.
The scene would be much different in the AFC West for Rodgers. He wouldn't even be the best quarterback in his own division if he played for the Broncos. That honor would go to Patrick Mahomes, and there's an argument that could be made that Justin Herbert is right on his tail.
Rodgers is a front-runner. He's at his best when he's playing well and the team around him is thriving. He can be clutch, very much so, but it's easy to imagine a scenario where he gets frustrated by the fact that he can't waltz through the AFC West like he did the NFC North.
Ultimatly, there are good reasons to believe that Rodgers will stay in Green Bay, but Merriman has a point.
With Elway and Manning vying for parts of ownership in Denver, the Broncos do become an "appetizing" destination for Green Bay's star quarterback.
Stats courtesy of ESPN and Pro Football Reference. Contract information via Spotrac
RELATED: Tom Brady Retiring Makes It More Likely Aaron Rodgers Stays and Plays With the Green Bay Packers