All Signs Point to Jim Harbaugh as Michigan's Next Head Coach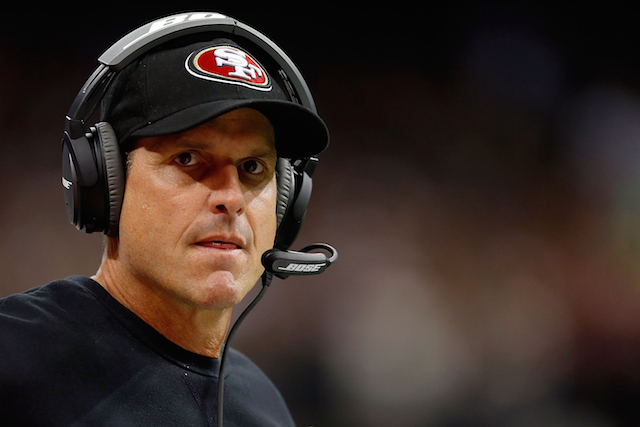 Rumors surrounding the coaching future of San Francisco 49ers head coach Jim Harbaugh have been running rampant since the end of the 2013 season. Now that the 49ers have been officially eliminated from NFC playoff contention with a 17-7 loss to their bitter division rivals the Seattle Seahawks, the rumors and speculation will only continue to grow.
Harbaugh has only one year remaining on his current contract, and at this point, it is a forgone conclusion that this season will be the end of the Jim Harbaugh era in San Francisco. In fact, out of all of the rumors surrounding Harbaugh's future, continuing his career — with or without a contract extension — with the 49ers is the least likely to actually happen.
The majority of the football world, both professional and college, believes that Harbaugh is committed to continuing his career in the NFL. The most popular rumor regarding the former NFL quarterback revolves around the idea of him being traded to another NFL franchise — likely the Oakland Raiders, Miami Dolphins, or New York Jets. One rumor that is surprisingly being dismissed by most experts and analysts is Harbaugh's potential return to big-time college football.
His alma mater, the University of Michigan, is currently without a head football coach, and all signs point toward Wolverines interim Athletic Director Jim Hackett making a serious run at hiring their former quarterback and team captain to build Michigan's once-dominant football program back into a national powerhouse.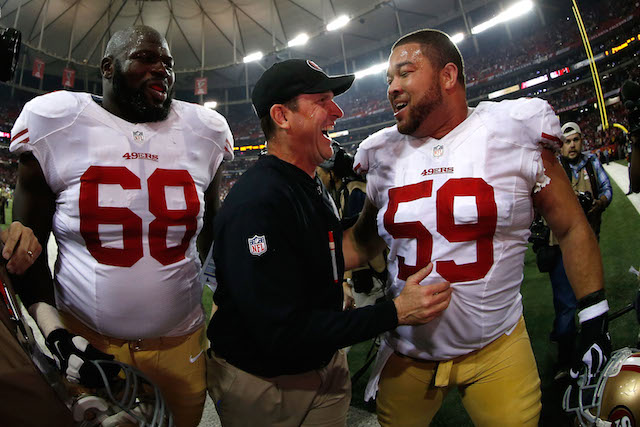 Harbaugh's track record as a head coach speaks for itself. He has had enormous amounts of success at every stop in his coaching career, and that alone will make him a hot commodity this offseason. Reports have surfaced that university officials have already reached out to Harbaugh to gauge his interest in the job but ended the conversation convinced that the their top target intends to continue his career at the professional level. If that's the case, why hasn't the Michigan administration moved on to other candidates? The answer is simple: They believe they have a legitimate chance at landing Harbaugh to be the 20th head coach in program history.
Reputable journalists, such as ESPN's Adam Shefter and Jason La Canfora of CBS, have reported that sources close to the former Michigan star continue to maintain that he is not interested in returning to coach at his alma mater, citing the Harbaugh family's close relationship with recently fired Brady Hoke, as well as a desire to stay in the NFL as the main reasons for Harbaugh's lack of interest in the job. Both Schefter and La Canfora have a long history of being accurate on reports such as this, but the fact remains that Harbaugh has never personally dismissed the idea of coaching at Michigan.
The University of Michigan appears to be prepared to open up its checkbook in a big way to make Harbaugh an offer he cannot refuse. If the Wolverines are able to lure Harbaugh away from the NFL, they will be looking at a probable salary that averages well above $5 million per season, which would make him one of the highest-paid coaches in all of college football before he even moves into an office in Ann Arbor. That being said, Harbaugh would be worth every penny if he were able to bring the program back into a state of yearly national title contention.
If the above evidence wasn't enough to convince you that Harbaugh to Michigan may become a reality in the near future, the public outcry from notable alumni, former coaches, and former players may just do the trick. Charles Woodson, a Heisman Trophy winner during his time at Michigan, has publicly stated that he would rather see Harbaugh as the head coach of the Wolverines than for the NFL team that he plays for, the Oakland Raiders, one of the potential trade destinations for Harbaugh.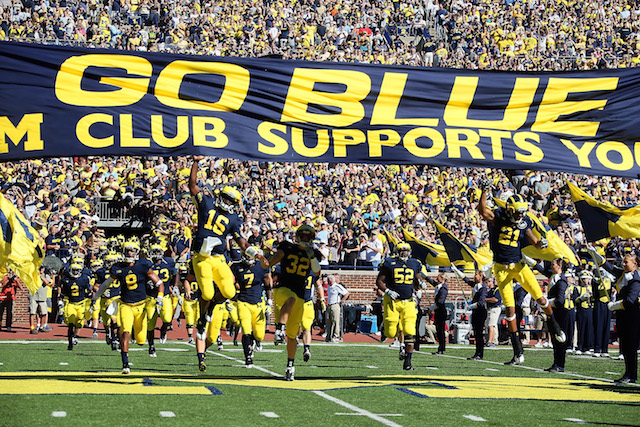 Former Michigan head coach Lloyd Carr, one of the winningest coaches in program and NCAA history, has also said his top choice would be Harbaugh. Another Heisman Trophy-winning Wolverine, Desmond Howard, is on the Harbaugh bandwagon, as well.
The list could go on, and it's painfully obvious that Harbaugh would be viewed as a savior by everyone associated with the university. On top of that, winning a Super Bowl may be the only accomplishment that would be remotely as gratifying to Harbaugh and his coaching legacy as winning a national title as the head football coach of the University of Michigan.
There is no doubting that there was — and still is — tremendous amounts of interest from some of the biggest names in the football coaching industry in the vacant job at the University of Michigan. That should come as no surprise, given that Michigan is the winningest program in college football history.
Michigan officials, on the other hand, have made it clear — in a somewhat indirect way — that their top choice is Jim Harbaugh. Quite frankly, anybody other than Harbaugh at this point would be viewed as a disappointing hire by the massive, loyal Michigan fan base, and what would be more rewarding for a coach with Harbaugh's impressive track record than to revive his alma mater's program and bring championship-caliber football back to Ann Arbor?