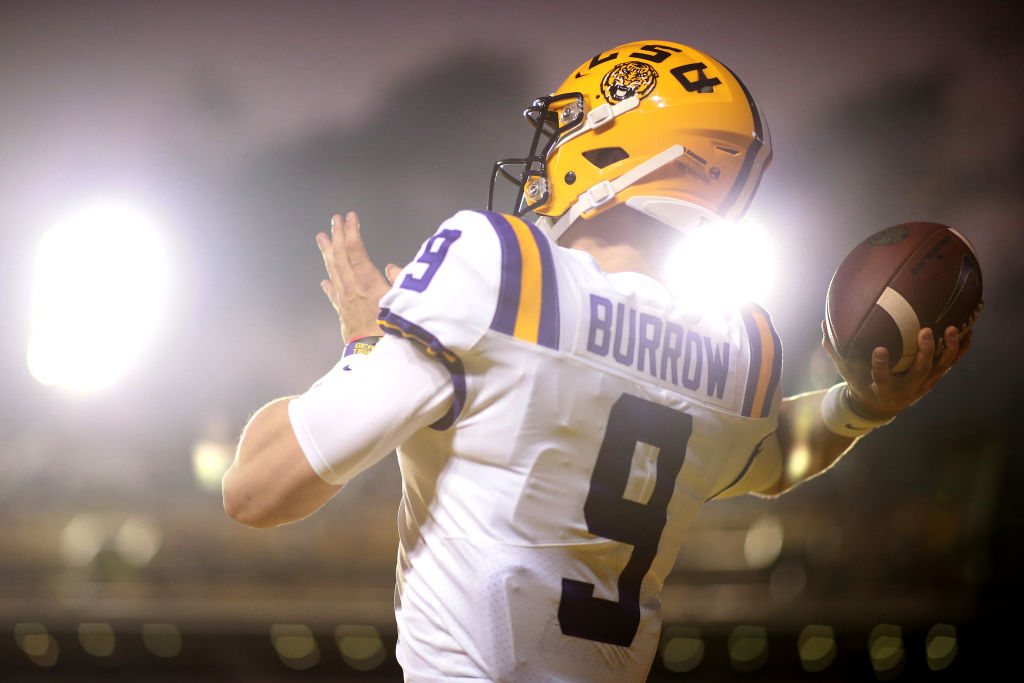 All Signs Point to Joe Burrow Going No. 1 to the Cincinnati Bengals in the 2020 NFL Draft
Joe Burrow has been the best quarterback in college football in 2019, and his next stop could be the Cincinnati Bengals in 2020.
Joe Burrow put together yet another masterful performance for the LSU Tigers in Week 14, torching the Texas A&M Aggies 50-7 with 352 passing yards and three passing touchdowns. With the victory, LSU will enter the SEC Championship Game next Saturday with a perfect 12-0 record, and even if the Tigers lose that game, they will still in all likelihood be heading to the College Football Playoff this season.
The Cincinnati Bengals, meanwhile, enter Week 13 of the 2019 NFL season as the league's only winless team at 0-11. Every other team in the league has at least two wins, making the Bengals a huge favorite to finish with the season with the No. 1 overall pick. And it's difficult to see them going with anyone besides Joe Burrow with that selection.
Cincinnati clearly needs a quarterback
The 0-11 Bengals need help in every facet of the game. Cincinnati ranks dead last in total yards surrendered at 417.2 per game and sixth in scoring defense allowing 26.5 points per game; an elite defensive player like Ohio State's Chase Young would certainly be a welcome addition to a porous defense like this one.
But in general, when you have the first overall pick in the NFL Draft, you use it to select what you hope to be your franchise quarterback for years to come. Since Peyton Manning was selected with the first overall pick in 1998, there have been 22 NFL Drafts; 16 of those 22 drafts have seen a quarterback go with the No. 1 pick.
Generally speaking, teams don't take a quarterback when they already have one in place. The Cincinnati Bengals don't fit that description. Andy Dalton was a serviceable quarterback for years in Cincinnati, but he's 32-years-old at this point and the two parties seem ready to move on from one another.
The Bengals gave Ryan Finley a three-game audition in the starting role, and he was underwhelming to the tune of a 47.1% completion percentage, 158 passing yards per game, and a quarterback rating of 62.1. Cincinnati needs help at quarterback, and fast.
Joe Burrow has emerged as the cream of the crop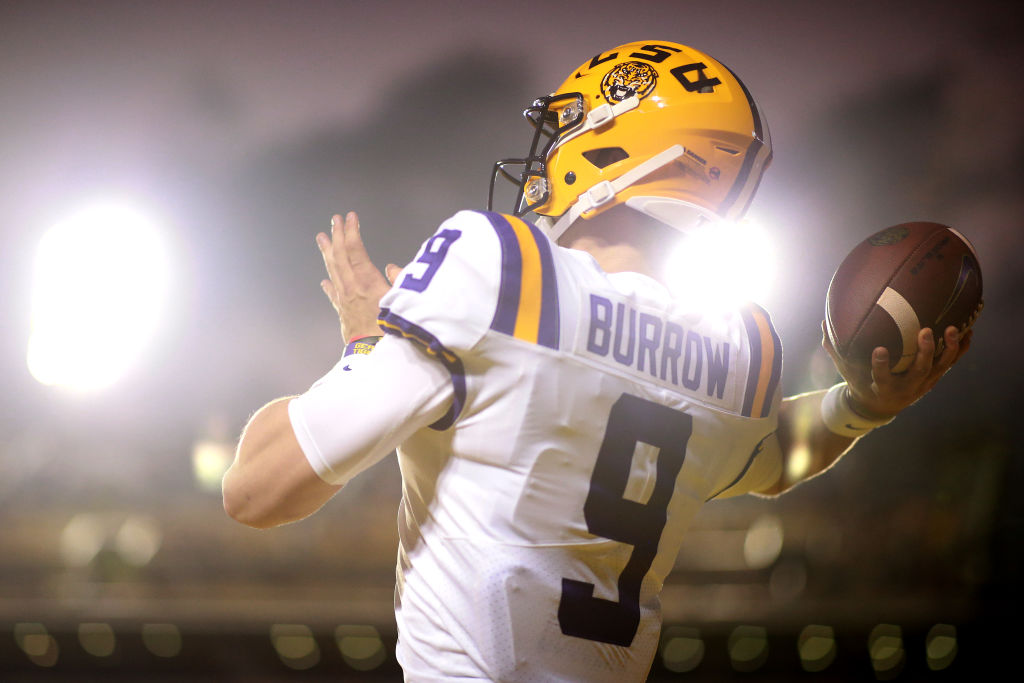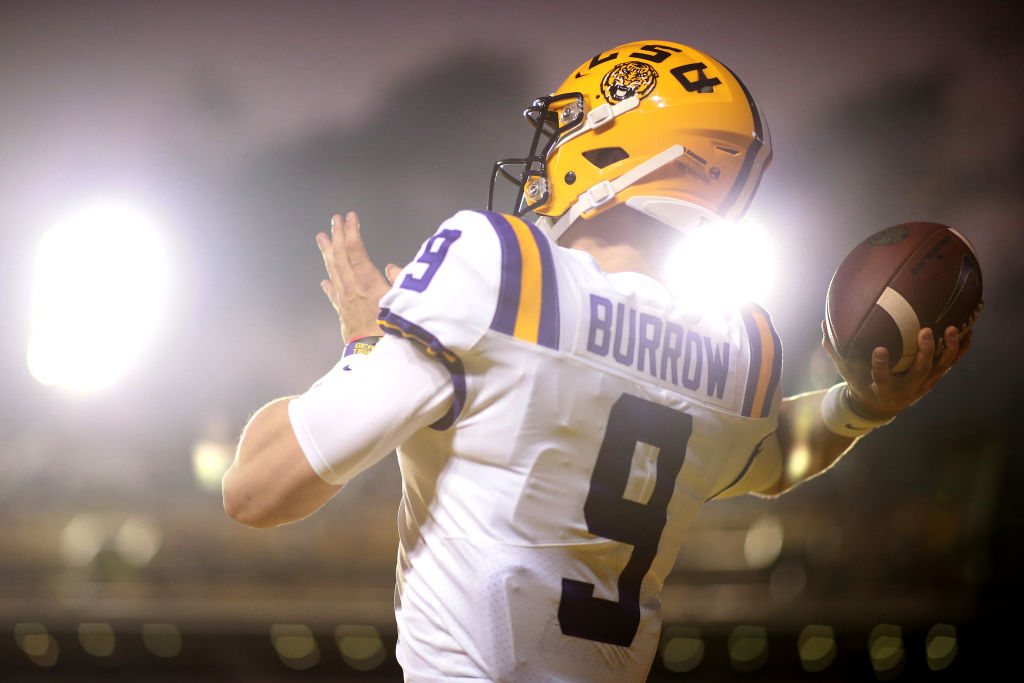 What a remarkable season it has been for Joe Burrow and the LSU Tigers. With his performance on Saturday against Texas A&M, Burrow broke Tim Couch's SEC record for single-season passing yards, bringing his total on the year to 4,366. He also tied Drew Lock's SEC single-season touchdown record with 44 on the year while throwing only six interceptions. Joe Burrow completed a staggering 78.3% of his passes this season.
Burrow is the clear front-runner to win the Heisman Trophy. Each of the last two Heisman Trophy winners, Baker Mayfield and Kyler Murray, have been selected with the first overall pick in the following NFL Draft.
Tua Tagovailoa's hip injury and Justin Herbert's regression down the stretch likely rule these two talented young quarterbacks out from being selected over Burrow. Joe Burrow is the betting favorite to be the first pick in the draft next season.
Burrow and Cincinnati seem like a good fit
The only real knock on Joe Burrow is that he only has one tremendous season under his belt. But what a season it's been. Burrow has the look of an elite NFL quarterback and by all accounts is an intellegent young man on and off of the football field.
There are no guarantees in football, especially at quarterback. Only time will tell if Joe Burrow is the next elite quarterback in the NFL or the next high-profile bust. But most major rebuilds start with the quarterback position, and given the facts at their disposal, the Cincinnati Bengals likely have their man in Burrow next April.