The All-Time Starting 5 for the New York Knicks
The New York Knicks have made the playoffs four times in the last 15 seasons, winning just one playoff series. But prior to this run of ineptitude, New York experienced a rich history with a lot of great basketball teams; they made it to the NBA finals eight times and won the championship twice. The Knicks have also experienced some pretty great players throughout their franchise history. Here is their all-time starting five.
Point guard: Walt Frazier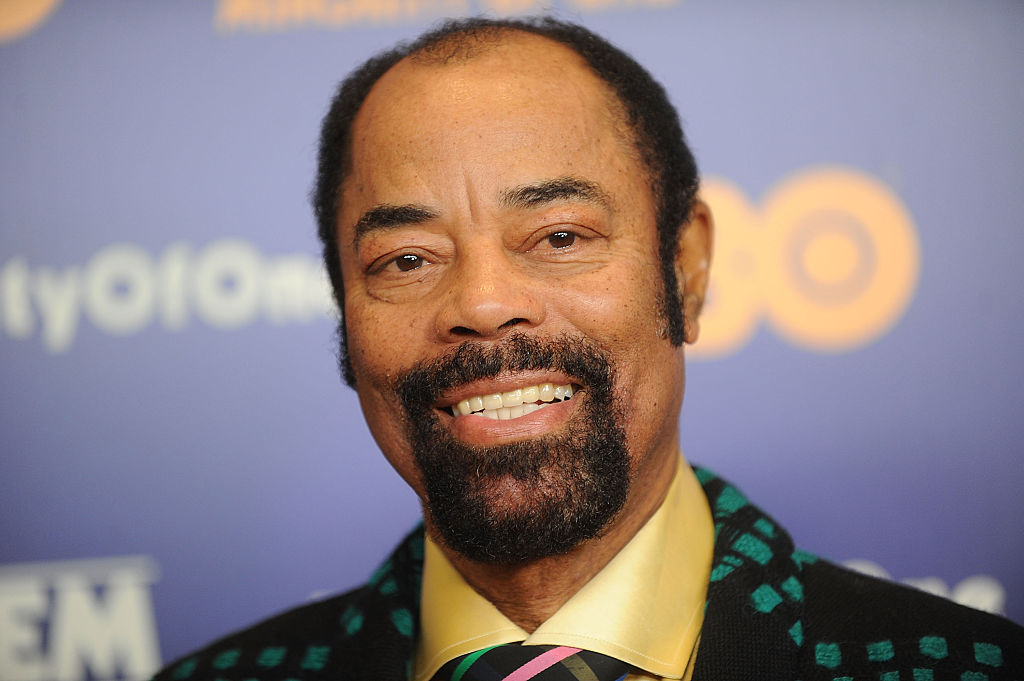 Walt Frazier is one of the best players in NBA history and one of the all-time great Knicks. He played the majority of his career in New York, arriving in 1967 when he was drafted No. 5 overall as a 22-year-old. Frazier developed into one of the best players in the game, averaging 19.3 points and 6.3 assists per game while playing with the Knicks over 10 years.
The best season of Frazier's career came in 1971–72, when he averaged 23.2 points, 6.7 rebounds, and 5.8 assists per game. He led the Knicks to the NBA finals three times in his relatively short career, winning it all in 1970 and 1973. Frazier made the all-defensive team seven times and the All-Star team seven times; he was inducted into the Hall of Fame after his playing days ended.
Shooting guard: Allan Houston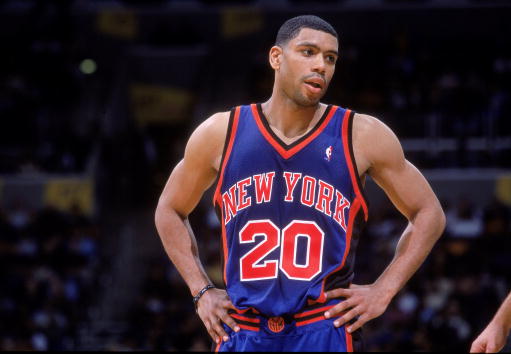 The Detroit Pistons drafted Allan Houston No. 11 overall back in 1993. After three years in Detroit, the Pistons let Houston get away to sign with the Knicks in free agency, where he eventually developed into a star. He eventually took over the starting shooting guard spot from John Starks, another Knicks legend. In 1999, Houston was huge part of the team that went on a run all the way to the NBA finals against the San Antonio Spurs.
Houston's best season with the Knicks was his last full season, in 2002–03. He was 31 years old at that time and averaged 22.5 points per game in 37.9 minutes (playing all 82 games). He developed knee problems and had to retire early, at the age of 33. However, he played nine seasons in New York and averaged 17.3 points and 40.2% shooting from three-point range.
Small forward: Carmelo Anthony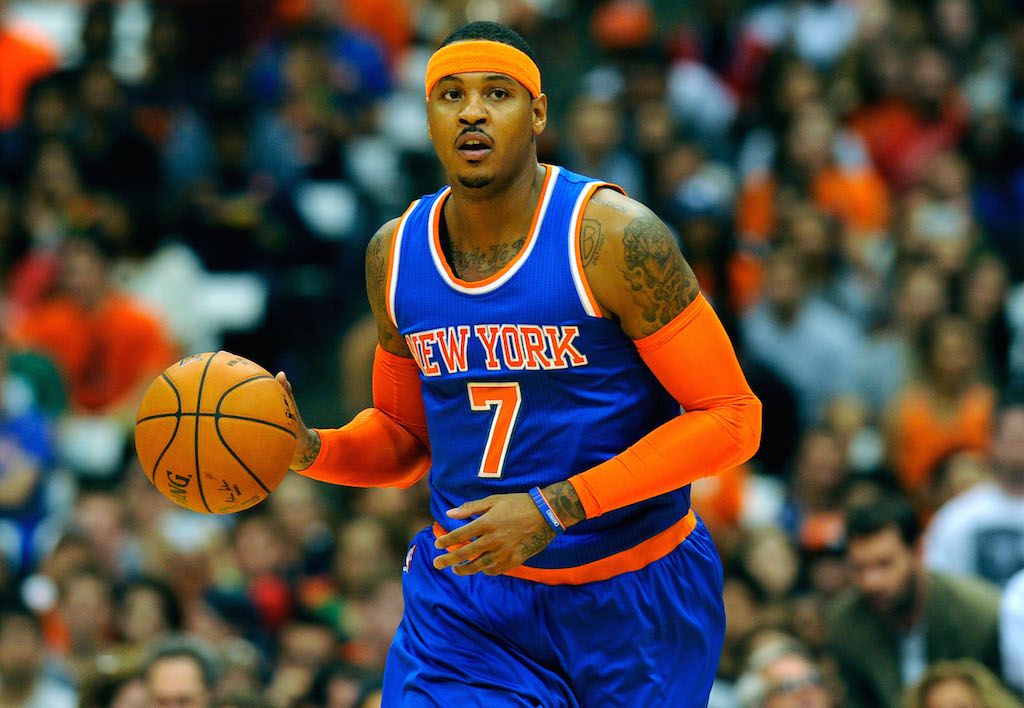 After eight seasons with the Denver Nuggets — who drafted him No. 3 overall back in 2003 — small forward Carmelo Anthony moved to the Knicks in a deal involving 13 players and several draft picks. The result: Anthony landed where he wanted to be all along, playing for his hometown New York Knicks. In seven seasons in New York so far, the 32-year-old has averaged 25.1 points per game, leading the league in scoring back in 2012–13.
Unfortunately for Anthony, the Knicks have never been competitive during his stint with the team; they've made it out of the first round of the playoffs only once. Anthony's skills are already declining as he enters the back half of his career. What does this mean? By the time the Knicks could have a real competitive roster he could either be gone or nothing more than a role player. Regardless, Anthony is still one of the best in franchise history.
Power forward: Charles Oakley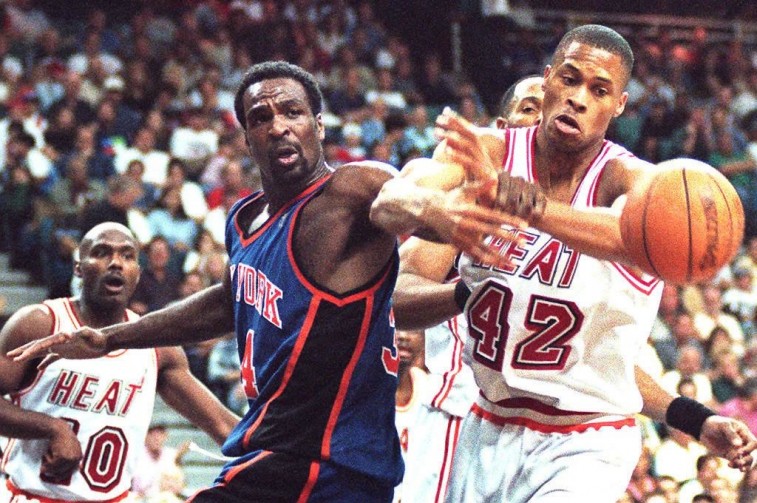 In 1985, the Chicago Bulls drafted Charles Oakley No. 9 overall. He played three years in Chicago with Michael Jordan before the Bulls dealt him to New York in exchange for center Bill Cartwright. Oakley hung around in New York for 10 seasons, making a name for himself as a tough defender, a big-time rebounder, and a guy who could knock down the open jumper. He was an All-Star in 1993–94, when the Knicks went all the way to the NBA finals before losing to the Houston Rockets.
In his Knicks career, Oakley averaged 10.4 points and 10 rebounds. His best season came in 1989–90, when he averaged 14.6 points and 11.9 rebounds in 36 minutes per game. He won't go down in history as one of the best players of all time, but he played a major role on several really good Knicks teams throughout the late '80s and '90s.
Center: Patrick Ewing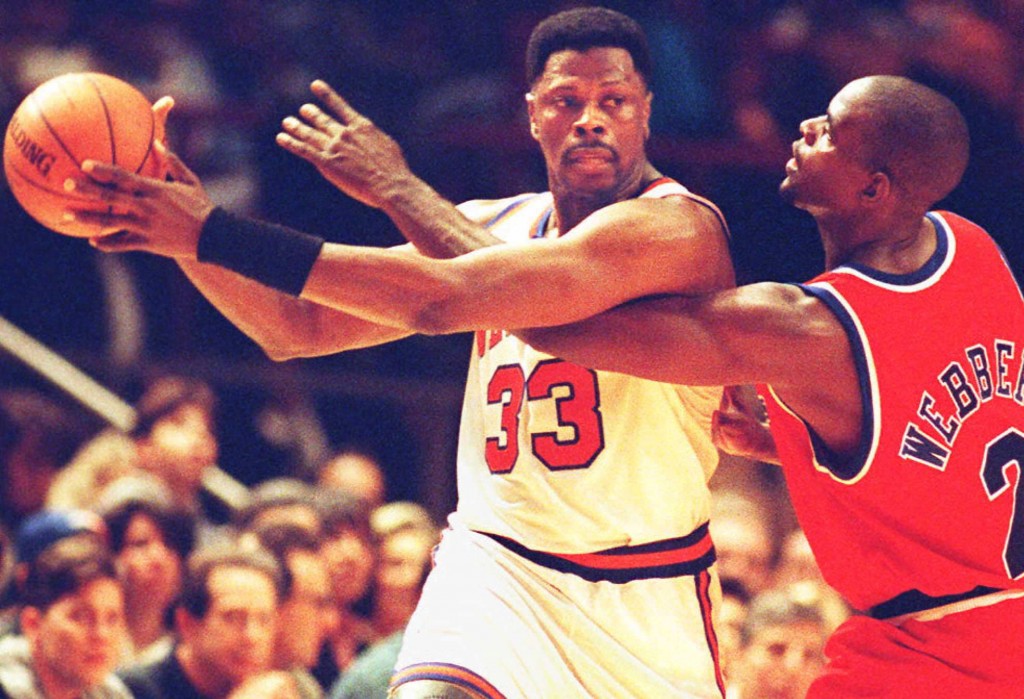 In 1985, the Knicks landed the No. 1 pick in the draft and used it on Georgetown center Patrick Ewing. He was a franchise-changing player, developing quickly into one of the best big men in the NBA. In 15 seasons with the Knicks, Ewing averaged 22.8 points and 10.4 rebounds per game, making 11 All-Star teams, seven all-NBA teams, and three all-defensive teams.
Ewing's best year came in 1989–90, when he averaged 28.6 points and 10.9 rebounds in 38.6 minutes per game and finished fifth in the MVP voting. He led the team to the NBA finals in 1994, but he shot only 43.7% from the field during that playoff run and averaged just 21.9 points. He was a part of the 1999 Knicks team that made it back to the NBA finals, but he sustained an injury in the Eastern Conference Finals and couldn't suit up in their five-game loss to the Spurs.
Statistics courtesy of ESPN and Basketball-Reference.