Allen Iverson Barely Played With Chris Webber but He Still Did Enough to Earn C-Webb's Ultimate Respect: 'AI Is the Best Athlete I've Ever Seen in My Life'
Chris Webber only spent a couple of seasons with the Philadelphia 76ers. But it was enough for Allen Iverson to show C-Webb why he was one of the greatest athletes in all of sports.
Webber shouted out AI as his best teammate during his induction into the Naismith Memorial Basketball Hall of Fame. Yet that was but a snippet of the effusive praise he had for The Answer. Webber seems to ascribe to the idea that Iverson is pound-for-pound the greatest player ever to grace the hardwood.
Chris Webber had a brief run with Allen Iverson and the Philadelphia 76ers
Chris Webber is more commonly linked to the Sacramento Kings franchise. However, he spent a little over a season playing with Allen Iverson and the Philadelphia 76ers.
The Sixers acquired C-Webb from the Kings before the 2005 trade deadline. His first stint in Philly was rather forgettable, as he averaged just 15.6 points and shot under 40% from the field in 21 games. Webber would recover, however.
The five-time All-Star was brilliant during the 2005-06 season, averaging 20.2 points, 9.9 rebounds, and 3.4 assists. He was the perfect complementary star for Iverson, who had one of the finest campaigns of his career.
Iverson averaged a career-high 33.0 points in addition to 7.4 assists and 1.9 steals. His 5.3 value over replacement mark was the second-best of his career, behind only his 2000-01 MVP season.
Unfortunately for the 76ers, the brilliance of both Webber and Iverson was not enough to propel Philadelphia to a playoff berth. The Sixers won just 38 games. They traded Iverson to the Denver Nuggets the following season and agreed to a buyout with Webber shortly thereafter.
The Webber-Iverson partnership did not yield results in Philly. Still, The Answer left an indelible mark on C-Webb.
C-Webb called AI the best athlete he has ever seen
Chris Webber played with and against some of the best players in NBA history, including Michael Jordan and LeBron James. None made the same kind of impression on him as Allen Iverson.
Webber told Shams Charania of The Athletic ahead of his induction into the Hall of Fame that AI is the best athlete he has ever seen.
What's more, Webber said Iverson used to humiliate former teammates in practice.
C-Webb recalled AI tormenting a young Lou Williams, saying The Answer even had Williams in tears because he could get just about anything he wanted. In fact, Webber said Iverson's dominance motivated Williams to become one of the best sixth men in NBA history.
It speaks volumes about Iverson that Webber has such distinct memories of his short time in Philly. The recollections are a reminder of AI's astounding ability to dominate despite his small physical stature.
Few guards in NBA history can rival Iverson's pure scoring ability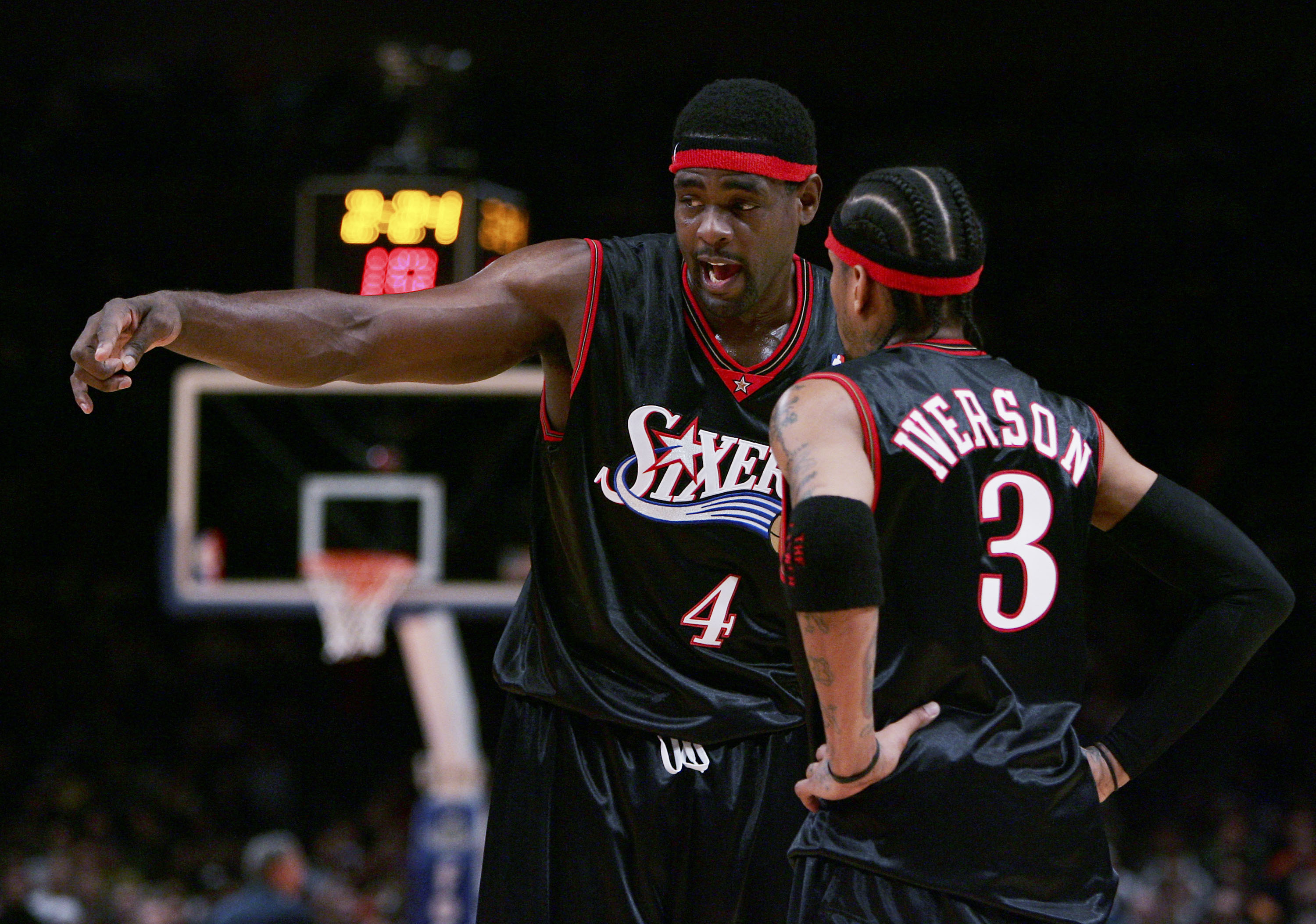 What Allen Iverson lacked in height, he made up for in skill, determination, and fearlessness.
Iverson was one of the most talented ball-handlers in NBA history. Detroit Pistons legend and Hall of Fame point guard Isiah Thomas once said AI changed the nature of the crossover because of how he brought it outside the "box" and got defenders leaning the wrong way. The Sixers great could also change directions on a dime, often deploying a lethal step-back to create separation.
But Iverson's most notable quality might have been his willingness to challenge bigger defenders in the paint. The 11-time All-Star averaged nearly nine free throws per game, an astounding number considering he played in an era dominated by paint-bound big men like Shaquille O'Neal.
Iverson might not get tons of love in the NBA GOAT conversation. But, as Webber said, he is one of the best athletes the game has ever seen.
Stats courtesy of Basketball Reference.
RELATED: A Journeyman Center Haggling Over $1.2 Million Prevented Allen Iverson From Joining the Detroit Pistons Before AI's MVP Season