Allen Iverson Believed Russell Westbrook Best Reminded Iverson of Himself Despite Their Differing Play Styles
Basketball fans born in either the late 1980s or very early 1990s have been lucky enough to enjoy Allen Iverson and Russell Westbrook in their respective primes.
Iverson dazzled with crossovers and clutch shots en route to eventual enshrinement in the Naismith Memorial Basketball Hall of Fame. Westbrook, the triple-double machine (and stat padder), is on pace to join him within the next decade. Despite their differing play styles, Iverson saw enough in Westbrook to offer him some of the highest praise imaginable.
Allen Iverson saw aspects of himself in Russell Westbrook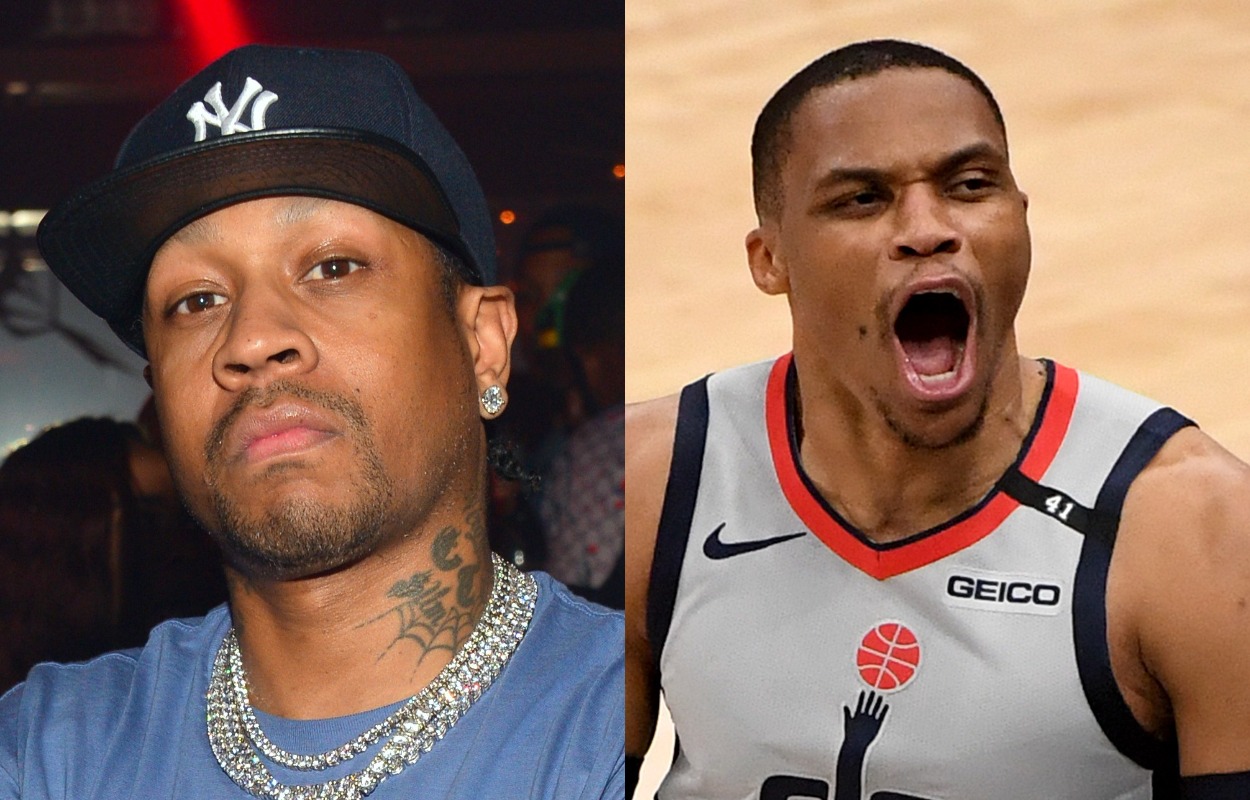 Purely on the eye test, Iverson and Westbrook aren't exactly twins — and we're not talking about their hairstyles. Although, for what it's worth, we love Iverson's trademark cornrows.
In a 2016 interview with Complex, Iverson nonetheless admitted that Westbrook is the player who reminded him the most of himself. The 2001 NBA MVP explained that even if they had different skill sets, something about the All-Star guard's mindset spoke to him.
"Just his relentlessness, his heart, his energy, and the way he plays hard every night. That's what he reminds me of."

Allen Iverson
Iverson praised Westbrook as someone who is always in "attack mode." We'll fully agree that's an area that both players certainly excelled in throughout the years.
Iverson is correct that he and Westbrook had far different game styles
One of the best things about basketball is how different each player is, even if they have the same position or designation. Chris Paul and Stephen Curry are two of the greatest point guards in league history. Still, their play styles are so radically different — Paul is a floor general, and Curry is a prolific sharpshooter — that it's hard to compare them at face value.
The same applies to Iverson and Westbrook. Both will be enshrined together in the Basketball Hall of Fame at some point — Iverson already received the honor in 2016 — and are two of the most explosive players from their respective eras.
However, the two thrived in different roles as guards. Iverson was the slasher, someone who carved through defenses and averaged 26.7 points and 2.2 steals per game for his career. Although he tallied fairly high assist totals for a shooting guard and stepped up assist-wise when the 76ers needed him at point guard, he was an extremely dangerous scoring threat.
That's no knock on Westbrook, who has averaged 23.2 points per night in his career. However, we don't think of him as a player who rushes to the basket and fights through defenses the way Iverson did in his prime. The nine-time All-Star instead beats teams with his shooting, his ball-handling, and his ability to show up near the basket and grab plenty of rebounds.
Westbrook has averaged a triple-double in four of the last five seasons. Whether you consider him a stat padder or not, it's hard to argue that he's essentially an all-purpose weapon in an NFL offense. For all intents and purposes, Westbrook is Christian McCaffrey, and Iverson is Randy Moss, the proven No. 1 receiver who may not be as well-rounded but is still a fearsome force.
Westbrook is on pace to eventually join Iverson in the Hall of Fame
There comes a time in a player's career, regardless of the sport, where you know if they're a lock for the Hall of Fame or if they might need some help. LeBron James will get in with no problems, but his former teammate, Kevin Love, likely won't have such an easy road to enshrinement.
Basketball-Reference has a metric simply known as the Hall of Fame Probability, which uses math and science — two of your son's favorite classes — to determine if a player will receive the honor based on their accomplishments.
Entering the 2021-22 season, Westbrook ranks 40th all-time with a 99.93 HoF probability score. Every eligible player ahead of him — including Iverson, who ranks 30th all-time with a 99.98 score — is in the Hall of Fame. Twenty-eight players, ranging from Los Angeles Lakers legend Kareem Abdul-Jabbar to Detroit Pistons great Isiah Thomas, have a 100% metric.
Not every player in the Hall of Fame scored a perfect 100% on the rankings list. Boston Celtics legend Kevin McHale, for example, is in the Hall with a 98.64 score. In large part because of his "attack mode" style, Westbrook will eventually join Iverson, McHale, and hundreds of other basketball figures in earning the incredible feat.
All stats courtesy of Basketball-Reference.