Allen Iverson Broke Tons of Ankles as an NBA Superstar but 1 Opponent Made Him Cry After a Game: 'He Gave Me 39, 9, and 9'
The legendary crossover of Allen Iverson created numerous "Welcome to the NBA" moments for unsuspecting or overmatched defenders. Even Michael Jordan suffered its wrath as Iverson ascended to superstardom. But one former star point guard got the best of Iverson the first time they met in the NBA, and it's a moment AI still remembers.
Iverson was a first-ballot Hall of Famer in 2016 after a 14-year NBA career that included an MVP award, four scoring titles, seven All-NBA berths, and a highlight-reel performance in a losing effort in the 2001 NBA Finals. However, as a rookie for a rebuilding Philadelphia 76ers club, there were moments where even The Answer played like he still had many questions.
Allen Iverson dominated the NBA upon arrival
After the 76ers used the No. 1 overall pick in the 1996 NBA Draft to acquire Allen Iverson, he joined an organization in tatters. Philadelphia was 18–64 the previous season and had fired John Lucas in favor of Johnny Davis entering the 1996–97 campaign.
The team had offensive firepower. Iverson joined a roster that included 1995 first-round selection Jerry Stackhouse and former All-Star Derrick Coleman, another No. 1 pick from the 1990 draft.
But defensively, the 76ers couldn't stop anyone. A defensive rating of 111.4 was among the worst in the NBA, and despite Iverson's Rookie of the Year heroics, Philadelphia improved only marginally to 22–60.
Objectively, for as great as Iverson was offensively, he was both undersized and often unmotivated as a defender. A mid-season meeting with a former NBA All-Star left Iverson frustrated and emotional in the wake of an awful performance.
Kevin Johnson left a young Iverson scorched in the Arizona desert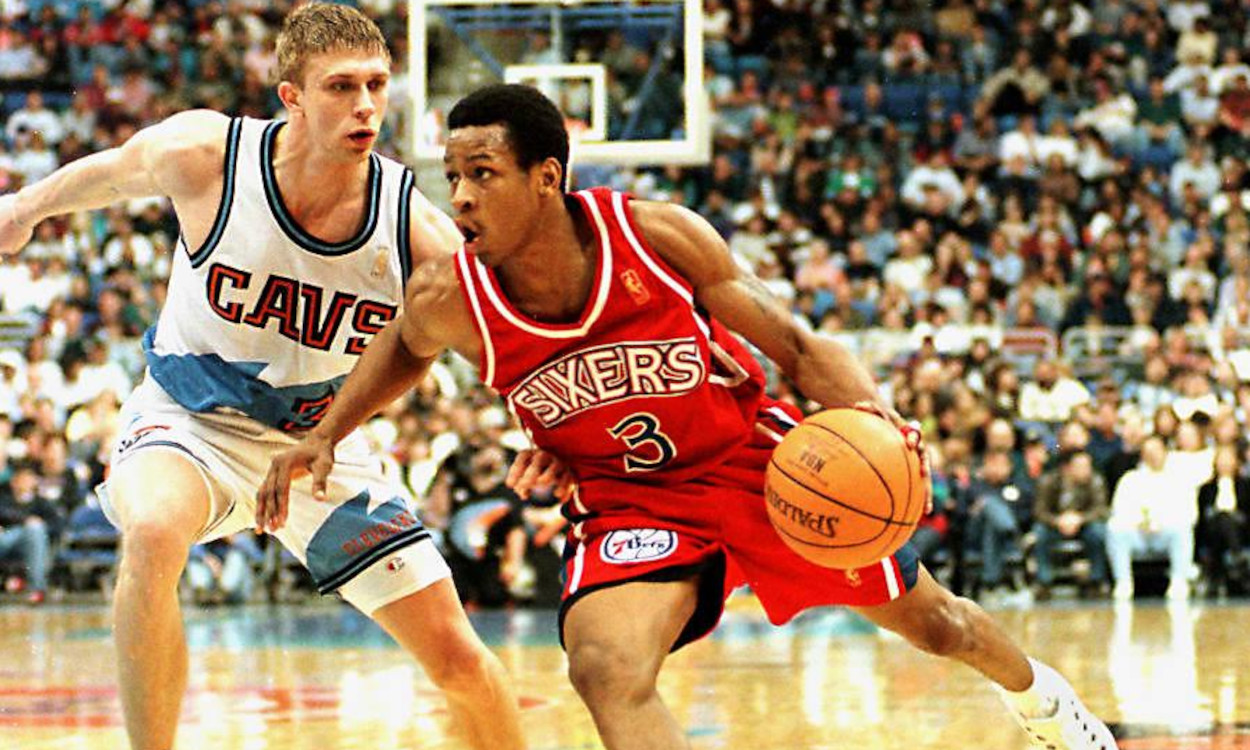 On Feb. 26, 1997, two teams seemingly out of playoff contention met at America West Arena in Phoenix to play out the string. The 14–40 76ers had opened a four-game West Coast swing the night before, losing the Los Angeles Clippers. The Suns, just 20–36, had lost their previous outing at home to the woeful Dallas Mavericks.
The 76ers struggled but took the lead early in the fourth quarter before Phoenix pulled away. Allen Iverson's defensive assignment was a big reason why the final period went sideways for Philadelphia. Veteran Kevin Johnson was playing at a high level, and he went off for 12 points during a decisive 17–7 run.
Iverson appeared on a 2019 edition of the Knuckleheads podcast with Quentin Richardson and Darius Miles and recalled his frustration after Johnson tore him up in the loss:
"He gave me 39, nine, and nine. It wasn't off athletic ability or nothing, he was just so much smarter than me, and he knew how to play the game.

"I was just a puppy, I remember (assistant coach) Maurice Cheeks after the game telling me that I would be giving someone 39, nine, and nine. I was actually crying in my locker room because I never got destroyed like that."

Allen Iverson
Cheeks wasn't entirely accurate; Johnson dominated with 36 points and eight assists on 13-of-22 shooting. Iverson was awful with eight points and six dimes in 30 minutes. Not only did KJ have him in constant foul trouble, but AI also shot just 3-of-15.
It was one of only three meetings between Iverson and Johnson. AI dominated the last two individually, but KJ was a part-time player the following season.
Allen Iverson's career took off under a new coach
The 76ers went only 8–19 the rest of the way during Allen Iverson's rookie year. The Suns went on an epic run, winning 19 of their final 25 games to sneak into the playoffs, where they pushed the second-seeded Seattle SuperSonics to the full five games in the first round.
Davis was one-and-done as head coach in Philadelphia. Larry Brown came in the following offseason and had the Sixers in the playoffs in 1999. By 2001, they were the best team in the East.
The situation in Philadelphia deteriorated from there. Brown left after the 2002–03 season to win a ring with the Detroit Pistons. Iverson made just one more playoff appearance for the Sixers before a blockbuster trade to the Denver Nuggets in 2006.
But in the final analysis, Allen Iverson gave better than he got for most of his career. The lessons learned from wily Kevin Johnson paid dividends down the line.
Statistics courtesy of Basketball Reference, Stathead, and NBA.com.
RELATED: Allen Iverson Once Controversially Got Revenge on Ray Allen for an Upsetting Loss That Went Back to Their College Days