Allen Iverson Had His High School Coaches Confused When He Said He Was Ready to Go 1-on-1 With 'Mike' at 16 Years Old, But He Quickly Enlightened Them: 'S*** I'm Talking About Michael Jordan'
Even before he joined the Philadelphia 76ers as the No. 1 pick in the 1996 draft, Allen Iverson was never one to back down from a challenge. AI was never short on confidence either. The Answer was named the Virginia Player of the Year in both football and basketball during his junior season at Bethel High School in Newport.
Before Iverson leapt onto the scene as the No. 1 basketball recruit in the country, before he landed at Georgetown University, and before he actually got to play against the legendary Michael Jordan in the NBA, the diminutive scoring machine was ready to take on His Airness.
Allen Iverson was Allen Iverson even before he reached the NBA
Legal issues plagued AI prior to his senior season. Despite having charges stemming from a bowling alley fight eventually dismissed, Iverson's high school athletic career ended after his junior year.
Still, Bubba Chuck led his Bethel basketball and football teams to state titles as a 16-year-old. He was the starting quarterback as well as a running back, kick returner, and defensive back on the gridiron and the star point guard on the court. He was as decorated as any high school athlete could ever hope to be before his 17th birthday rolled around.
As he traveled around the southeast with the Boo Williams AAU team (winning another title, the 1992 17-and-under AAU national championship), Iverson dropped a truth bomb on his coaching staff.
Though confused at first, the coaches remembered that Allen Iverson was the most fearless basketball player in the country, and they then understood The Answer's statement.
AI said he was ready to face Michael Jordan at age 16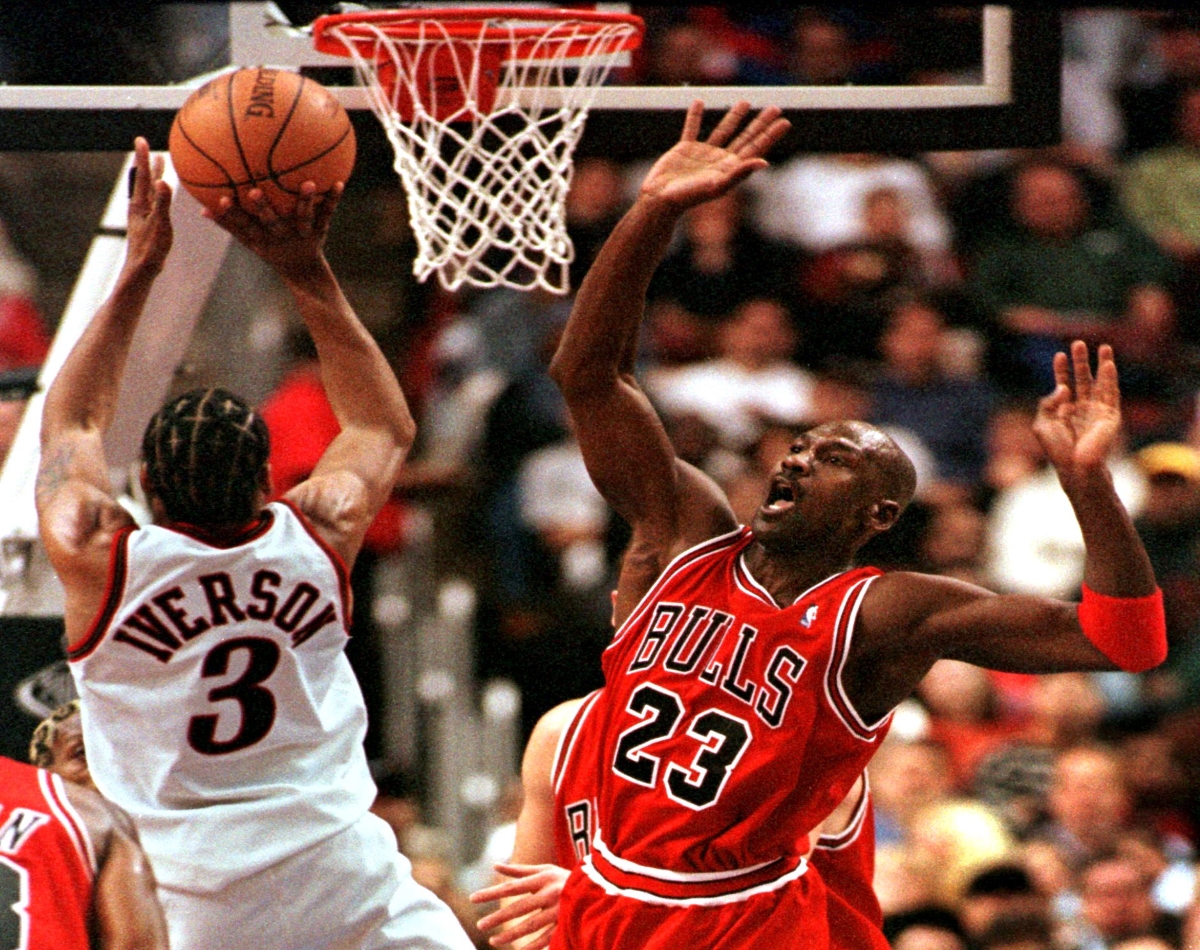 As chronicled by Kent Babb in his book Not a Game (h/t The Washington Post), little high school AI explained to his coaches he was ready to take on his idol in a game of 1-on-1. Obviously, he must have been talking about another Mike, they thought.
"Did his batteries never run low? F*** nah, (Iverson) replied, did Michael's? Did Mike's batteries ever run low? He hoped not, because he was ready to play Mike now, leave him in the dust.

"Whatever, Williams told him. Michael Evans was a solid player: Not just the best point guard in eastern Virginia but one of the best in America. Keep practicing, Allen, and maybe in a year or two you'll …

"I wasn't talking about no Michael Evans," Iverson crowed.

"Who are you talking about, then?"

"S***, I'm talking about Michael Jordan!"

Allen Iverson on wanting to play MJ via Kent Babb's Not a Game
It was a sign of things to come for the future Hall of Famer.
Iverson was as fearless and confident as a teenager as he was when he won the 2000-01 NBA MVP. He was ready to take it to his idol the same way he took the ball straight at — and scored through — defenders a foot taller and 70 pounds heavier.
Iverson got his chance to face Jordan during his rookie season
There are innumerable stories to tell about the four-time scoring champion. Iverson is one of the most iconic, memorable, admired, and fascinating NBA superstars of all time.
But AI's first "I've arrived" moment came when he finally got his chance to go 1-on-1 with MJ. As he had done for years — and as he would do for the rest of his career — Iverson didn't back down, even from the GOAT.
He set Jordan up at the top of the key, dribbled to one side, dropped his famous crossover to the other, got Jordan stumbling, and stepped back to drill a jumper. He had his moment, and for a few seconds, made one of the best defenders in NBA history look silly.
Iverson knew as a teenager he would be great. Great enough to beat Michael Jordan. His coaches "whatevered" the 16-year-old, but he proved them — and everyone else in his career — wrong.
And then he did it for the ensuing 13 NBA seasons.
Like Sportscasting on Facebook. Follow us on Twitter @sportscasting19.