Allen Iverson's Crossover Had a Hall of Famer and NBA Champion 'Scared to Death' to Guard Him: 'I Was Gon' Give Him That Ole Defense'
Allen Iverson had one of the most intimidating offensive skillsets of any player in NBA history. He could blow by a defender on the perimeter and either get to the basket or stop on a dime and knock down a silky pull-up jumper. Despite being listed at 6-feet, he could loft a floater over the outstretched arms of someone a foot taller than him, and it would kiss the glass and fall through for two.
More than anything, though, AI is known for his devastating crossover. He even embarrassed Michael Jordan and had The GOAT on skates with it.
Any defender less than MJ was in immediate danger of Iverson's crossover at all times, including (and maybe especially) NBA Hall of Famer Paul Pierce, who admitted he was terrified to defend The Answer.
Allen Iverson was an offensive juggernaut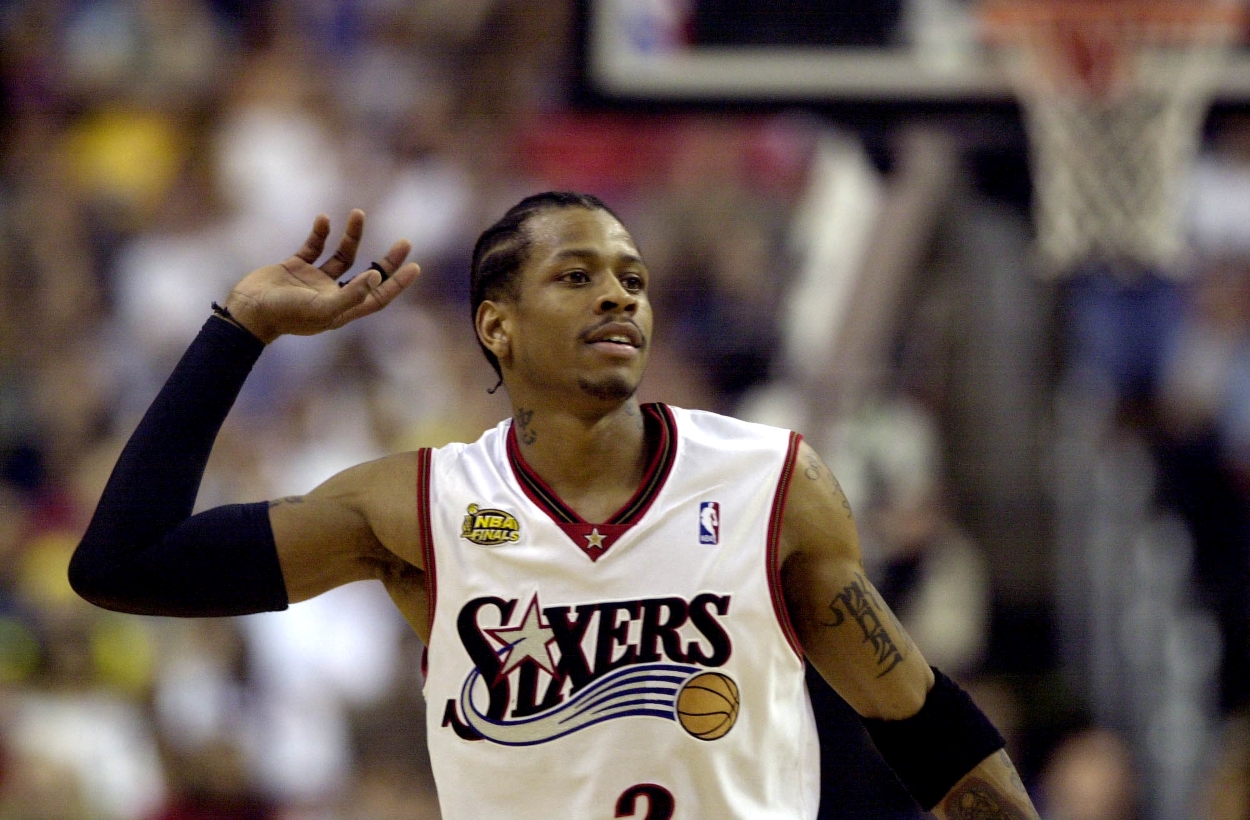 AI was the 1996-97 Rookie of the Year (the season he made Jordan look silly) and was inducted into the Naismith Memorial Basketball Hall of Fame in 2016.
He was an 11-time all-star, a seven-time member of an All-NBA team, and the 2000-01 MVP when he carried the Philadelphia 76ers to the NBA Finals with Theo Ratliff as the team's second-leading scorer.
Iverson averaged a career-high 33.0 points in 2005-06 and shot nearly 45% from the floor on more than 25 shots per game.
The Answer finished his career with 24,368 points in a league that had yet to emphasize the 3-ball.
NBA defenders knew they were in for a rough night anytime they were facing AI, and in some cases, they chose just not to defend him at all.
Paul Pierce admitted he was afraid to guard Allen Iverson
Pierce was a fantastic scorer himself during his Hall of Fame career with the Boston Celtics. He wasn't necessarily known for his defensive abilities, though, and he dreaded every time he had to try and stay in front of Iverson.
As Pierce said on ESPN's The Jump, he wanted no part of having to stop the diminutive combo guard.
"Man, I'm not even gon' lie to you … I didn't match up with him, but I knew I was in situations in pick-and-roll where I switched out on him. And I'm not gon' lie — I was scared to death. I could play defense and all, but I knew I couldn't slide my feet with Allen Iverson. Every night when you looked up at the 'SportsCenter' highlights, he was crossing somebody, he was puttin' somebody in the mix. So all I knew is when I switched on him, I was gonna give him that ole defense."

Paul Pierce on having to guard Allen Iverson
Sometimes it's easier on the ego to let somebody get a bucket than to end up on a poster, or as Pierce said in this case, a Sportscenter highlight. The former Kansas star was fine letting AI get his as long as he didn't end up embarrassed on national TV (which happened to many of Iverson's crossover victims).
Pierce is now a Hall of Famer himself, but his offensive game was never as terrifying as Iverson's
Pierce was inducted into the Hall of Fame as part of the Class of 2021. He was a 10-time all-star himself and won the 2008 NBA Championship while being named the Finals MVP.
The 6-7 forward even led the league in total points in 2001-02.
But AI was on another level in terms of athletic ability and skill. While Pierce was difficult to guard for sure, it never appeared as if it were an impossible task. Sometimes with Iverson, "the ole defense" was the only route to go.
Even the Truth knew he had no Answer.
All statistics courtesy of Basketball Reference.
RELATED: Allen Iverson Sends a Warning to the Rest of the NBA by Praising an Up-and-Coming Star: 'I Don't See No Flaws in His Game at All'