Allen Iverson Differed From Kobe Bryant and Michael Jordan by Telling an Unproven 2nd-Round Pick to Get Shots Up: 'Shooters Shoot the Ball'
Much like Michael Jordan and Kobe Bryant, Philadelphia 76ers legend Allen Iverson shouldered much of the offensive burden during his playing career. However, unlike MJ and Bean, AI did not dissuade teammates from shooting the ball or bully them in order to send a message.
Former 76ers swingman Kyle Korver spoke recently about Iverson's ability to encourage and inspire confidence in his young teammates. The Answer empowered players to make their presence felt, rather than trying to minimize them merely as cogs in collective the machine.
Allen Iverson, Michael Jordan, and Kobe Bryant have three of the four highest usage rates in NBA history
Usage rate is a general estimation of a player's involvement in a team's offensive system whenever they're on the floor. An easier way of thinking about the metric is this: The higher the usage rate, the more shots a given player took, and the more often they had the ball in their hands contributing to scoring actions.
It probably comes as little surprise, then, that Michael Jordan, Kobe Bryant, and Allen Iverson have three of the four highest usage rates in NBA history.
Jordan tops the all-time usage rate list at 33.26%, with Bryant (31.85%) and AI (31.83%) coming in at third and fourth, respectively, on that list. According to StatMuse, Mike and Iverson also rank in the top four all-time in field-goal attempts per game.
The numbers show how the three superstars prioritized having the ball in their hands and creating offense, both for themselves and others. But while Jordan and Kobe might have been more selective about who they felt comfortable with taking shots, Iverson never wanted his teammates to show any hesitation.
The Answer extended that advice to a mostly unknown second-round pick simply trying to carve out his niche in the NBA.
Iverson adamantly motivated Kyle Korver to satisfy his duties as a shooter
Kyle Korver had a lot to prove after the 76ers acquired the 2003 second-round pick from the New Jersey Nets. He had no guarantees beyond the first two seasons and thus needed to show out in order to continue his NBA career.
Allen Iverson might otherwise have preferred to take shots over Korver. But the former Creighton product said that AI did just the opposite.
Korver told J.J. Redick on the Old Man and the Three podcast that Iverson told him not to show any reservation and to take his jumpers as they came.
"So [Iverson] was like, the arm around me every day like, 'Shoot the ball, shooters shoot the ball.' Just like breathing confidence in me. He's a legend, right? Like he's in another stratosphere, just like his legendary, iconic career and in personality and image, and just to have that person with me encouraged me. He was amazing for me. He was one of my favorite teammates."

–Kyle Korver, via the Old Man and the Three podcast
Korver quickly rewarded Iverson's faith in him.
The former All-Star played sparingly in his rookie season, but he shot over 39% from beyond the arc. Korver made a leap in his sophomore season, averaging 11.5 points and making 40.5% of his triples on 6.8 attempts per contest.
Judging by the rest of Korver's career, AI's words of encouragement proved invaluable. Korver became one of the most efficient perimeter shooters in NBA history. He made 42.9% of his threes in his career and led the NBA in three-point percentage in four different seasons, including his lone All-Star appearance during the 2014-15 campaign.
Iverson's legacy is complex, especially regarding his relationships with the organizations he played for and the impact he had on his numerous teammates. But Korver's account validates AI's credentials as a team player.
Notions of Iverson being selfish present a false narrative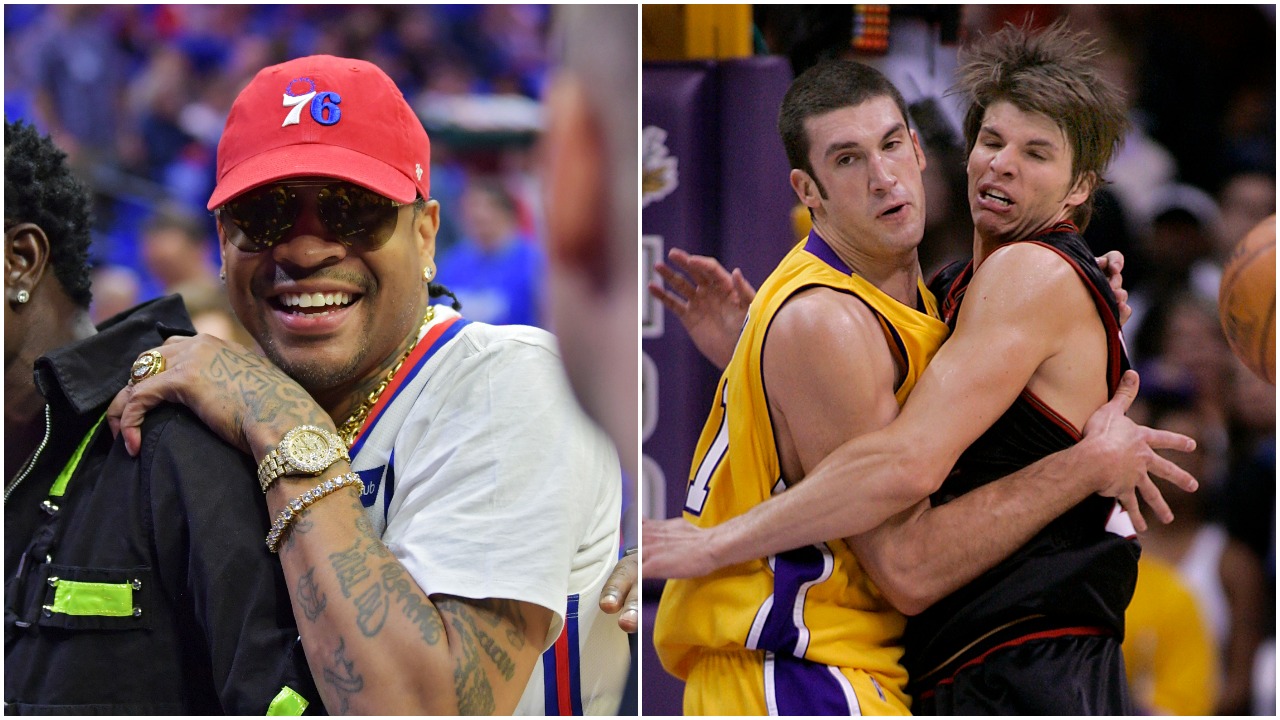 Michael Jordan and Kobe Bryant are hailed as elite team players because they won championships and went to extreme lengths to get the most out of their teammates. Simultaneously, their hard-driving tactics created a good deal of friction.
Allen Iverson never won a title. He incurred fines and suspensions for missing practices and feuded with head coaches. As a result, AI's NBA legacy suffers from the idea he lacked some of the qualities typically attributed to guys who are deemed "team players." But Korver's account proves this is a false narrative.
Iverson understood he needed his teammates to fulfill their roles to achieve success. Rather than challenging them physically or psychologically, The Answer opted for positive reinforcement.
Although AI's leadership style never resulted in a championship, it had a resounding impact on guys like Kyle Korver. That alone speaks volumes about Iverson as a player and a teammate.
Stats courtesy of Basketball Reference.