Allen Iverson Earned $154 Million in the NBA but Always Credited His Success To Growing Up in Poverty
It was far from an easy road to the Philadelphia 76ers, let alone the Naismith Memorial Basketball Hall of Fame, for Allen Iverson.
Iverson, the legendary guard and former MVP, has always been candid about his journey. The struggles that Iverson experienced growing up in Virginia helped turn him into the successful player and man that he became years later.
Allen Iverson grew up in a difficult home situation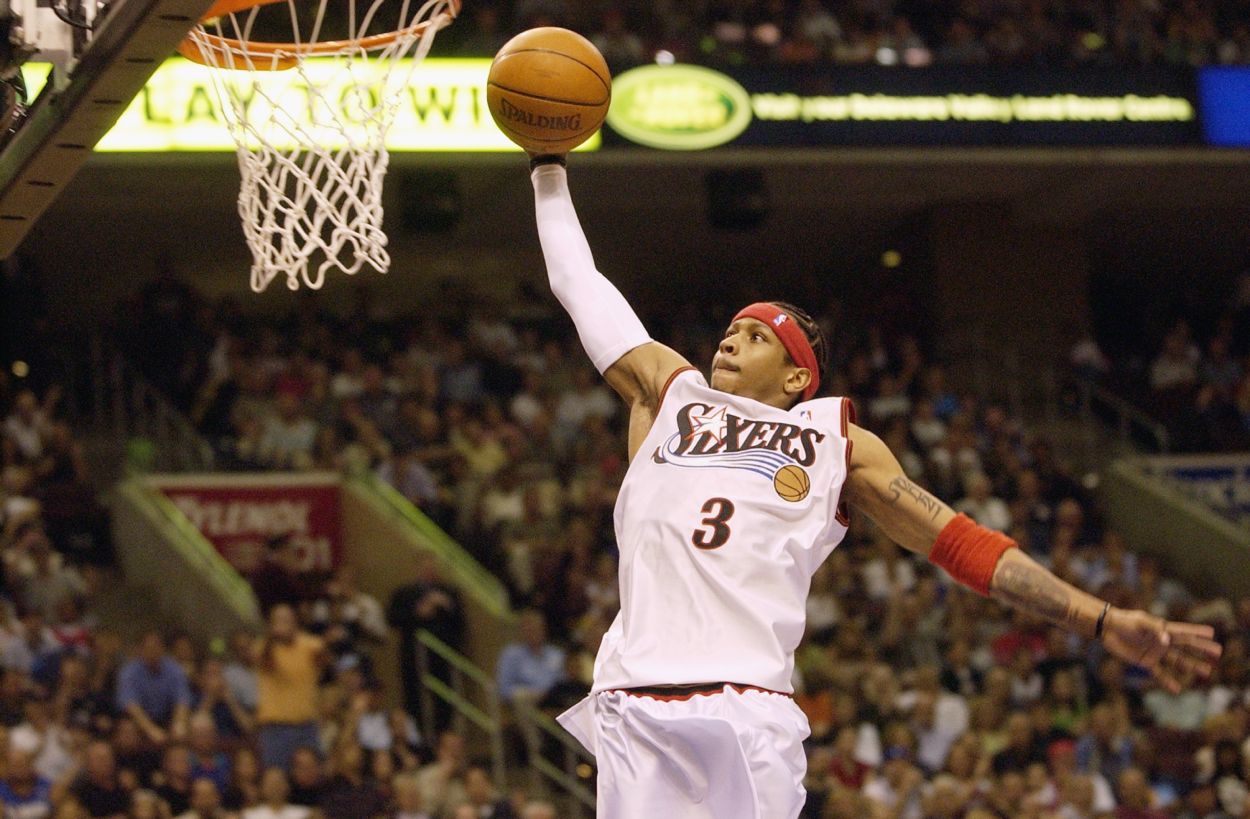 RELATED: Allen Iverson Had an Unexpected but Heartwarming Reunion
Allen Iverson saw no shortage of haunting images growing up in Hampton, Virginia.
Many of Iverson's friends joined gangs or got into drugs. Eight of Iverson's friends died in the same summer when he was in high school.
Things weren't much better for Iverson at home. A pipe once burst in his house, and sewage floated throughout the building. His mother struggled financially during his youth.
Iverson later had legal issues as a teenager and spent four months in prison after his alleged role in a bowling alley brawl. Virginia Governor Douglas Wilder eventually granted Iverson clemency because of insufficient evidence.
Iverson overcame the adversity to become an NBA legend
RELATED: Allen Iverson's Ruthless Competitiveness Forced the Sixers to Go to Extreme Lengths to Ensure He Couldn't Play Injured
Iverson got out of Virginia and earned a chance at Georgetown under John Thompson.
From there, it was off to the NBA, where Iverson became the top pick in the 1996 draft. Over the next 14 seasons, Iverson averaged 26.7 points along with 3.7 rebounds, 6.2 assists, and 2.2 steals in 914 games.
An 11-time All-Star, Iverson led the league in scoring four times and won the NBA MVP Award after the 2000-01 season. He averaged 31.1 points, 3.8 rebounds, 4.6 assists, and a league-high 2.5 steals while shooting 42% from the field in 71 games that year.
Iverson entered the Basketball Hall of Fame in 2016.
Iverson always credited his success to his tough childhood
RELATED: Allen Iverson's Secret Talent Is Surprisingly Creative
At the prime of his career, few were flashier on or off the court than Iverson.
Iverson dazzled with crossovers and layups in a Hall of Fame career. He also inspired a generation of basketball fans with baggy clothing, expensive jewelry, and his iconic cornrows. 
Iverson had the money and the fame, but he also had years of experience that shaped him. In a 2002 interview with Playboy, Iverson said that he never forgot about having "struggled all my life."
"Even when things were good, they weren't that good. That all just made me harder. And now I look at this as just a game. That's what it is, just a game. There are a lot more serious things going on in the world than basketball. But basketball has always been a time when I can get my mind off everything that's going on around me and concentrate for two hours on this."

Allen Iverson
Iverson embraced his past, the good and the bad — and in his case, there was often more good than bad. Say what you want about Iverson as a whole, but one has to respect how far he's come since his childhood in Virginia.
Like Sportscasting on Facebook. Follow us on Twitter @sportscasting19.