Allen Iverson Heartwarmingly Paid Homage to Michael Jordan in His Hall of Fame Speech: 'I Wanted to Be Like Mike'
When the time came, Michael Jordan passed the torch of greatness and stardom over to Allen Iverson.
No one could be His Airness, neither in skill nor popularity. But for a time in the early 2000s, few basketball players were more relevant on or off the court than Iverson, a cultural icon and an All-Star guard. And for someone who openly wanted to "Be Like Mike," it was only fitting Iverson became one of the greatest players in NBA history.
Allen Iverson paid homage to Michael Jordan in 2016
Allen Iverson let the tears flow when he entered the Naismith Memorial Basketball Hall of Fame in 2016. 
As he stood at the podium in Springfield, Massachusetts, the former NBA MVP emotionally paid tribute to the greats who came before him. That included Michael Jordan, the six-time champion and arguably the greatest player in league history. 
NBC Sports transcribed parts of Iverson's speech, including when he called Jordan his "hero" and an inspiration. 
"[Jordan] gave me a vision. You want to be fast like Isiah, and you want to shoot like Bird, rebound like Barkley, pass like Magic, be dominant like Shaq, but man, I wanted to be like Mike."

Allen Iverson
Iverson also reflected on the first time he played against Jordan. Chicago routed the 76ers, 115-86, on Nov. 2, 1996. 
"I looked at him, and for the first time in my life, a human being didn't look real to me," Iverson said. "I can't stop looking at him. I'm looking at his shoes, and I'm like 'Man, he's got on the Jordan's.'"
Iverson didn't need long to prove himself against Jordan
Several months after their first matchup, Iverson found a way to exact some revenge on his hero.
Philadelphia hosted Chicago on March 12, 1997, months before the Bulls won their second straight championship. Although Chicago won 108-104, the game is remembered more for Iverson pulling off a sensational crossover against Jordan and drilling a field goal.
The rookie guard scored 37 points on 23 shots in the loss. His idol totaled 23 points, five rebounds, three assists, and two steals that night.
Any basketball fans who didn't know Iverson surely did after that night. The first overall pick in the 1996 NBA draft earned the NBA Rookie of the Year Award and quickly arrived on the path to becoming an all-time great.
Iverson thanked a long list of people in his speech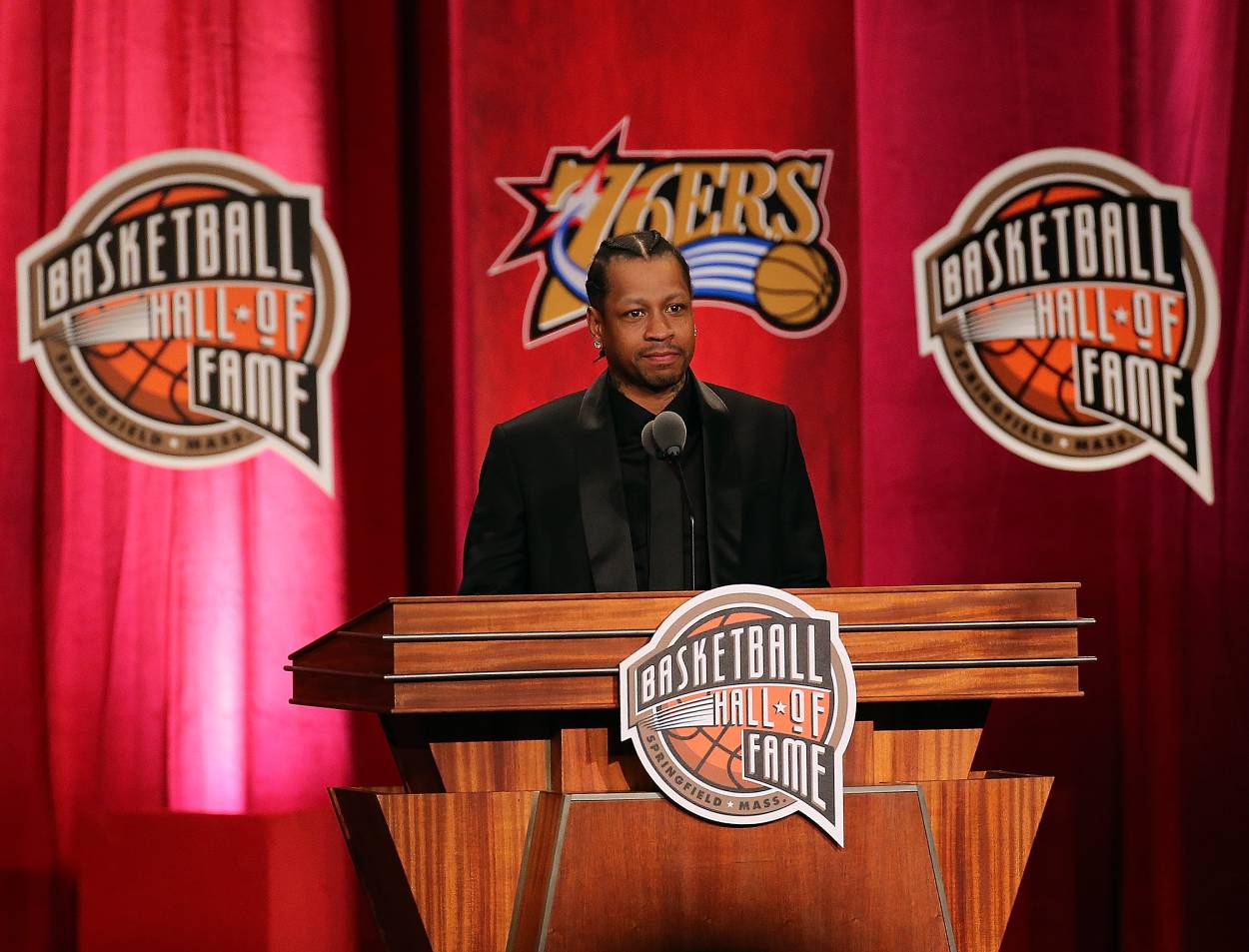 Iverson had no shortage of people to mention during his Hall of Fame speech.
The NBA legend honored everyone from his mother to various rappers, including Ma$e, when he took the podium in September 2016. He spent nearly 40 minutes praising his fans, former coaches John Thompson and Larry Brown, and 76ers legend Julius Erving.
Iverson grew up wanting to be like Jordan. On that day, the two basketball greats officially became teammates in the Basketball Hall of Fame.
Like Sportscasting on Facebook. Follow us on Twitter @sportscasting19.