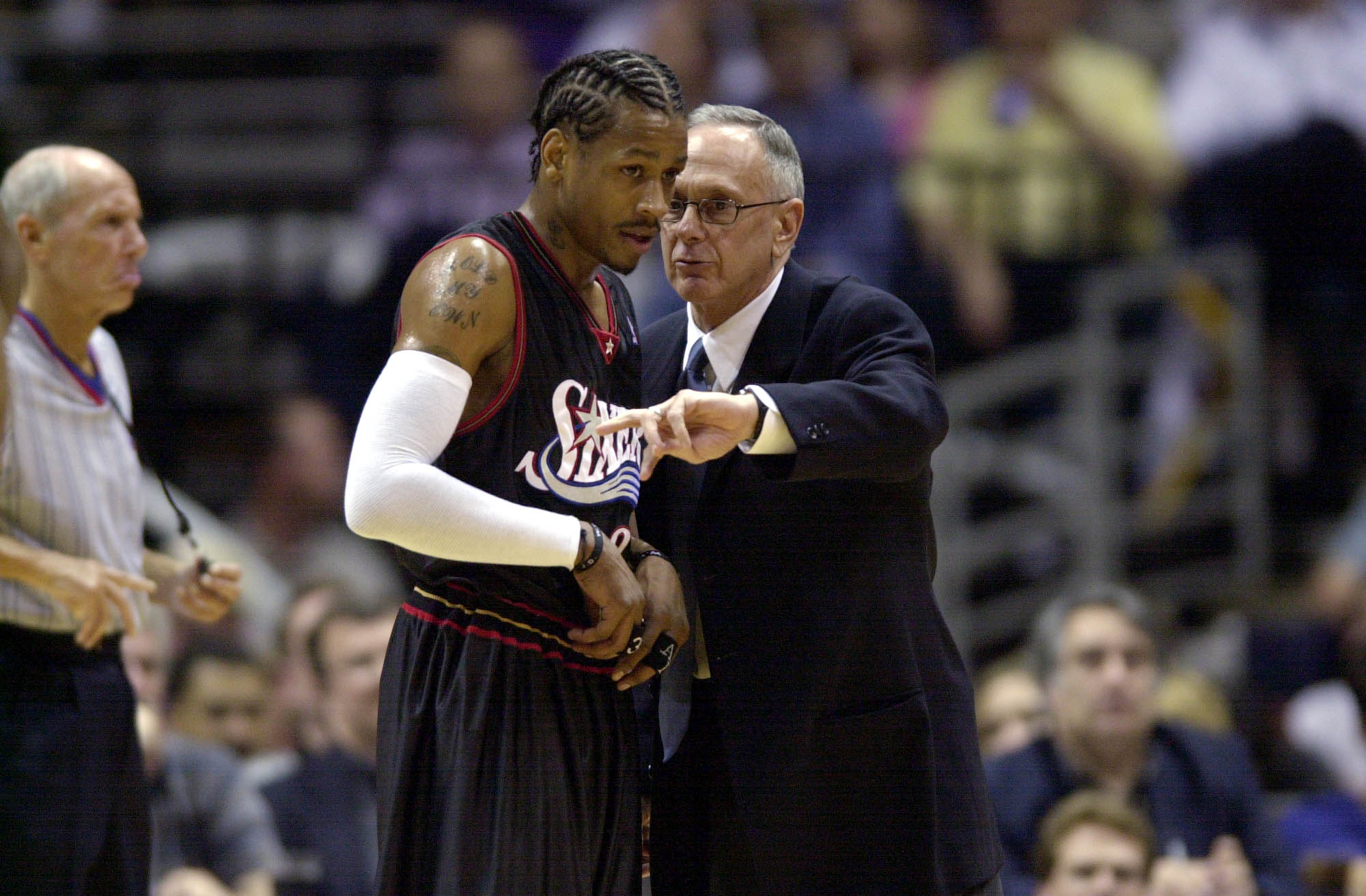 Allen Iverson Honored Wilt Chamberlain Before He and Larry Brown Quickly Rained on His Parade
Allen Iverson honored Wilt Chamberlain but then quickly rained on his parade.
In late December 1999, Allen Iverson and the Philadelphia 76ers were in town to face the Golden State Warriors. Two months earlier, Wilt Chamberlain, an NBA legend and former member of the Warriors organization, died at age 63. The teams honored Chamberlain with a ceremony at halftime, and then Iverson and head coach Larry Brown stole the show.
Wilt Chamberlain played for the Philadelphia and San Francisco Warriors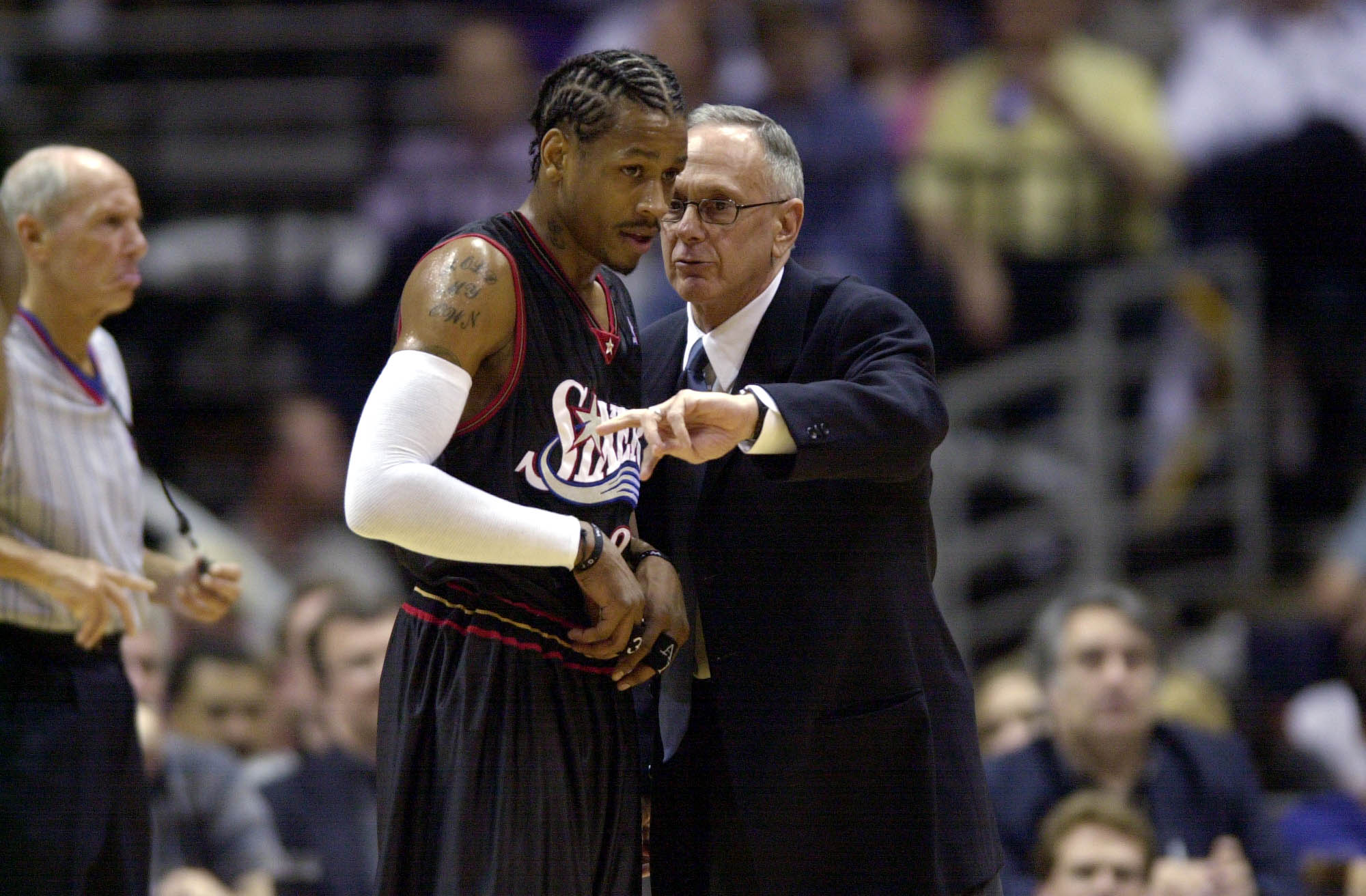 Statistically, there was no better NBA player than Chamberlain. For his career, the 7-foot-1, 275-pound athletic center averaged 30.1 points and 22.9 rebounds per game. In the first four years of his NBA career with the Warriors (the first three in Philadelphia), he led the league in both scoring and rebounding.
In his third season in the league, he averaged 50.4 points per game. That's no typo. Fifty point four points per game. Oh, he also racked up 25.7 rebounds per game during that 1961-62 season. The Warriors moved from Philadelphia to San Francisco in 1962 and became the San Francisco Warriors. In 1971, they were known as the Golden State Warriors.
During the NBA All-Star Weekend in 1965, the Warriors traded Chamberlain. They shipped him back to Philadelphia to play for the 76ers. Philadelphia had returned to the NBA one year after the Warriors moved to San Francisco. The Syracuse Nationals relocated their franchise and became the 76ers.
Chamberlain spent three-plus seasons with the Sixers before heading back to the West Coast as part of a trade with the Los Angeles Lakers.
The Warriors honored Wilt Chamberlain, but then Allen Iverson and Larry Brown took over
On Dec. 28, 1999, the Warriors hosted Iverson and the 76ers and trailed 49-47 at the half. During intermission, the Warriors held a ceremony to honor Chamberlain, who died Oct. 12 that year. The team retired his No. 13 jersey, joining the 76ers and Lakers, who had already retired his jersey.
Earlier in the season, Iverson had paid tribute to Chamberlain by wearing a black armband during a game. Iverson won the scoring title during the 1998-99 season, becoming the first member of the 76ers to win the scoring title since Chamberlain did it in 1966.
"I just wore it on the first game of the season with his number on it," Iverson said, according to United Press International. "It was just a one-game thing. I just wanted to show my respect."
Iverson clearly didn't feel bad for the Warriors after that ceremony, as he turned it up a notch in the second half. He scored nine points in each of the third and fourth quarters, finishing with 34 points. Seven of those nine fourth-quarter points came in the final 2:33 of the Sixers' 97-94 victory.
To rub even more salt in the wound of Warriors fans, the win was the 700th of Sixers coach Larry Brown's NBA career.
Iverson explained his relationship with Larry Brown
There have always been questions regarding Iverson and his relationship with Brown. There were blowups and other arguments. He admitted to that after Brown's 700th victory.
"Everyone thinks we can't get along, we bicker and fight all the time, but it's not that way," Iverson said, according to UPI. "I have a lot of respect for him. I like him as a person and we're going to get into more spats, but I'm really happy for him. No one deserves better."
When Iverson retired, he called Brown the best coach ever. He said if he had one do-over in his playing career, it would've been to buy in more to what Brown told him.
"I don't regret nothing," Iverson said on the day in 2016 he learned he was heading to the Naismith Memorial Basketball Hal ll of Fame, according to NBC Sports. "Like nothing in my life. I love being who I am. I love the person that I am, and I feel comfortable in my skin. But if I could have a wish as an athlete? I wish I would have bought into what (Brown) was trying to give me all along (instead of) just being defiant. When all he wanted was the best for me.
"And I didn't take constructive criticism the way I should have. You know what I mean?
"To me, in my eyes, he's the best coach ever. To me. You know what I mean? And I didn't take what God was giving me the right way. God sent him to me, and I was defiant at that time."