Allen Iverson Knew Kobe Bryant Was 'Going to Be a Legend' the First Time He Watched the 18-Year-Old Go Straight at Michael Jordan
Allen Iverson created a hall of fame career by being a fearless offensive player. Kobe Bryant had a similar mentality — the Mamba's basketball life was built on the foundation of will. Iverson saw his own fierceness in Bryant the first time he saw a then-18-year-old Kobe have no fear in going straight at Michael Jordan.
Bryant idolized MJ. He modeled his game after him. But it wasn't in his DNA to back down, even for the G.O.A.T.
Kobe Bryant was one of the most dominant offensive players in NBA history
Kobe's all-around offensive acumen was unmatched in his era. Bryant had a will, a determination, and a desire to score. On everybody.
The 6-foot-6 shooting guard was the first perimeter player to go straight from high school to the NBA. He only played 15.5 minutes a game and averaged just 7.6 points in his rookie season.
But Bryant made a leap the following year, and in 1998-99 became a star. The future Hall of Famer started every game that season, averaging a career-high 19.9 points on a career-high 46.5% from the field.
Then the 21-year-old Kobe won his first of five championships, became a complete superstar, and the rest is history.
Iverson knew Bryant was going to be a legend the first time he saw him face Michael Jordan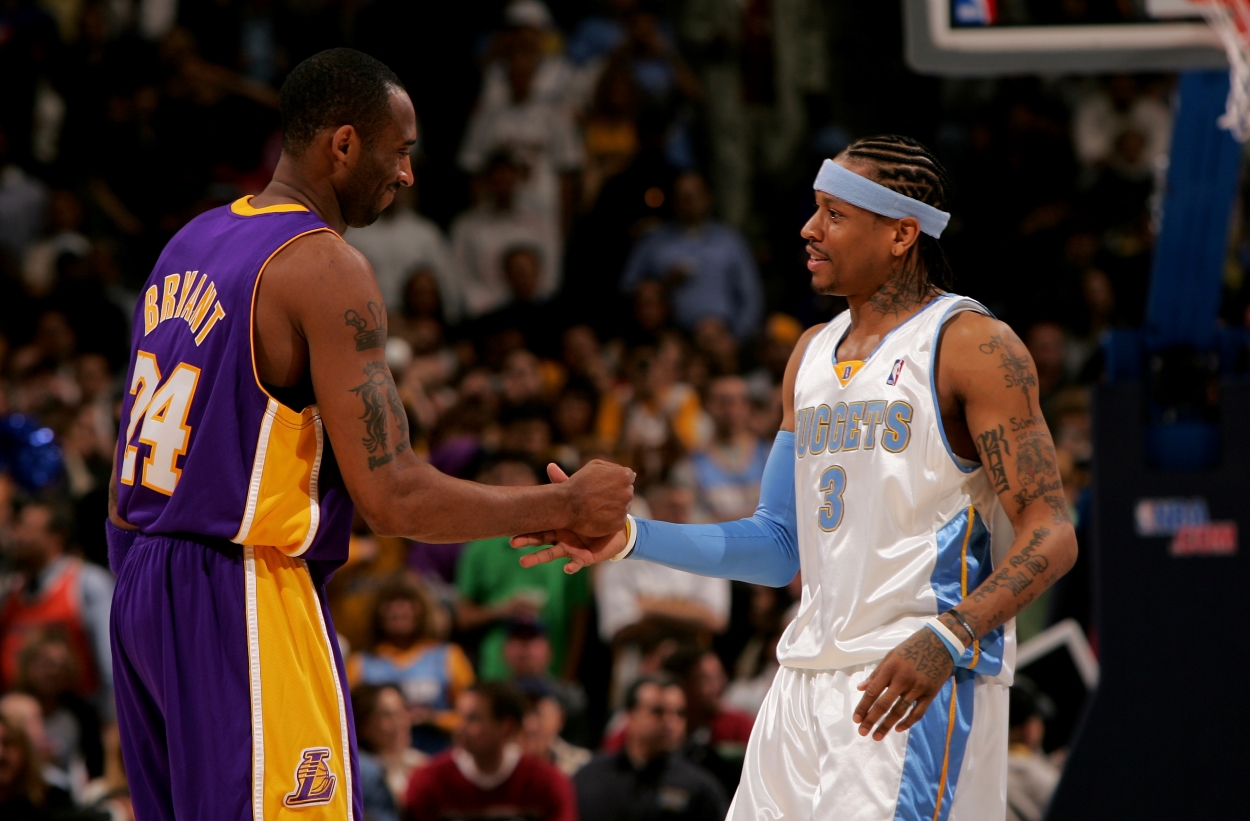 AI had the pleasure of seeing Kobe vs. MJ Vol. 1. That was the year Bryant struggled most, for playing time and for points. But when Iverson saw him go after Jordan anyway, he knew immediately they shared the same DNA.
Iverson wrote a letter to Bryant on the Player's Tribune shortly after the latter's death in 2020. AI told Kobe that's the moment he knew he was destined for superstardom:
"The first time I saw you going up against Black Jesus, when you were 18 years old, I knew you were a killer. That's when I realized you were going to be a legend in this game. You were going hard at Mike that night. No fear whatsoever. I mean, I knew from passing you in traffic over the years that you were a dog. But when I saw you going at Black Jesus like that?

"We might have grown up in different circumstances, but when I saw you on the court, and how hard you were going, I knew we were raised with the same mentality."

Iverson in a letter to Kobe Bryant on the Player's Tribune
Iverson was right to see greatness in Kobe
Bryant won five titles. He was a two-time scoring champion. He made the all-defensive team 12 times.
Kobe is one of the greatest players in NBA history.
Iverson saw greatness in the late superstar because he saw the same traits in himself.
When AI saw Bryant — at 18 and struggling during his rookie season — go straight at Jordan, he knew he was witnessing a legend in the making.
All statistics courtesy of Basketball Reference.
RELATED: Allen Iverson Sends a Warning to the Rest of the NBA by Praising an Up-and-Coming Star: 'I Don't See No Flaws in His Game at All'