Allen Iverson Learned the Crossover That Humiliated NBA Defenders and Netted Him Almost 25,000 Career Points From the Most Unlikely Source
The name Allen Iverson conjures up a whole host of memories. Maybe more than almost any NBA superstar, though, the Philadelphia 76ers icon brings visual memories to mind. The cornrows, the arm sleeve, the headband — it's all become classic. But maybe the quickest Iverson image to come to mind was his crossover.
AI ruled the NBA for more than a decade with that move. He had others, obviously, but nothing else in his bag humbled Michael Jordan. No other move he had made Paul Pierce legitimately just give up on defense.
But the Hall of Famer, 11-time All-Star, and 2000-01 MVP didn't always have that move. Not until he learned it from a college teammate, anyway.
And a walk-on, no less.
Allen Iverson became a deadly scorer at Georgetown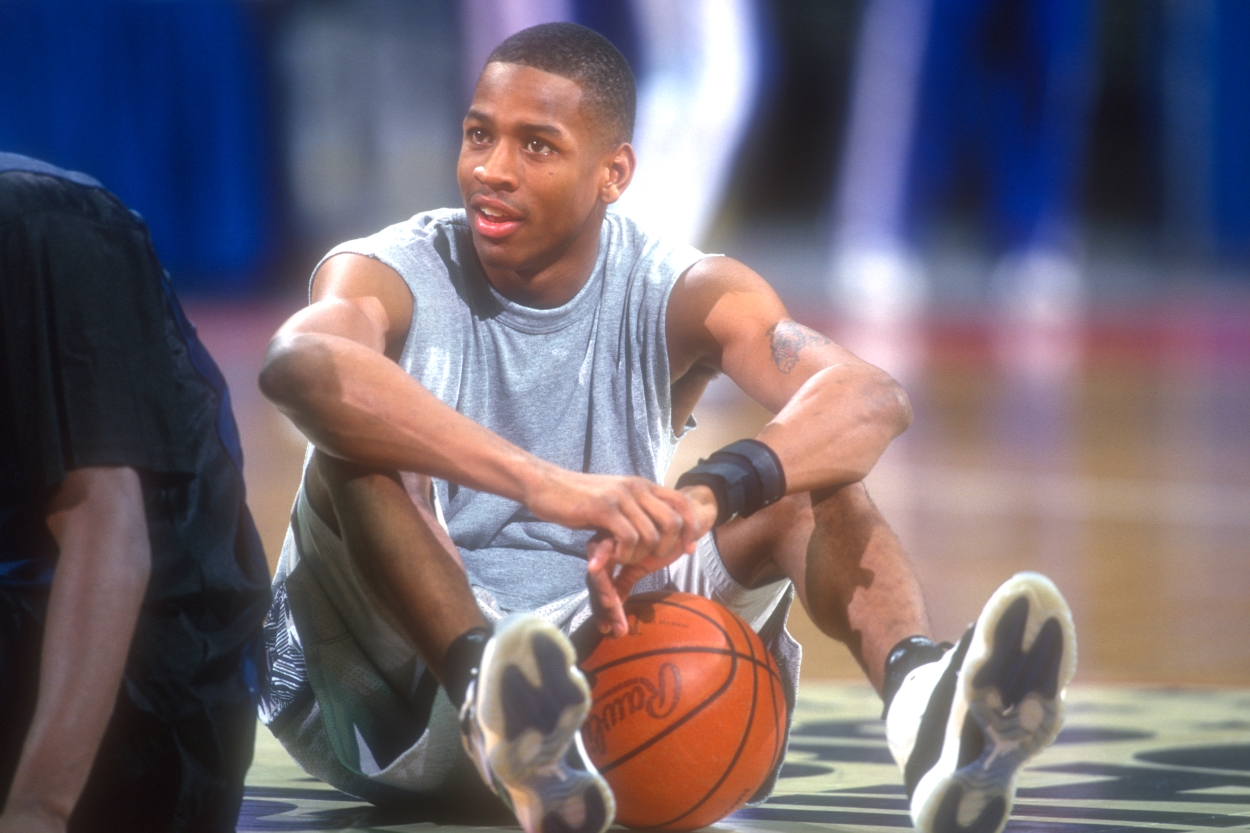 The AI we saw develop into one of the most dominant and versatile scorers in the NBA wasn't the same one who walked in the doors at Georgetown. Not that he wasn't skilled, fearless, and explosive then — but he wasn't going to cross over Jordan as a freshman with the Hoyas.
Still, in a John Thompson system that had always prioritized big men, Iverson averaged 20.4 points as a freshman. He upped that to 25.0 as a sophomore.
The Hampton, Va. native averaged more than 17 field-goal attempts per game in both his collegiate seasons. He was even firing threes off at a relatively high clip for the mid-90s — he took 6.4 shots from deep his sophomore year.
All of that was pretty rare for an offense under Thompson. But the big man, who held a soft spot for Iverson, let his young guard cook.
It wasn't until a certain point in his college career, though, that AI started to become the AI we admired in the NBA. He was missing that unstoppable crossover — until he learned it from a walk-on by the name of Dean Berry.
AI would be missing his signature move if it weren't for a Georgetown walk-on
As Iverson usually did after a Hoyas' practice, he asked around for someone to play one-on-one with, according to Not a Game by Kent Babb.
AI's teammate at Georgetown, Berry, was always up for some extra practice. Berry was truly a student of the game — he studied tape and moves of NBA stars like Tim Hardaway and John Stockton and went to Georgetown specifically to explore more of them.
Berry saw how putting the ball in one hand and looking that direction before immediately switching the ball to the other hand seemed to give those players a cushion others couldn't find.
And Iverson couldn't stop Berry's move. The walk-on schooled him over and over with it.
So naturally, AI needed to learn it. Babb wrote:
"Hey," Iverson called over. "You gotta show me that."

Berry obliged, and he waited for Iverson to tighten his defensive cushion, and then it was time. A hard bounce to lull Iverson into thinking this was it, but this one was a bluff. The first one, always a bluff.

"You want that person to believe that you're going to the right, but first you must believe it," Berry recalled explaining to his student. "You believe that that person is going to the right, if you'll lean and turn your shoulder that way."

Kent Babb on Allen Iverson learning his signature crossover in Not a Game
Berry and Iverson repeated the move. Iverson couldn't stop it. Over and over again, they played until the 6-foot guard mastered it.
An already dangerous scorer became unstoppable.
The Answer's crossover was one of the best scoring weapons in basketball history
Kareem Abdul-Jabbar had his skyhook. Shaquille O'Neal shattered backboards. Michael Jordan had his turnaround fadeaway. Kobe Bryant copied said fadeaway.
AI had his crossover.
Allen Iverson put up some crazy stats during his career with that move. In the regular season alone, he put up 24,368 points by the end of his 14-year NBA career. The Answer was never lacking for the clutch gene either — add 2,111 to that total in postseason points.
Bubba Chuck won four scoring titles. He averaged a career-high 33.0 points during the 2005-06 season, his last in a 76ers uniform.
Certainly, he was talented enough that he would've found a way to score no matter what. But the move he learned from Berry became his signature. AI just wouldn't be the same without the move he learned from, of all players, a collegiate walk-on.
All statistics courtesy of Basketball Reference.