Allen Iverson Once Earned a Technical Foul but Terrified the Official out of It Before He Could Even Blow His Whistle
Allen Iverson was a complicated NBA superstar. On the court, he was tough and fearless, despite his diminutive size. Off the court, he was a mystery and endured plenty of controversies, whether self-inflicted or not. But no one could accuse Iverson of being short on passion.
Sometimes, though, that passion boiled over. AI picked up plenty of technicals in his career, but it's one of the times he didn't hear the whistle blow that makes for one of the more interesting stories.
Allen Iverson was as complicated off the court as he was on it
Iverson played 14 seasons in the NBA. He was the league's MVP in the 2000-01 season, the same year he dragged a Philadelphia 76ers team with an average amount of talent, at best, to the NBA finals.
Listed at 6-feet and 165 pounds (generously), The Answer needed to be tougher than the other guy in order to survive in the NBA. That was something he learned growing up when he went through several off-court issues and played under the notoriously tough John Thompson II at Georgetown.
Iverson had a dark side to him that seemed more noticeable than most NBA superstars. That attitude made AI into what he became, but sometimes he cross a line or two.
Iverson once scared an official into changing his mind on a technical foul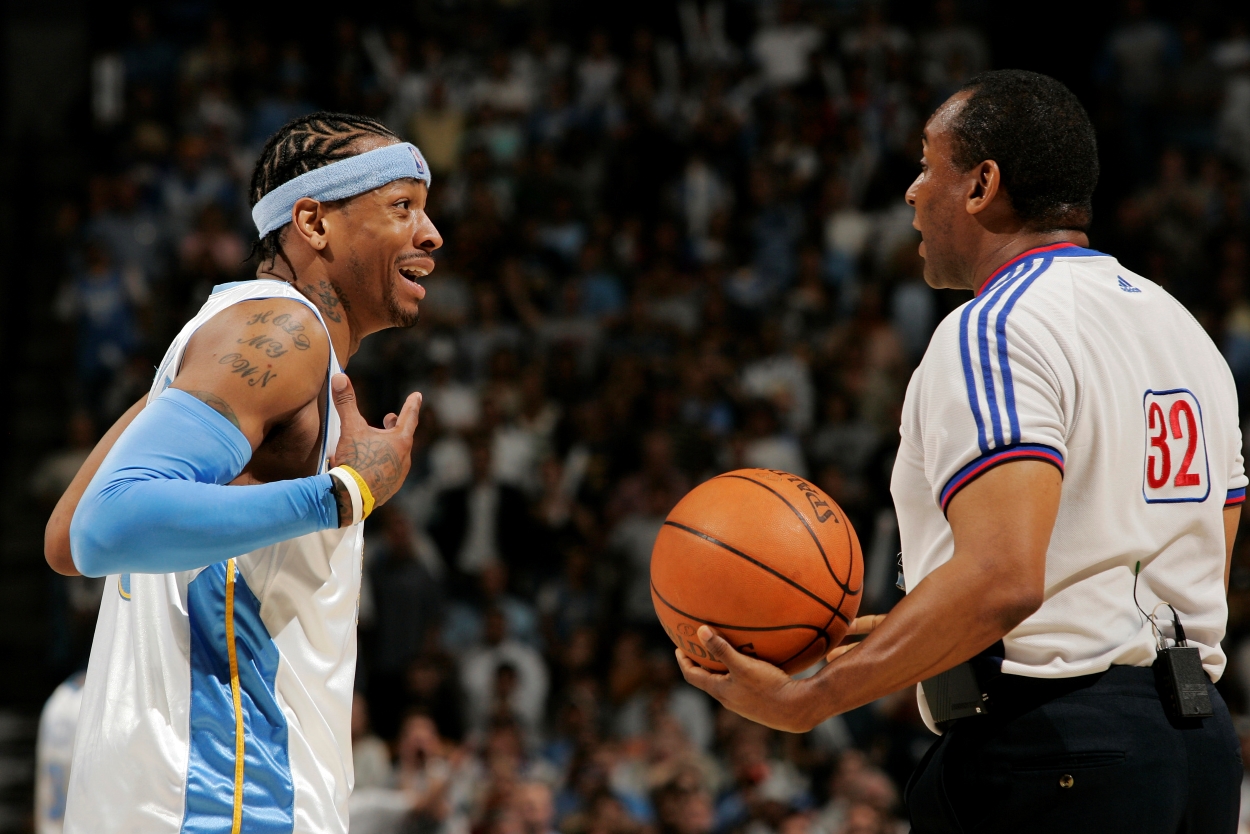 Despite being as small as he was, sometimes the four-time scoring champion seemed downright dangerous on the court. There are numerous stories about Iverson's attitude when he was between the lines, one of which comes from The Ringer's Bill Simmons when he still wrote for ESPN.
As Simmons tells it, and he swears "on his daughter's life" this happened, Iverson was whistled for a technical foul for yelling "f*** you" toward an official. Having already earned one tech earlier that night, a second would have ended the 11-time all-star's night early.
But in the time it took the referee to turn around, grab his whistle, and bring it to his mouth, Iverson's eyes bulged, and he moved toward the official as if things were about to get violent. Like actually, legitimately violent.
The ref looked at Iverson, lowered his whistle, and didn't give the Sixers' star his second technical.
"By sheer force of personality, Iverson kept himself in the game," Simmons wrote.
Iverson's personality, both on court and off, is what made him such a captivating figure
Remembering the No. 1 overall pick in the 1996 draft on the court brings up memories of Iverson driving to the basket and getting hammered by players almost twice his size. But he always got up and went back for more.
He also crossed up Michael Jordan when he was a rookie. He went toe-to-toe with Kobe Bryant and Shaquille O'Neal in the finals.
Remembering Iverson off the court brings up visuals of his famous "practice rant" press conference or his public spats with then-NBA Commissioner David Stearn.
But that's what made AI so appealing and influential. No matter what, The Answer was entertaining and could charm an arena simply with his presence.
Or scare an official with his presence.
All statistics courtesy of Basketball-Reference.
RELATED: Allen Iverson and Vince Carter Cemented Their Statuses as NBA Superstars by Taking Part in an All-Time Great Playoff Duel: 'It Was One After Another. It Was Like They Were Taking Turns'