Allen Iverson Proves He's the Right Kind of NBA Legend By Showing Respect to Ja Morant
Once upon a time, Allen Iverson was the bold new face of a new generation of NBA stars. The first overall pick in the 1996 NBA Draft, A.I. became hoops royalty even as the reverence came much more from his fellow players than it did fans and (especially) the media. Now 25 years removed from his debut, Iverson continues to be different. His reaction to the monster night enjoyed by Memphis Grizzlies star Ja Morant on Feb. 28 offers more proof.
Other older players like Shaquille O'Neal and Charles Barkley made a cottage industry — and millions of TNT dollars — bashing the younger generation of NBA players. Former New York Knicks enforcer Charles Oakley ridiculously claimed Giannis Antetokounmpo would be a bench player in the 1990s.
Iverson takes a different approach. He embraces the new generation of NBA stars and openly roots for its success. He showed that again with his deference to Morant.
Ja Morant went next-level in a win over the San Antonio Spurs
It's been a breakout season for Ja Morant and the Grizzlies. Already a Rookie of the Year, the No. 2 pick in the 2019 NBA Draft is leaping superstardom. He's a first-time All-Star, a strong contender for a spot on the All-NBA First Team, and is carrying Memphis to new heights.
On Feb. 26, Morant set a new franchise record for scoring with a 46-point outburst in a road win over the Chicago Bulls. That was one better than Mike Miller dropped on Feb. 21, 2007, against the Golden State Warriors.
The third-year star owns seven of the 19 40-point games in Grizzlies' regular-season history. And his follow-up to lighting up the Chicago skyline was an extraordinary display of highlight-reel showmanship and flat-out domination.
When the San Antonio Spurs visited FedExForum on Feb. 28, Morant threw everything he had at them. Dunk of the year candidate? Check. Unbelievable buzzer-beater to end the first half? Check.
And, oh, by the way, he broke his two-day-old team record with 52 points In Memphis' 118–105 victory. It's the first 50-point game in Grizzlies history and topped the 47 points Ja dropped on the Utah Jazz in Game 2 of last year's first round of the playoffs.
Scoring 98 points in two games got the attention of four-time NBA scoring champion Allen Iverson. The Answer welcomed G12 to the legends' club with a notable tweet.
Allen Iverson is a rare NBA legend who appreciates the next generation
Not long after Ja Morant finished dismantling the Spurs, Allen Iverson took to social media to declare that the kid was legit. Iverson tweeted, "Sooner or Later!!!" The accompanying photo had a Morant jersey draped over Iverson's 2000–01 NBA MVP trophy.
That's not out of the ordinary for the Hall of Famer, who is a frequent visitor at Philadelphia 76ers games at Wells Fargo Center.
In 2020, A.I. told Noah Levick of Yahoo Sports that he roots for today's player and enjoys the transition he's made from player to fan.
"Now I know how those people in the crowd felt when I had my hand on my ear and all that," Iverson said. "I'm those people in the stands now, and I love it. I get a big kick out of it. When Joel (Embiid) is doing all that, and I'm at the game, I feel just like those other fans that are sitting in the seats."
Often criticized as a player, Iverson emerged as an icon for his fearless play and cultural impact. If anyone questions The Answer's impact on the NBA, look at the players. Pay particular attention to the tattoos and hairstyles.
Iverson made it OK for players to express themselves, even if villainized for it at the time. And the new generation of rising NBA stars respects the legend as much as he publicly respects them.
Ja Morant responded to Allen Iverson's praise in kind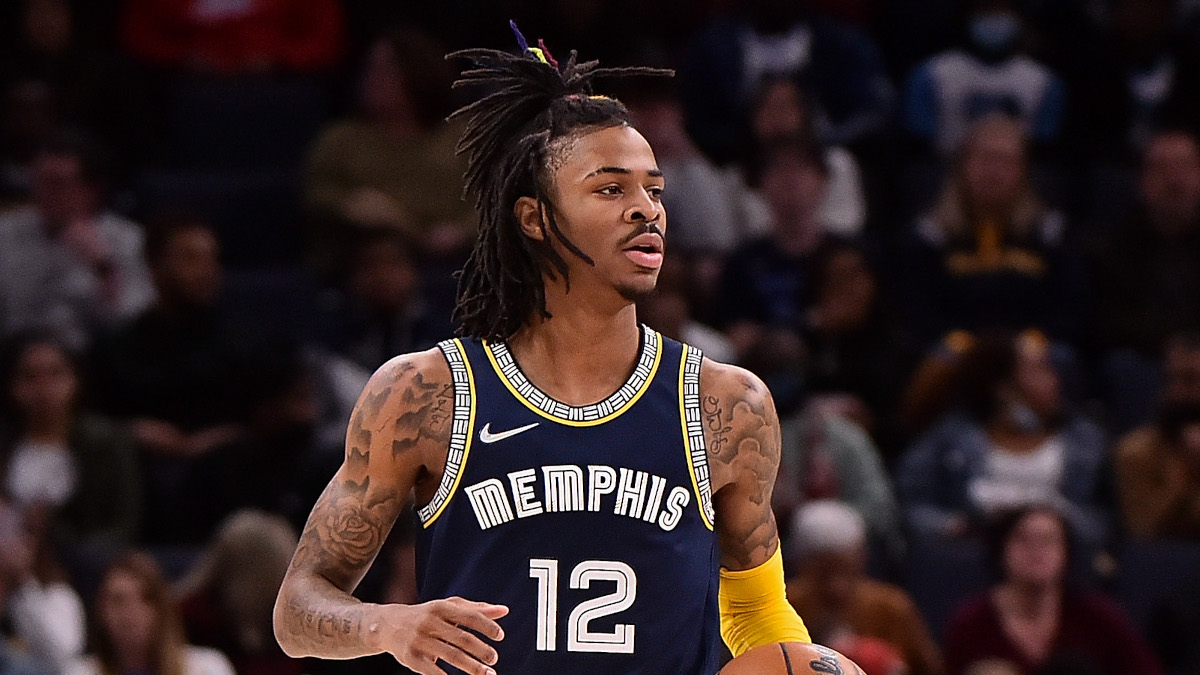 In response to Allen Iverson's MVP-trophy tweet, Ja Morant responded with a photoshopped image and a brief message.
"Pass the torch, OG," Morant wrote. The image showed Morant intently listening as Iverson spoke. It was a multi-generational expression of mutual respect that can be disturbingly rare from players of A.I.'s era.
In some ways, Morant plays like a generational evolution of Iverson. The 22-year-old is fearless in attacking the rack, defying his slight 6-foot-3, 174-pound frame with eye-popping displays of power and leaping ability.
Iverson, generously listed at 6-feet and 165 pounds, drove the lane and took on the giants at every opportunity. An 11-time All-Star, The Answer was revered by his peers like a star among stars.
His style clashed with the NBA establishment two decades ago. His wardrobe choices prompted former Commissioner David Stern to institute a strict dress code for players, which has since relaxed considerably.
But Allen Iverson is the template for many of today's young players. On the court, Ja Morant is from a similar mold. He's emerged as a legitimate MVP contender and has the Grizzlies thinking about a deep playoff run.
Statistics courtesy of Basketball Reference.
RELATED: Chris Paul's Response to Ja Morant Swiping One of His Signature Moves Confirms Ja's Superstar Status