Allen Iverson and Rasheed Wallace Would've Been Teammates at Georgetown if 1 Domino Fell Into Place
Recruiting elite talent is an important component of building a successful college basketball program. Multiple factors can affect a school's chances of landing a prospective talent. Allen Iverson and Rasheed Wallace almost played together at Georgetown University. However, there was one factor they didn't take into consideration.
Rasheed Wallace was an elite high school basketball prospect in 1993
Rasheed Wallace was born and raised in Philadelphia, Pennsylvania. He played his high school ball at Simon Gratz High School. Wallace was named USA Today's High School Player of the Year as a senior. He also led the team to three city championships and two national championships.
Coming out, Wallace was one of the top high school basketball prospects in 1993. He was highly sought after by several major college programs. He committed to play for Dean Smith at the University of North Carolina. Smith was coming off of a national championship victory and was planning to reload for the 1993 season.
Wallace was part of a North Carolina recruiting class that also featured Jerry Stackhouse and Jeff McInnis. However, the Tar Heels were the only team in the running for the big man.
The former Detroit Pistons star also strongly considered going to Georgetown, he said on The Ringer's Ryen Russillo Podcast.
Allen Iverson was one year behind Rasheed Wallace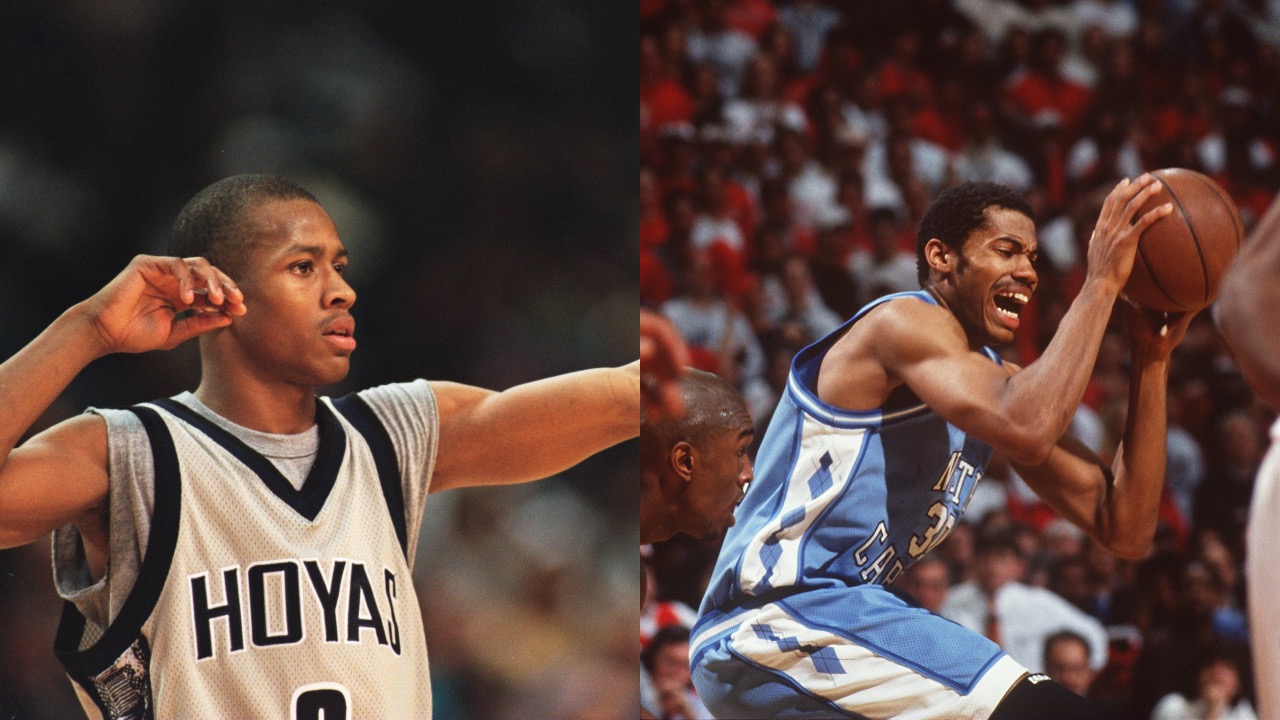 Allen Iverson attended Bethel High School in his hometown of Hampton, Virginia. He was a two-sport standout in football and basketball. As a junior, Iverson led Virginia state titles in both sports. He also won Associated Press High School Player of the Year honors.
As a result, Iverson was also a hot commodity on the recruiting trail. Some programs were ultimately scared off of him because of his legal troubles as a teenager. However, Georgetown head basketball coach John Thompson Sr. decided to give Iverson an opportunity, and offered him a full scholarship to join the Hoyas in 1994.
Georgetown was North Carolina's biggest threat to landing Rasheed Wallace the year before. "Growing up, Patrick Ewing was one of my favorite players to watch," he said about the Hoyas legend. He revealed that track and field was his first love, not basketball. However, watching Ewing play inspired the young Wallace.
One of North Carolina's most intriguing selling points was their guard play, which is essential for a front-court player. Georgetown didn't have an established guard at the time.
"Nobody knew Allen Iverson was coming," said the former Consensus All-American.
I was like, man I need a guard. At the time, I think my skill set wasn't good enough for me to bring the ball up the court and do the things that you see a lot of the power forwards do today. So I need a guard to be able to bring the ball up and give me this rock.

Rasheed Wallace
If Iverson and Wallace were in the same class, there is a good chance the latter would've spurned North Carolina for Georgetown.
Allen Iverson and Rasheed Wallace would've formed an elite inside-out combo
The 1994-95 Georgetown basketball team was solid. They finished the season with a 21-10 record, good for fourth place in the deep Big East conference. The Hoyas ranked No. 22 in the final AP poll.
Allen Iverson led the way, averaging 20.4 points, 4.5 assists, and 3.3 rebounds. The Answer won the Big East Rookie of the Year award after leading Georgetown to the Sweet 16. Ironically, the Hoyas were eliminated by none other than North Carolina.
Things might have ended differently for Georgetown if the program landed Rasheed Wallace. Othella Harrington was the team's center, and he averaged 12.2 points and 6.0 rebounds in 1994. Jerome Williams was an athletic junior college transfer who averaged a double-double for the Hoyas.
Harrington and Williams both reached the NBA, so they were talented players, but Wallace would've been the second-best player on the team. The four-time NBA All-Star averaged 16.6 points and 8.2 rebounds for a loaded Tar Heels team. With more opportunity at Georgetown, he could've posted even better numbers.
The Hoyas may not have won a national championship, but the duo would've been a treat to watch.
All stats courtesy of College Basketball Reference